Music of Guatemala, Vol. 1
Various Artists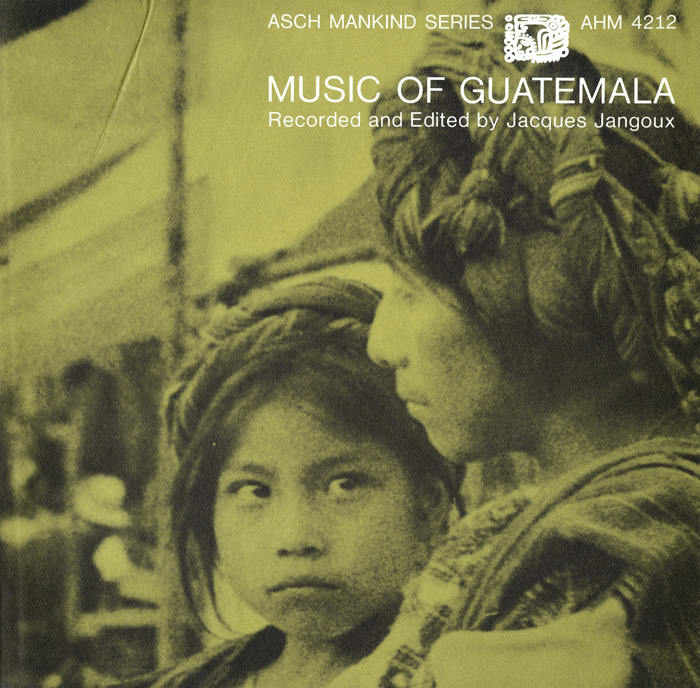 Produced and recorded by Jacques Jangoux.

"The music presented in this album is typical of rural Guatemala. Most of the inhabitants of this area are Indians of Mayan descent, but almost everywhere in the Guatemalan countryside one can also find Ladinos: persons, of whatever descent, who speak Spanish in their homes and have adopted the Ladino way of life, which is mostly Spanish. It is not completely Spanish, however, because both the cultures of rural Guatemala are the result of the confrontation over several centuries of two very different civilizations, the indigenous Mayan, and the Western, introduced by the Spanish in the 16th century. Both cultures have borrowed traits from the other, and this is nowhere more evident than in their music, which is a mixture of European, Indian, and perhaps also African elements..."

Jacques Jangoux


Producido y grabado por Jacques Jangoux.

"La música que se presenta en este álbum es típica de la Guatemala rural. Muchos de los habitantes de esta área son indios descendientes de los Mayas, pero también se pueden encontrar 'ladinos' casi en todo el país rural guatemalteco, es decir, personas de diversos orígenes étnicos que hablan castellano en sus casas y han adoptado las costumbres ladinas, principalmente españolas. No completamente, porque ambas culturas de la Guatemala rural son el resultado de una confrontación de varios siglos entre civilizaciones muy diferentes, la Maya y la occidental, introducida por los españoles en el siglo XVI. Ambas culturas han tomado algunos rasgos de la otra, y esto no puede ser más evidente en ningún otro sitio que es su música, que es una mezcla de elementos europeos, indígenas y quizá también africanos..."

Jacques Jangoux



RELATED LESSON PLAN
"Music of Guatemala, Vol. 1"



Track Listing