Voyager Recordings & Publications
Northwest Pioneer Fiddlers
c 2016 Vivian T. Williams
I am compiling a list of 19th century fiddlers in the Pacific Northwest, along with whatever information is available about their lives and the tunes they played. Two of the Idaho fiddlers continued with their musical careers past the middle of the 20th century; they have been included because their music and their lifestyle represents a direct link to pioneer times. With one exception so far, I have limited this account to fiddlers whose names are known. Obviously, this will forever be a work in progress! I would be happy to include any information about such fiddlers that anyone has to contribute. And I think this would be a fabulous project for other researchers to take up for their own regions!
Vivian Williams
WASHINGTON
Unidentified Fiddler in Dungeness

A fiddler whose name has been forgotten lived alone in a shack on the beach near Dungeness, Washington, on the Olympic Peninsula west of Port Townsend, in the early 1850's. He was murdered, and since he had no relatives, close friends, or lodge memberships, his few possessions, including a crummy German fiddle and bow and a copy of the 1851 Howe's School for the Violin, were auctioned off by the sheriff to pay for his burial.

Tunes played: presumably tunes from the book.

Source:
Interview with Robert Clark, current owner of the fiddle and book.

William King (1822 or 1826 - )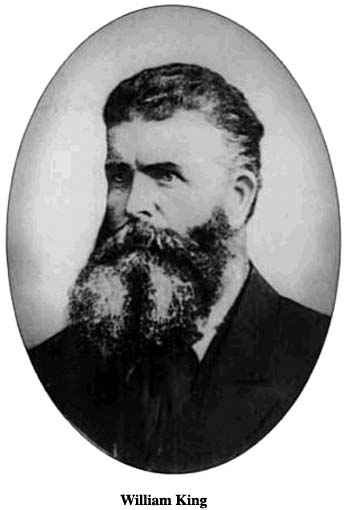 William King was born in Scotland, and came to the west coast via Cape Horn in the early 1850's. He was one of the earliest settlers in Dungeness, on the Olympic Peninsula. He was a blacksmith and a farmer, and was the first teacher in Clallam County. King was also a machinist who engineered and installed mill machinery at the Port Discovery sawmill. He was a bachelor, and the farm which he homesteaded was inherited by the children of his sister, Elsie Clark. He purchased the fiddle and the old Howe tunebook at the sheriff's auction of the murdered fiddler's possessions, and made a case for it out of cedar lumber from the family farm. The fiddle and tunebook were passed down through the Clark family, and are now owned by King's great-great-nephew, Robert Clark of Dungeness.

Tunes played: presumably tunes from the book.

Sources:
Interview with Robert Clark.
"Pioneer Obits C" http://www.olypen.com/rfoss/pioneerobitc.html
Sequim Gazette, March 2008 http://www.sequimgazette.com/news/article.exm/2008-03- 26_history_in_the_making

Charley Kahana (1865 - 1959)

Charley's father was a native Hawaiian who worked on a whaling ship, and around 1860 jumped ship at Vancouver Island. He married a woman of Clallam and Lummi descent, who had inherited a farm on San Juan Island from her late husband. Their son Charley grew up on San Juan Island, and over the years worked as a laborer, a farm hand, and a fisherman, and drove horses in the woods for lumber companies. Around 1902 he became captain of the schooner Industry which took lumber to the limekiln at Roche Harbor and carried sheep and cattle between the San Juan Islands and Victoria, B.C. Later he moved to Marietta, Washington, on Bellingham Bay, across the Nooksack River from the Lummi Indian reservation.

His musical career began when he was 12 years old. There were a number of settlers of French heritage in the San Juan Islands, most of them descended from Hudson's Bay Company employees who had married local Native American women. In 1877 one of Charley's neighbors held a dance at his house. Charley had never seen or heard a fiddle before; the only musicians he had ever seen played jewsharp and banjo. He had severely injured his foot, and cried with disappointment because he couldn't walk to the dance with his mother and father. So he "tied it up with a rag and I crawled over there..... I got over there and all the dancers, all the French people were dancing. I seen them fiddlers. Joe Ladabouche was one of the fiddlers, and Edward Gagnon.... Goddamn, they made the fiddle talk!"

When Charley got home he made a fiddle out of scraps of cedar shakes, with a leather tailpiece, horse tail for the bow, and strings out of thread; eventually his father killed a sheep to make better strings. His first public performance took place in 1878 at Colonel May's New Year's ball at East Sound, Orcas Island. In 1879 he played for the Colonel's dance again. He got his first real fiddle by trading a small canoe to another Indian on Saltspring Island, in British Columbia.

Kahana played for dances off and on for most of his life, in many cities and towns on Puget Sound, as well as Sandpoint, Idaho and Vancouver, B.C. For two years he played fiddle on the Flyer, a high-speed steamboat that carried passengers between Seattle and Tacoma between 1891 and 1911. "There was four of us, me and Big Jim, a fella name of Ross, and a fella by the name of Ragtime Jimmy I think his name was, playing a little mandolin. Tips from the passengers.... On a good day, you know that boat was loaded. Well, we'd take in money, maybe twenty, thirty dollars, you know, that is, four of us. Of course we'd divide that up when the day was over, see. By God, I've made the highest twenty, twenty-five dollars a day, we'd take lots of money. The next morning by gosh believe it or not, all that money I make, the next morning I wouldn't have a penny to buy breakfast. When we'd get ashore at Tacoma and tie up.... There's a saloon they called the Last Chance, got a piano in there, we'd go in and play music, you know, and whoo! Lots of beer, lots of girls!"

Around 1909 he lost his eyesight. After that time, he played at Old Settler Picnics nearly every year, and also played at the Lummi Stommish, a cultural celebration featuring canoe races, created originally to honor veterans of World War II.

Charley was also a champion contest fiddler. He won first prize in a fiddle contest in Bellingham two times. "By God, I lost twice, in Bellingham, come second. Old Sandy [Underhill] beat me. By God I turned around and beat old Sandy after that."

There was a big contest one Halloween night at Shelton, Washington, about 160 miles south of his home. "A lot of fiddlers up there.... I got down to my last dollar, .... I just wondered, by God, how the hell am I going to get back?" He decided to take a chance and enter the contest anyway. "First prize was ten dollars.... They got me to play, and I played. It was all over, the people sittin' down was the ones that decided. They said, 'make them play some more.' And I played five pieces, you know. The manager says, 'Who wins? The first man, or the last man?' The people says 'The last man got it.' Geez, I got ten dollars. That bought the ride home, see."

From 1925 to 1930 there was a fiddle contest at the annual Western Washington State Fair held every September in Puyallup. Charley placed second once, third three times, and fourth once, "and the last year, by Gosh, I climbed to the top, 1930." He also won the big contest sponsored by the RKO Pantages Theater and the Tacoma News Tribune in February, 1930.

In 1946 and 1956 Whatcom County historian Howard E. Buswell recorded a number of interviews with Charley, from which the quotations above were taken. The recordings also include a number of fiddle tunes played by Charley.

Tunes played: The Bazaar, Irish Washerwoman, Pop Goes the Weasel (with words sung in Chinook Jargon), Casey Jones, Campbell's March, St. Patrick's Day in the Morning, Stony Point, Darkey's Dream, Who's Sorry Now (played as a waltz), Turkey in the Straw, a medley of Buffalo Gals, The Girl I Left Behind Me, and Prettiest Girl in the County (Charley described this medley as "a piece played on Orcas Island, at West Sound" that "made the old Frenchmen over there dance"), The Bear Went Over the Mountain, Mary Had A Little Lamb, Keel Row, Durang's Hornpipe, Fisher's Hornpipe, Soldiers Joy, Arkansas Traveler, Old Grey Mare (which he called "Digging Clams in Bellingham Bay" and sang lyrics to that effect), Little Old Log Cabin in the Lane (which he called "Old Coupeville"), Alexander's Ragtime Band, Liza Jane, Devil's Dream, Grey Eagle, Speed the Plough, Fox and Hounds, Money Musk.

Sources:
Buswell, Howard, recorded interviews of Charley Kahana, in the archive of the Center for Pacific Northwest Studies, Western Washington University, Bellingham WA.
"Hawaii's Forgotten Hawaiians," http://www.hawaiian-roots.com/furtrade.htm
McLean, Alex, "Instrumental Vision," Klipsun Magazine, Western Washington University, January 1998.

Joe Ladabouche

One of the fiddlers that Charley Kahana heard at his neighbor's 1877 dance on San Juan Island.

Edward Gagnon


One of the fiddlers that Charley Kahana heard at his neighbor's 1877 dance on San Juan Island.


John Higgins

John Higgins came to Seattle from Texas in 1888. After he was burned out in the Great Seattle Fire of 1889, he moved to Oso, east of Everett, Washington. His uncle was from Missouri. Mt. Higgins, near Oso, may have been named for him (or it may have been named for Walter Higgins, who homesteaded near Oso in 1887). Mount Higgins was first climbed in 1888 by a man named John Higgins who lived at the foot of the mountain until 1899, along with Frank Lawrence and Al Baker. They left a Confederate flag on the summit. Higgins's fiddle, picture, and more extensive biographical information are at the Stillaguamish Valley Historical Museum.

Sources:
Hitchman, Robert. Place Names of Washington. Tacoma: Washington Historical Society, 1985.
Majors, Harry. Exploring Washington. Holland, MI: Van Winkle Publishing Co., 1975.
Display at Stillaguamish Valley Historical Museum in Arlington, WA.


Josiah Merritt (1809 - 1882)

Josiah Merritt, known as "Uncle Si," was born in Ohio and was an early pioneer of the Pacific Northwest. According to the 1860 census he could neither read nor write. In 1862 Merritt built a cabin at the base of a peak in the Cascade Mountains, east of Seattle. The peak became known as Uncle Si's mountain and is now called Mt. Si. He played fiddle for barn dances in the Snoqualmie Valley between 1860 and 1880. He raised vegetables and hogs and kept an orchard. According to local historians, he was a rugged man who sometimes hauled bacon to the large settlements. To do so necessitated hauling the load on a sled to the river, canoeing downstream, strapping the load to his back and climbing down 268-foot Snoqualmie Falls, hiking several miles, and then canoeing the rest of the way to Everett or Seattle.

"He had a native American wife but when his legitimate spouse, 'Aunt Sally' as the settlers called her, arrived from the east, the Indian woman had to go back to her people." (Wikipedia) He is buried in the old Fall City, Washington, cemetery.

Sources:
"Josiah Merritt" article in Wikipedia, http://en.wikipedia.org/wiki/Josiah_Merritt
"A Brief History of Snoqualmie Falls," http://www.snoqualmiefalls.com/history.htm

Jake Lake (1836 - )

On Christmas Day, 1862, Catherine Elizabeth Jane Maple and Henry Van Asselt got married in a cabin by the Duwamish River near Seattle, Washington, where the Boeing Airplane plant is now. The bride's brother, John Wesley Maple, wrote a description of the affair in 1901:

"An elaborate dinner was served immediately after the wedding ceremony. It consisted of venison, turkey, potatoes, corn, fish, clams and coffee.... When the dinner was completed, the bride and bridegroom stood up in the room in a place where the Indians might pass through the other door. Then my father went out and shook hands with good and brave old Chief Seattle.... There were in the neighborhood of 700 who passed through in their gaudy costumes....

"After the bridal couple had passed though this ordeal, we started in to dance. Old Jake Lake was the fiddler on that occasion. He had only a few tunes at his command and we danced them all before morning. Among them were "The Arkansas Traveler," "King's Head," "Fisher's Hornpipe," "Unfortunate Dog," "Gal on a Log" and the "Devil's Dream." He had on an old shoe which was not in its prime any longer, as the uppers had become loosened from the soles and we saw the red stocking and the upper going up and down incessantly as the foot kept time to the music. We danced all the dances which were on the calendar, among them the Virginia Reel, Opera Reel, Threading the Needle, French Fours, Weaving the Wheat, Family Dance and one or two more which I have forgotten.

"All that was lacking was that there was a scarcity of women. There were but five among all the men .... at 2 o'clock in the morning, the bridegroom gave out and fainted on the ballroom floor. John Martin and James Libby picked him up and soon brought him to again. The rest of us went on with the dance, which lasted until about 3 in the morning.

"The old fiddler, John Lake, died some years ago and now lies buried beneath an old apple tree in Dr. Smith's orchard at Smith Cove, near Interbay.

"While all the hilarity and general good cheer was going on in the dear old homestead, Old Chief Seattle led his band of 700 to a sandspit on the bank of the Duwamish, and there started one of the biggest potlatches ever held on the Sound..... We all took turns at going out and watching the strange doings of the Indians, on account of the scarcity of women.

"We retired about 6 o'clock on the day following, and slept till almost noon, when the lowing of the cows called us to our duties."

Fiddler Jake Lake's real name may have been either Joe or John. He was apparently born in Indiana and raised in Illinois. In an article in the Seattle Times, David Suffia wrote: "Back in the 1860's, Seattle pioneers weren't prosperous, but they had something we don't - they had John Lake. Actually, most people then didn't call him John Lake; they called him Old Jake Lake or 'Fiddler Joe' Lake." In the 1857 Washington Territorial census for King County he is listed as "Joseph Lake, 21, labourer, single, Coles County IL" In this census, there is no indication whether the County and State refer to a person's previous residence or place of birth. In the 1860 Federal census he is listed as "Lake, Joseph, 24, Labr, birthplace Ind."

Suffia's article goes on to say "By 1869, the Elliott Bay settlers decided to jazz up their Christmas Eve celebration, so they 'imported' from the Duwamish Valley none other that 'Fiddler Joe' Lake.

"Lake and his buddy, Ben Hooper, came by rowboat and on the way lit a bonfire at the mouth of the Duwamish so they could find it easily on the way back during the night.

"Unfortunately, Lake and Hooper stopped at the Little Brown Jug on the way home and stayed too long. They managed to find their way back to Yesler's pier and got into their boat, laughing and shouting. Hooper threw off the bow line and they began rowing home in the dark.

"However, they quickly perceived they weren't getting any closer to the distant bonfire, and soon the fire flickered out entirely. Believing they had drifted out into the bay and were lost, they began shouting for help.

"Henry Yesler heard them and responded. He found 'Old Jake' Lake and Ben Hooper about 100 feet off the end of the pier, their little boat still secured by a stern line that hadn't been untied."

Tunes played: Arkansas Traveler, King's Head, Fisher's Hornpipe, Unfortunate Dog, Gal on a Log, Devil's Dream.

Sources:
Suffia, Dave. "Seattle Historical Vignettes - Jake Lake's Fiddle and a Feast Besides," Seattle Times, date unknown - probably ca. 1973.
Maple, John Wesley. "Their Christmas in King County Forty-Two Years Ago," original typewritten manuscript prepared for publication in the Seattle Daily Times, December 14, 1901, courtesy of Louise Jones-Brown, a descendant of John Wesley Maple.

Hans Martin Hanson (1821 - 1900)

Hans Martin Hanson came to Seattle from Norway in 1856. His great grandson told us that he had heard his great grandfather play the fiddle when he was a young child, and the only tune he could remember hearing him play was "Pop Goes the Weasel." Along with his brother-in-law, he bought Alki Point from Doc Maynard in 1868 for $450. They would light a lamp on the point as a service to mariners. In 1887, the Lighthouse Service finally recognized the need for an official light and placed a lens-lantern atop a wooden post at the point. Hanson was paid $15 a month to care for the light. Hanson was the maternal uncle of Ivar Haglund, of "Acres of Clams" fame.

Tunes played: Pop Goes the Weasel

Sources:
Conversation with Hanson's great grandson.
"Alki Point Light Station, in History Link.org http://www.historylink.org/index.cfm?DisplayPage=output.cfm&file_id=4197

Ezra Meeker (1830 - 1928)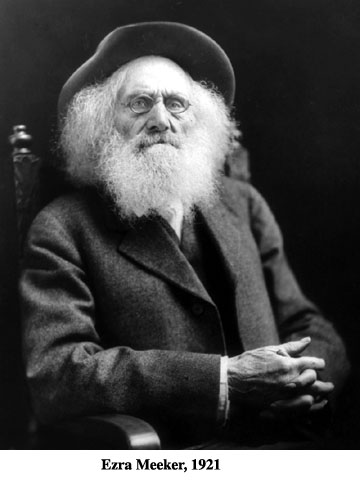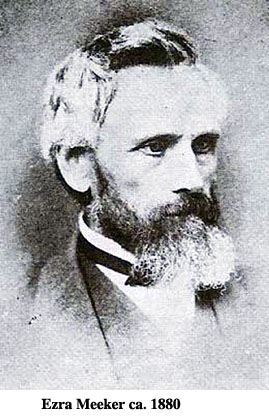 Washington pioneer Ezra Meeker was born in Ohio and grew up in Indiana. In 1853 he and his wife Eliza Jane crossed the plains and rafted down the Columbia River to establish their new home in the West. They lived in several locations in Oregon and Washington Territories, and in 1862 settled in Puyallup, east of Tacoma, where Ezra made a fortune in the hop business and built the famous Victorian style landmark, the Meeker Mansion. He wrote many books about his early pioneer experiences, and in 1906 re-crossed the country going east with an ox-team. His brother John played flute, and his brother's wife played the melodeon while the children sang. In his book Uncle Ezra's Short Stories for Children, he wrote about how he learned the tune "Devil's Dream."

"I used to play on the violin (fiddle we called it) almost any tune I came across but, somehow or another 'the Devil's dream' was too much for me; I would miss a note here and there or perhaps get off the track and break down entirely. So one evening I went at it 'hammer and tongs'; and played it over and over again and again and got it, that is I could play the different parts.

"The 'mamma' of the house got sleepy and went to bed and went to sleep and I soon after did the same. Next morning I slipped out of bed early (as usual) started the fire in the cook stove and put on the teakettle and did some other little chores to start the breakfast and then took up my 'fiddle' and began playing it when 'mamma' woke up and then ever after that, she told the joke on me, how I played 'the Devil's dream' all night."

Tunes played: Devil's Dream

Sources:
Meeker, Ezra, Uncle Ezra's Short Stories for Children. Originally published ca. 1915, reprinted by the Ezra Meeker Historical Society, Puyallup, 1997.
"Meeker, Ezra" in History Link.org http://www.historylink.org/index.cfm?DisplayPage=output.cfm&file_id=7737
Miles Burston (ca. 1807 - 1901)

"Miles Burston was born in Selkirk in the Red River Valley of Manitoba about 1807. His younger brother was Alexander Burston. Miles worked for the Hudson Bay Company and traveled with a Battalion of men to the Hudson Bay Fort located on the Yukon River in 1841. The men were required to carry one hundred pounds of food and supplies in addition to their blankets and guns. They started in the spring, wintering at the fort and bringing their loads of furs in the next spring. He often spoke of the Eskimos and their ways. He married a French Canadian girl who died soon afterward. He came to the coast with other migrants from Manitoba and filed on a homestead in the area where King Hill Cemetery is now located. He relinquished his homestead rights to his niece, Mrs. Mary Burston Throssell and lived with the Throssell's until his death in 1901. He talked French fluently and also spoke Indian jargon and English. He played the violin as of the eighteen hundreds and played all 4 strings at once, a weird tempo, and also sang Indian songs that reminded one of jungle music. He died in 1901 after a long life. He was always kind and considerate, good company and he could spin yarns that you could live with. He was buried in King Hill Cemetery and a small stone tells his resting place. Miles Burston born Selkirk Manitoba 1817 Died Roy, Washington 1901, A Pioneer of N.W. Canada and Alaska."

The 1878 census lists Burston as a "half-breed." He was a member of the1854 Sinclair party of Red River Metis, who were brought from Manitoba to Fort Nisqually (between present-day Tacoma and Olympia) to establish agricultural settlements in order to offset American settlement of the area. The King Hill Cemetery - now on the Fort Lewis military reservation, south of Tacoma - is an Indian cemetery. His ancestry was Orkney Scots and possibly Cree. He could have learned his fiddling in Manitoba, or from Gwich'ins at Fort Yukon.

Source:
"Pioneer Cemeteries located on the Fort Lewis Reservation." Written in 1964 by Charles A. Throssell [one of Miles Burston's descendants] and edited by Harriet Baker
Dodge. http://www.geocities.com/arct187/pion.html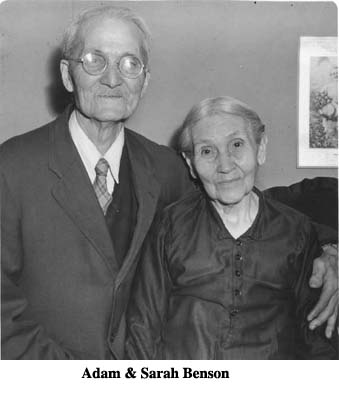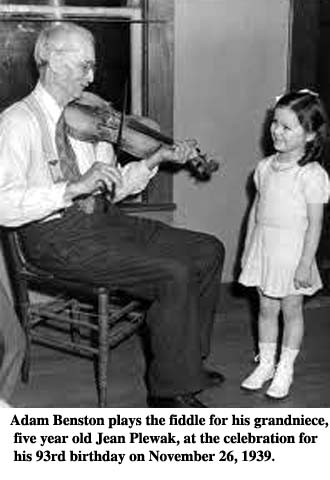 Adam Benston (1846 - 1941)

Adam Benston was born near Fort Nisqually, on what is now part of Fort Lewis, in 1846. He was the son of a Scotsman employed by the Hudson Bay Company, Adam Benston Sr., and a Native American woman. His wife Sarah was born on the Nisqually Plains in 1855. He was known as one of the foremost fiddlers in the Puget Sound area.

Benston said: "As a young man I learned to play the violin and was the violinist for the early dances and social affairs. I played the violin for the first dance given in old Tacoma. After I was married and had five children I taught them music. We had then a five piece orchestra and played the countryside over."

Sources:
Thompson, Dorothy E. Early Spanaway. Spanaway Historical Society and Charles and Sue Overaa, 1976.
Tacoma Times 11/27/1939, pg. 14; Tacoma. Times 10/30/1941, pg. 8.
Told By the Pioneers, Vol 1, WPA Pioneer Project, 1936-37.

John L. Perkins (1828 - )

John Perkins, originally from Tennessee, was a government Indian agent on the Puyallup Reservation. In November of 1858, when the tribes received their government annuities, the Puget Sound Herald reported:

"A large body of Indians was present, and from appearances they considered the whole affair in the light of a grand feast, got up to promote good feeling and fellowship between the 'Reds' and the 'Whites.' And good feeling there certainly was.

"The first evening a ball was gotten up in a large room and the dusky beauties and several half-breeds danced to the music of a fiddle which was presided over by Mr. Perkins of the Puyallup agency. Colonel Simmons, who is perhaps more beloved by the Indians than any agent in the service, joined in the dance, and it was an exceedingly amusing spectacle to see 'Old Mike' and 'Old Steilacoom,' an Indian lady of some fifty years and two hundred pounds, tripping it on the 'light fantastic toe' together."

In 1861 Perkins bought Nicholas Delin's sawmill on the Puyallup River. "Perkins was an interesting young fellow well liked among the whites. The fact that he played a violin increased his popularity .... Perkins found the mill anything but a joy and he soon sold it."

The 1870 census lists him as a logger, and the census reports from 1871 through 1885 list him as a farmer in the Puyallup Valley, unmarried.

Source:
Hunt, Herbert. Tacoma: Its History and Its Builders. Chicago: The S.J. Clarke Publishing Company, 1916. p. 23, pp. 97-98.

(Thomas A.?) Dean (ca.1820? - )

According to William Locke, "The first dance given on the townsite of Spanaway was given by mother and father about 1872. Mr. Dean, of flying fame, was the fiddler. In those days no invitations were sent out but notice was given thirty days in advance so that word would have time to reach to scattered pioneers. In those days no dance was complete without a keg or two of beer. Gerry Smith, the sheriff of Steilacoom brought his two prisoners with him to the dance and both sheriff and prisoners had a very good time. The fiddler got drunk (which was customary with him) and he finally insisted that somebody jig to his jig time. No one volunteering to jig, he finally got out on the floor jigging and fiddling at the same time. Now Mr. Dean the fiddler, always wore a piece of leather belt to hold up his loosely hung pants, seldom wearing a coat or a vest. He was in the habit of wearing his leather belt rather loosely and while he was fiddling and jigging he did not notice that 'London britches' were falling down until his feet got tangled up in his pants and there he stood in his red flannel underwear, to the huge delight of all.

"Mr. Dean's wife was a full blooded Indian woman. They were very good neighbors. This was the man who somewhere in the early 70's made himself a pair of large wings and on a Sunday morning invited my father and a few other neighbors to witness his glorious flight through the air. Mr. Dean ran along the roof of the barn flapping his wings, but when he got to the jumping off place he forgot to flap his wings, and he sailed into the air landing feet first in a large pile of old rotten manure. So shovels were procured and he was soon dug out."

The only person who seems to fit this description in the 1870, 1879, 1885, and 1889 Pierce County Census reports is Thomas A. Dean, born in England around 1820. In 1870 he lived in Steilacoom; by 1879 he had moved to Muck Creek near Yelm. His wife Rose was variously listed as Indian or "half breed," and his children were listed in different census reports as Indians, "Indian half breeds," or white.

Source:
Address by William Locke at the Spanaway Improvement Club in 1938. William Locke was the son of pioneers Robert Locke and his wife, who arrived in Steilacoom in 1870 and were early pioneers in Spanaway and then in Tacoma. From a term paper by Robert L. Creso, great-grandson of Robert Locke, written in 1944 for Warren E. Tomlinson's Northwest History class at the College (now University) of Puget Sound.
Pickering (or was it John McFarland who played the violin??)

"In 1859 the town [Steilacoom] had two dancing schools and a singing school. John McFarland was one of the dancing teachers, he having come to the community the year before with one Pickering. Pickering and McFarland played the violin and piano and were giving entertainments along the coast, advertising themselves as "two gentlemen from the Sandwich Islands." They came to Steilacoom to give an entertainment and McFarland returned later on to open a dancing school.

"Some months later Sanburn & Huson opened a second school in Eagen's hall advertising to teach the waltz, schottish, polka, gallopade quadrille, 'and a variety of contra dances among which are Fireman's Dance, Portland Fancy, Tempest, Dash Away Boys.'"

Source:
Hunt, Herbert. Tacoma, Its History and Its Builders. Vol. 1, Chicago: The S. J. Clarke /> Publishing Company, 1916, p. 72.
Joseph (1821 - ), John (1827 - 1894), Hugh (1832 - ), and/or Marion Cornell (1838 - 1912)

"In 1851 George A. Barnes of Olympia imported a piano. Three brothers named Cornell were gaining popularity there as dance fiddlers."

The 1860 census shows four Cornell brothers in the Tumwater area. One was John Cornell, a farmer, age 33, married with children. The three other brothers were apparently living with their parents: Joseph, a farmer, age 39; Hugh, farm laborer, age 28; and Marion, farm laborer, age 22. All were born in Ohio except Marion, who was born in Indiana.

Source:
Washington: A Guide to the Evergreen State. Compiled by workers of the Writers' Program of the Work Projects Administration in the State of Washington. Portland, OR: Binfords & Mort, 1941, p. 136.
Joseph Talbot Bush (1833 - 1904)

Joseph Bush was born in Missouri, and was the second son of famous black pioneer George Washington Bush and his wife Isabella who settled at Bush Prairie, just south of Tumwater, in 1845. He studied music at Portland University, and played violin and guitar. He was a Civil War veteran. The 1870 census shows him living in Seattle, where he played in a dance orchestra at the "Illahee" brothel. Later he went back to Thurston County and became a farmer.

According to Lenore Ziontz, "Jack, as he was generally known, was the second son. He grew to be the tallest of all the boys and was familiar to many people all over the territory because of his height. All the boys in the family received a good, basic education from their tutor, Mr. Hunt. Mr. Hunt lived on the farm with the Bushes for many years. Jack was not interested in work, he lived to play music. He was a difficult person to get along with and, of his brothers, only Henry Sanford was his continuous friend. Although Jack disliked farm work, he did sometimes help out a widow who lived near his father's farm. No son of Isabella and George was without a charitable aspect to his nature, even the maverick of the bunch. Jack was the only one of the boys to go to college. Attending college was a rare thing indeed in those days, but George and Isabella sent him to Portland University so he could study music. He played the violin and the guitar. Years after the deaths of his parents, Jack and a cousin from Centralia named John Mills played in a dance orchestra which provided the music in Tom Pennells' famous Seattle brothel, the 'Illahee.'"

In 1904 The Morning Olympian published his obituary:

"Comrades Pay Last Tribute: Remains of J.T. Bush, An Old Pioneer Brought Here for Interment

"The remains of Joseph Talbot Bush, familiarly known as 'Tall' Bush, one of the oldest pioneers in the state of Washington, were brought to the city last night from the soldiers' home at Orting, where Bush passed away. An honorary escort of veterans of the civil war and the Washington Indian War accompanied the remains to the city. Today the remains will be laid at rest in the old Bush prairie cemetery near Tumwater and a few miles from the home where he lived for fifty years. Joseph Bush was the son of the famous pioneer, John S. Bush [sic - George Washington Bush], who crossed the plains to the Pacific coast, coming as far north as the Columbia river and settling on a donation land claim on what is now known as Bush prairie and which has since been their home. The elder Bush passed away in 1863, and his widow a few years later, but his sons have since done much to perpetuate the family name. Joseph, who died yesterday, was born in Missouri in 1833 and was a boy of 11 years when his parents started across the plains to the Oregon country. They were eight months in crossing the plains to from Jackson, Mo., to The Dalles, Oregon, and after a few weeks pushed on to the head of Puget Sound by way of the Columbia river and the Cowlitz.

"He was never prominent in the affairs of the territory but did his share toward its development. He took an active part in the Indian wars of the early fifties and went east and enlisted during the Civil war. Accordingly he was both an Indian war veteran and a member of the Grand Army of the Republic.

"Three brothers survive him. They are W.O. Bush, who has been so prominently connected with the early history of the territory and whose success in growing cereals in this county has won him gold medals in the expositions of the past thirty years; the fame of the Bush exhibit is world-wide; Louis [sic - Lewis] Bush and Sanford Bush, both of this county.

"The members of the escort of veterans who accompanied the remains of their comrade to the city as a mark of respect are: Commander William Doherty of C.M. Reed post, G.A.R.; Captain U. E. Hicks, Lieutenant Van Ogle, Matthew Shields, Peter Johnson, A.J. Dolton.

"The funeral cortege will leave Bates' undertaking parlors at 9:30 o'clock this morning, proceeding in carriages to the Bush prairie cemetery, where the services will be held by Reverend E. Hopkins at 11 o'clock. All of the friends of the family and all the comrades of the G.A.R. are invited to attend the services."

Sources:
Ziontz, Lenore. "George and Isabella Bush: Washington's First Family." The Pacific Northwest Forum, Volume VII, Number 2, Spring, 1982, pp. 30-40.
The Morning Olympian, Jan. 26, 1904.
Robert Brown

According to John Roger James, the first 4th of July celebration in Thurston County was held in the 1850's at Goodell's Point, at Grand Mound, south of Olympia. "We had eating and firing of guns. Mr. J. K. Lumm played the clarinet, and Mr. Robert Brown the fiddle."

Source:
Told by the Pioneers. Washington State WPA Project No 5841, February, 1936, published by Washington Secretary of State.
Arthur D. Streeter (1860 - 1942)

Arthur D. Streeter was born in Michigan, and his family moved to Washington Territory between 1871 and 1874. He could have learned to fiddle either in Michigan or in Washington. He was a farmer and a carpenter in Orchards, Washington, a few miles east of Vancouver, and was leader of a dance band.

The following is the text of a WPA interview conducted in 1938.

Subject: Old Time Fiddlers
Date and time of interview: December 21, 1938
Place of interview: Informant's shack
Description of room, house, surroundings, etc.: Cobwebby one-room shack, rather filthy
Name of worker: Eben H. Drum
Name and address of informant: A. D. Streeter, Orchards, Wash., Route #1
Ancestry: Unknown
Place and date of birth: Unknown; 1860
Family: Unknown
Places lived in: Unknown
Education: Meager
Occupations and accomplishments: Unknown
Special skills and interests: None
Community and religious activities: Very slight
Description of informant: Rather dirty in appearance, clothes unkept
Other points gained in interview: None

"I organized a neighborhood orchestra the year of 1912 in the neighborhood in and about Orchards. We played for most of the community dances for miles about. I had learned to play the fiddle when I was a small boy. In my orchestra was a first fiddle, a second fiddle, a cello, cornet, clarionet, flute and a flageolet. We met about from place to place to play for practice and also had regular meeting night at the town hall. The orchestra got to be mighty popular. We played such popular pieces as 'Devil's Dream,' 'The Girl I left Behind me,' 'Pop-goes-the-weasel,' 'Last Rose of Summer,' 'Money Musk' and many more of the popular airs. I made a lot of small booklets so that each member could have one of his own. I drew the whole out by hand using a pen and ink. We knew exactly what we were to play and played it. We traveled about the country with a team and hack. We not only furnished the music but did the calling, and bossed the floor. We played for dances in Clark County and would be sent for, to play for dances over in Oregon. We were mighty popular musicians and I was out-standing as their leader. There was a rival put in existence in the neighborhood over to the east of us. We were asked to play for a dance right in their neighborhood. One night our boys were playing away and the dancers were hoeing-it-down in a right smart quadrille, when the rival orchestra leader came into the room. He was mad to think our boys had been asked to play over there. He yelled, 'You think you can play, don't you? Get out of here, you damn fiddling cusses.' A free for all fight started right there. One of my boys got a black eye and I got hold of a piece of 2x4 that happened to be handy - and boy, didn't I clean out that mess. I was always pretty good with my fists and two black shiners was given that orchestra leader. That Orchestra never was any good -- two fiddles and a cello were all the instruments they had. They didn't know half the time what they were playing. The fiddlers most of the time would forget to bring their resin along and how their fiddles would squeak. I remember one night I forgot to bring my resin along and one of the girls was chewing some gum which was some of that stuff having a resinous base in it. I said, Kitty, let me have your gum to grease my fiddle bow with; 'Why yes, Art, sure I will.' And she opened up her face and rolled up her gum between her fingers into a ball and handed it over to me. Well, it did the stuff-- I did not forget my resin again. I am a very versatile man any way. That's what makes me popular with the boys. Well I saved my orchestra's reputation.

"I met-up with that orchestra leader that I gave the pair of shiners to, several months after that fight, and he says: 'Say, Art, I'd rather be kicked by a horse than hit with your fist.' I was always a good fighter. Why, even now that I am 78 years old, I command respect from the fellers."

The interview continues with an account of a recent incident in which four young punks shot Mr. Streeter's cat, so he shot out one of their car tires, challenged all of them to a fight, and dared them to call the sheriff. The last part is a rambling tale about how when he was "quite a little boy" he and his brother were exploring "Green Mountain over thar," a dormant volcanic cinder cone a few miles east of Orchards, and found some bones in a cave.

Tunes played: Devil's Dream, The Girl I left Behind me, Pop Goes the Weasel, Last Rose of Summer, Money Musk

Source:
Library of Congress, American Life Histories: Manuscripts from the Federal Writers' Project, 1936-1940 http://memory.loc.gov/ammem/wpaintro/wpahome.html
Charles Carpenter (1838 - )

Alice Nelson and her family came over the Oregon trail in 1843 to Oregon City, and in 1863 crossed the Columbia to move north to the Naches Valley, near Yakima. "The polka, the waltz, the schottische and quadrille were merrily danced to the stirring tunes of Charles Carpenter's violin, often accompanied by Alice at the organ keyboard."

The 1870 census lists Charles Carpenter, farmer, age 32, married, from Vermont, living in Yakima County.

Source:
Told by the Pioneers. Washington Pioneer Project, 1937.
Iceberg Bill

"The Big Bend Empire, published at Waterville in the 1890s, describes a gala opening of a hotel in the town of Methow.....

"'Mr. and Mrs. Hawthorne opened hotel in Methow by extending a cordial invitation to all to attend the 1st dance on Squaw Creek. There were a dozen or more ladies as fine looking and nicely dressed as you would meet in a New England city waiting for the word "Honor Your partner," which they did to the queen's taste, and the gentlemen looked wise and all slicked up with their six-bit overalls and hob-nail boots, they would remind you of a lot of Mormon Elders after prayer meeting. The music was furnished by Iceberg Bill from Manitoba, who played the harmonica with his mouth, the violin with his right and the bow with his left hand and come down on the new board floor with his two left feet in accordance with the music. Gilmour's famous band of New York would not be in it. They whirled until midnight when refreshments were served, and the way the corn-fed prospectors hid their ears in homemade pie would strike terror to the heart of a Mississippi native in watermelon season.'"

Source:
Roe, JoAnn. The North Cascadians. Seattle: Madrona Publishers, 1980, pp. 31-32.
Perry Sims (1863 - 1942)

Perry Sims was born in Iowa and was raised in Kansas. He and his wife moved to Pomeroy in 1887, and to Okanogan County in 1892, where he was a farmer and dairyman at Johnson Creek in the Methow Valley. He is buried in the Conconully Cemetery.

He wrote: "Dances were the most fun of all. I would yank my horse out of the mud by day and if at home at night, would play the fiddle for dances, and what was more, the people danced to what was played. Recently I played a quadrille and darned if the young folks did not dance a round dance to the music. I never saw the like of this before. The Devil's Dream, Arkansas Traveler, Old Zip Coon, Tassels on My Boots, these were some of the old time favorites. Surprise parties were in vogue. Once I stood on my doorstep and wondered at all the dust in the canyon. It was my birthday and every white man and woman in the settlement was coming to honor my day.

"Nelson Chapple had $300.00 coming to him from an estate. He beat his way east to collect it. On his return he bought a hack at Montgomery Ward's in Chicago, to be shipped out. Also he bought himself a suit of clothes. He made history, as he was the first man in the valley to buy a new suit. A dance was organized so that everyone could see it while it was new."

Tunes played: Devil's Dream, Arkansas Traveler, Old Zip Coon, Tassels on My Boots

Sources:
Told by the Pioneers: Tales of frontier life as told by those who remember the days of the Territory and early statehood of Washington Volume 3. Work Projects Administration, Olympia, WA, 1937-38, p. 187.
Glimpses of Pioneer Life: A Series of Biographies, Experiences and Events Intimately Connected with the Settlement of Okanogan County, Washington, Separate Articles Published During 1923 and 1924 in the Okanogan Independent. Grouped in Book Form August 1924. http://www.sos.wa.gov/history/publications_detail.aspx?p=145
Daniel Green McKenzie (1832 - 1910)

Daniel McKenzie was born in Illinois, and served in the Union Army in the Civil War from 1861 to 1865. He was a farmer, and a founder of Pullman, Washington in 1881.

According to his great-great-grandson: "My g-g-grandfather, Daniel Green McKenzie, led a wagon train over the Oregon Trail, arriving in the NW in 1877 and became one of the founding fathers of Pullman WA. I have a picture of Daniel and Sarah on their porch holding his fiddle .... It's a 'knock-off' of an Italian violin - probably around 1735 - and in quite good condition. In her Autobiography Lula Downen wrote of Daniel playing the violin for dances as they came across the plains. Daniel also purchased an organ that was used for church meetings in 1883, I'm pretty sure that one account indicates that it came around the Horn via boat.

"Lula Downen's article: The D. G. McKenzie that she talks about while they were on the Oregon Trail and in Pullman is my g-g-grandfather. On page 8, near the top, she recounts 'the young folks in the train had a dance and D. G. McKenzie, the first settler of Pullman, played the violin.' I also suspect that Daniel was among the fiddlers that survived the 'stairway tumbled down with the fiddlers'." This was at a house party near Colfax described by Mrs. Downen, where the partition of the two-room cabin had been removed to accommodate the dancers. "The ceiling broke down and three men, a bed and a number of sleeping children, a barrel of flour, a barrel of pickled pork and many other things came down onto the people below who were dancing a quadrille, and the stairway tumbled down with the fiddlers."
Sources:
E-mails from Dan McKenzie of Corvallis OR, great-great-grandson of Daniel Greene McKenzie.
"Daniel Greene McKenzie," http://trees.ancestry.com/view/Military.aspx?tid=14646190&pid=
139568870&vid=cdf966ae-bfcd-469d-95ff-72af81cc001f
History of Pullman, http://www.pullman-wa.gov/DrawOnePage.aspx?PageID=585 Downen,
Mrs. Lula, in Covered Wagon Days in the Palouse Country. Pub. 1937 by the Pullman Herald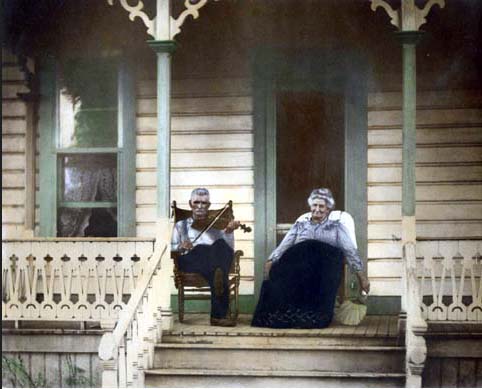 .
Daniel D. and Sarah McKenzie
OREGON

Jeremiah Gerome Tuller (1822 - 1895)

"The first fiddler who played at these settlements [on the Clatsop Plains, south of Astoria] was J. G. Tuller. Mr. Tuller was a Kentuckian, having come from Lexington in that state and crossing the plains with the immigration of 1843. He took up the donation claim on the Skipanon Landing which he called Lexington and which has since been vacated. He removed from this county some forty years ago and located in the Willamette valley at Corvallis at which place he died some years ago."

Sources:
Smith, Silas B., "Celebrations in Clatsop County," Astoria Budget, December 24, 1897, reprinted in Cumtux, Clatsop County Historical Society, Vol. 24, No. 1 Winter 2004.
"The Oregon Trail to Clatsop Plains" http://www.seasidemuseum.org/clatsop_plains.cfm

William Crockett Eberman (ca. 1825 - 1856)

"The next violinist who furnished music for the settlers was one Crockett Eberman, who crossed the continent in '44 coming I believe from Illinois... Mr. Eberman was left-handed and had his fiddle strung accordingly. He played such tunes were played in his day with a master's skill. Was a man of fine physique and possessing Herculean strength." He went to California with his brother and sister to mine for gold, and was murdered there. His younger brother Ninian was born in Tennessee; Crockett might have been originally from Tennessee also.

Source:
Smith, Silas B., "Celebrations in Clatsop County," Astoria Budget, December 24, 1897, reprinted in Cumtux, Clatsop County Historical Society, Vol. 24, No. 1 Winter 2004.

James D. Saul or Sauls ( - ca. 1848)

"Soon after the coming of Mr. Eberman came also one Saul, a Virginia negro of no mean ability as a fiddler.

"He was, I think, a deserter from the crew of the U.S. sloop of war Peacock, which was wrecked at the mouth of the Columbia river in July 1841, on the sand spit now known as Peacock Spit. From his associations with cultured people Saul had acquired considerable knowledge of things in general and could sustain a very interesting conversation on a variety of subjects. On account of his musical ability, he became a favorite at the dances. He played the violin in true plantation manner, a vigorous wielding of the bow, loud beating on the floor with his heel, accompanied with an animated action of the body, that is, when he played, he played all over.

"After a while, Saul got into bad ways and the settlers decided that he should be given a public flogging.... Saul never recovered from his disgrace. His troubles affected his mind and he became partially insane. This was, I think, in the early part of '48. He died soon after..." (Smith) In 1846 he had been accused of killing his Indian wife.

Sources:
Smith, Silas B., "Celebrations in Clatsop County," Astoria Budget, December 24, 1897, reprinted in Cumtux, Clatsop County Historical Society, Vol. 24, No. 1 Winter 2004.
Shine, Gregory Paynter, "A Gallant Little Schooner: The U.S. Schooner Shark and the Oregon Country, 1846." Oregon Historical Quarterly, Vol 109, No. 4, Winter 2008.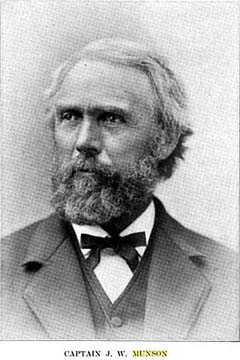 Joel Wilson Munson (1818 - 1899)

"Mr. Munson was a violinist of considerable skill and understood music to some extent. He was the first musician here that could play and prompt the dancing at the same time. Under his ministrations the round dances came largely in vogue. He also introduced new figures in both the reels and cotillions and would take pains in teaching them at the balls...

[Prof. Hopkinson played cornet; John Taylor played bass viol] "For a series of years, these three became the autocrats of the votaries of terpsichore. Anything in the way of balls was considered not what it should be unless these three performed at the orchestra....

"We still have Mr. Munson with us; he is the present light keeper at Point Adams light house and in the active discharge of life's duties, still hale and hearty. Mr. Munson is a New Yorker, coming to Oregon by way of Panama I think in 1853. In his younger days he was a man of fine proportions and was rather taciturn in disposition bus as age came on this gradually wore away. Given somewhat to philosophising, a very good logician, but starting from wrong premises as he sometimes does, the conclusions reached would necessarily be wrong. Of late years he has given much time in experimenting in the manufacture of violins, making them in a variety of forms and shapes.

"Although an octogenarian, he with his violin (the same which he brought with him forty years ago) still pays tribute to the orphic shrine." (Smith)

He was born and raised in Hebron, New York, and was a carpenter there. In 1852 he came to San Francisco via Panama. There he worked as a carpenter and a musician. "He possessed considerable skill as a violinist and had carried his violin in his hand across the isthmus. The old instrument still has an honored place among the family relics. His musical ability was such as enabled him to make twenty dollars a night, and because of his talent in this direction he was called 'Fiddler Smith' - a name which clung to him for many years." (Gaston)

He came to Portland in 1853, moved to St. Helens, then to Oak Point, Washington, and then returned to Astoria and helped construct many buildings there. He was in the oyster business at Shoal Water Bay for three years. After he returned to Astoria he became the Fort Canby lighthouse keeper.

"Cape Disappointment Lightstation was tended by the revered Captain J.W. 'Joel' Munson from 1865 to 1877. On March 15, 1865, the bark Industry wrecked near the cape. Of the 24 people on board, only seven survived. Munson was greatly disturbed that more people could have been saved if a lifesaving craft had been available. He found a battered lifeboat from the wreck on the beach and decided to rebuild it for use as a lifesaving boat. Munson was an accomplished fiddler and organized dances in Astoria, charging $2.50 per person, to raise money for the project." (Lighthouse Friends)

In 1877 Munson was transferred to the Point Adams lighthouse, and remained there until its closure in 1899. One of the violins he made is in the collection of the Oregon Historical Museum.

Sources:
Smith, Silas B., "Celebrations in Clatsop County," Astoria Budget, December 24, 1897, reprinted in Cumtux, Clatsop County Historical Society, Vol. 24, No. 1 Winter 2004.
Gaston, Joseph. The Centennial History of Oregon 1811 - 1912. Chicago: S. J. Clarke, 1912.
http://www.lighthousefriends.com/light.asp?ID=115
http://www.discoveroregonlighthouses.com/adams.html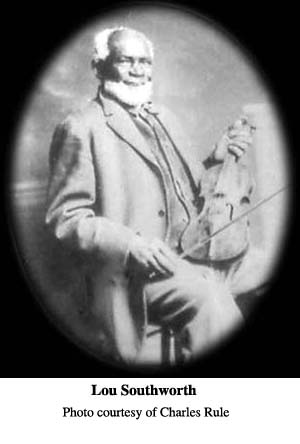 Louis Alexander Southworth (1830 - 1917)

Louis (or Lewis) Alexander Southworth was born a slave in Tennessee on July 4, 1830. Although his father's surname was Hunter, he took the surname of his master, James Southworth. At age two he and his master and his family moved to Franklin County, Missouri. Most likely this is where he learned how to play the fiddle. When Louis was in his early twenties, in 1853, his master took him over the Oregon Trail to the Oregon Territory.

Slavery had been illegal in Oregon since 1844, and black people were legally excluded from the territory from 1848 to 1854 and again in 1857. These laws were difficult to enforce, and in 1854 Louis settled on an abandoned Oregon Donation Land Claim near Monroe, in Lane County. Times were hard, so his master moved in with him. Louis soon left for the gold fields in the Jacksonville area of Southern Oregon, where he made $300 which he paid to his master as a "down payment" for his freedom.

In 1858 he went to Yreka, California to mine for gold. He discovered that he could make more money with his music than he could mining, and taught violin and played for dance schools in Yreka and in Virginia City, Nevada. He earned another $400 toward his freedom, and became a free man when he made his final payment of $300 to his master in 1859.

In 1868 Southworth moved to Buena Vista, Oregon, where he purchased land and established a blacksmith shop and livery stable. He learned to read and write, joined the Victoria Lodge of Masons, and married Maria Cooper. In 1880 he moved with his wife and stepson to Tidewater, about five miles up the Alsea River from Waldport, where he farmed, hunted, fished, ferried passengers and cargo across and up and down the river, and helped with the hay and wheat harvests near Corvallis and Philomath. He donated land for a local schoolhouse, served as chair of the school board, and trained one of his horses to do tricks in Oregon State Fair shows.

Lou was an ardent supporter of Abraham Lincoln, and always voted. On election day in 1880, a violent southwest storm was blowing across Alsea Bay, raising whitecaps on the water, and everyone was afraid to cross the bay to the polling place. Lou rigged up two oil drums on the front and back of his boat to provide extra flotation, and was the only one to make it across the bay to vote that day.

Benton County pioneer Theodore P. Bevens said "He was a fine blacksmith and lived last on Alsea Bay where his stepson still lives. He prospered and used to dress well and drive a fine black team. He was respected by all and treated almost as an equal even by the Southerners."

He played the fiddle for dances in Waldport. An Alsea Valley old timer recalled, "Oh, boy, could he play the fiddle! He would sing, 'Old Nigger Lou . . ' and he would get out there and dance with it."

Southworth was a religious man, and joined the Baptist church. But they didn't approve of his violin playing, so he stopped attending. In a 1915 interview with the Corvallis Daily Gazette Times he said:

"The brethren wouldn't stand for my violin, which was all the company I had most of the time. They said it was full of all sorts of wicked things and that it belonged to the devil. And it hurt me a good deal when they told me that playin' a fiddle is a proceedin' unbecomin' to a Christian in the sight of the Lord. So I told them to keep me in the church with the fiddle if they could, but to turn me out if they must, for I couldn't think of parting with my old-time friend. They turned me out."

After his wife died in 1901, Southworth moved to Corvallis. He got along well with his neighbors there, and they raised $300 to pay off his mortgage. When he died in 1917, the townspeople lined up for blocks to pay their respects.

The creek that crossed Southworth's Alsea River homestead was called "Darkey Creek." In 2002, after three years of controversy, the U.S. Board on Geographic Names voted to change its name to "Southworth Creek." But the road that runs along the creek still retains its original name.

The interview in the Daily Gazette continues:

"And I sometimes think that when you go up yonder and find my name to your surprise in the Big Book, you'll meet many a fellow who remembers the old fiddler who played 'Home Sweet Home,' 'Dixie Land,' 'Arkansas Traveler,' 'Swanee River,' and other tunes for the boys who were far away from home for the first time. And some of the fellows will tell how the poor, homesick boys listened to the fiddle during the long winter evenings until they forgot their troubles so they could sleep as they had slept under their mothers' roofs at home. And they'll talk over the days when there was not society for men like us out West; when there wasn't any Bible, and hymn books were unknown; when playin' poker and buckin' faro were the only schoolin' a fellow ever got; when whiskey ran like water and made the whites and Indians crazy; when men didn't go by their right names and didn't care what they did, and when there was no law, and the court was the man who carried the best six-shooter. And when they have talked over those early days, the fellows will say:

"'Where'd we all been and what'd we all done in the mines, but for Uncle Lou's fiddle which was the most like church of anything we had?' For the boys used to think the good Lord put a heap of old-time religious music into my fiddle; and the old-time religious music is good enough for an old man who's done some mighty hard work in eighty-five years.

"But I forget the work I've done and the years I've lived when my bow comes down soft and gentle-like and the fiddle seems to sing the songs of slavery days till the air grows mellow with music and the old-time feelin' comes back, and I can hear familiar voices that are no more.

"There are things a plain old man can't tell in words, and there are feelin's that won't fit into common, everyday talk like mine. When there's plenty of rosin on the bow and the player's feelin' fine, and the fiddle pours out great torrents of music that calm down till he hears the bob white's whistle and the rustlin' of the corn, and the whippoorwill and mockin' bird come to sing for him, and he forgets what he ought not to remember and he wants to make everybody glad – then it is that a plain man has feelin's he can't describe. But he knows he's happier and better, and his next day's work is easier. He has a smile and a kind word for every one he meets, and every one has a smile and a kind word for him. The world is heavenly to that man, and his feelin's are nigh on to religious."

Tunes played: Old Nigger Lou (= Poor Lou is Gone?), Dixie, Arkansas Traveler, Home Sweet Home, Swanee River

Sources:
Baldwin, Peggy. "Uncle Lou Southworth: A Legacy Beyond the Generations." http://www.gfo.org/writecontest/2006-1st.pdf
Bennet, Roy. "The Life and Times of James Plunkett, 1837-1911, Corvallis Drummer." Corvallis Music History Project, http://www.corvallismusic.com/articles/onearticle. php?articleid=2&articlesectionid=6
Culp, Edwin D. Oregon The Way It Was. Caldwell, Idaho: The Caxton Printers, 1989.
Horner, John B. "Uncle Lou and His Violin." Days and Deeds in the Oregon County. Portland, Oregon: J. K. Gills, 1928, 139 – 146.
"Louis Southworth, an Oregon pioneer!" The African-American Registry. http://www.aaregistry.com/show.php
McLagan, Elizabeth. A Peculiar Paradise: A History of Blacks in Oregon, 1788-1940. Portland, Oregon: The Georgian Press, 1980.
Oregon State University Archives, Corvallis, Oregon.
"WPA Historical Records, Benton Co., Oregon," interview with Theodore P. Bevens. http:// www.ci.aurora.or.us/History/wpa_historical_records_benton_co.htm

William Allen (ca. 1814 - )

Dr. William Allen was a physician from New York who came to Oregon City in 1850, when he was 36 years old. He wrote home to his brother in May, 1851:

"Well, pretty soon Christmas came - a ball came on - no music to be had. Some persons who had heard me playing on the plains informed the proprietor that Dr. Allen was the best violin player in the territory, so they came to employ me to play. I told them I would play for $50. A gentleman from New York assisted me, playing second, for which he got $50. Toward close of the ball, I concluded to shake my leg once, after which the younger ones insisted that I should give them a few lessons in dancing. Thirteen lessons in six weeks for which I charged $200. The last night I gave a small cotillion which I played alone $50; and two balls at a little town called Milwaukie, at which I made $50 each; two small parties at which I charged $25 each. Cured a man and wife of minor complaint for which I charged $50.... The plain fact is the practice of medicine is worth little."

Source:
Culp, Edwin D. Oregon The Way It Was. Caldwell ID: Caxton Printers 1989 pp. 13-15.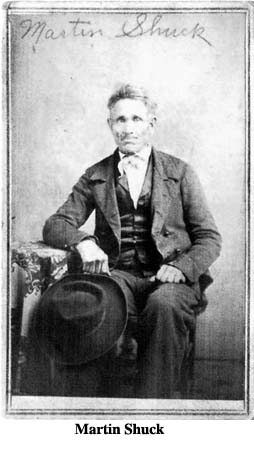 Martin Shuck (1806 - 1896)

Martin Shuck was born in Springfield, Washington County, Kentucky, and came to Oregon in 1847, where he settled on Chehalem Mountain, south of Portland in the Willamette Valley. He was a fiddler and a well-educated man, and the father-in-law of Thomas Martin Haynes. He died in Dundee, Yamhill County, Oregon.

Tunes played: tunes in Haynes Family Manuscript?

Source:
Williams, Vivian. The Haynes Family Manuscript. Seattle: Voyager Publications, 2010.
Thomas Martin Haynes (1870 - 1926)

Thomas Martin Haynes was born in Oregon, the son of James Haynes and Margaret Lucretia Shuck Haynes, who came to the West on the Oregon Trail. He was a carpenter, a banjo and guitar player, and a dance fiddler, and he played tunes from the Haynes Family manuscript. One of his sons was Ben Haynes, uncle of Marilyn Shollenberger (current owner of manuscript), born in 1905, who played fiddle and made instruments. Another son was Marilyn's father, Pete (Harvey Lauren) Haynes, who played fiddle, guitar, and piano.

Tunes played: tunes in Haynes Family Manuscript

Source:
Williams, Vivian. The Haynes Family Manuscript. Seattle: Voyager Publications, 2010.
Russell J. DeLashmutt (1865 - 1938)

Russell was one of the brothers of Charles DeLashmutt (born 1871), who is quoted in the following paragraph. Russell had died about 2 weeks before the interview.

"I am the only one living of eleven children, of which I was the youngest. I buried my only remaining brother last week. There were three of us boys of near the same age that played for the dances when I was young. One brother played the first violin, another the second and I played the piano. They danced mostly square dances in those days, though a good many round dances were popular too. Probably the mazurka was liked the best. We played for dances all over the country. Whole families in wagons and hacks and big crowds sometimes in hayracks would come, and they would dance all night."

The other violin-playing brother may have been William A. (born 1853) or David L. (born 1857), although neither of them seems particularly "near the same age" as Charles. However, I have only found 6 of the11 children in the census records. Their father Russell T. was born in France and their mother Elizabeth was from Virginia. They moved to Missouri, and were in Clackamas County, Oregon (around Oregon City) by 1860. All three younger sons were born in Oregon.

Source:
Charles L. DeLashmutt, Oswego, OR WPA interview on dancing in the 1880's, 12/7/38.
Jack Woolsey (1847 - )

Jack Woolsey was born in New York. His mother was born in Scotland and his father was born in New York. In the 1860's and 1870's he ran a saloon in Canyon City. He married Sophrona (or Sefrona) Rice in 1878. The 1900 census lists him as still living in Grant County.

"Nellie and Ed McCoy, piano and cornet, respectively, with Jack Woolsey, oldtime 'fiddler', continued to be favorites at dances all over the country. They, with Clay Luce calling the quadrilles (and did he sing them!) are amongst my earliest and fondest childhood memories."

Tunes played: 3 different waltzes called "Waltz from J. Woolsey" in Haynes manuscript.

Sources:
"Tales of Canyon City," Oregon Inn-Side News, Portland OR: Imperial Hotel, Jan - Feb. 1945, p. 8.
Williams, Vivian. The Haynes Family Manuscript. Seattle: Voyager Publications, 2010.
John Diedrich Ehlen (1799 - 1882)

John Diedrich Ehlen was born in Hanover Germany, and about 1825 he married Maria Charlotta Boning and the couple had four children, all born in Hanover. The family emigrated to America, and joined the Bethel colony in Missouri in 1845. The Bethel Colony was a Christian communal society, and in 1855 many of the Bethel people moved to Oregon and formed the Aurora Colony in the Willamette Valley about 20 miles south of Portland.
John Diedrich was the leader of the first Bethel brass band, and an important music teacher to colony members, including his children and grandchildren, at both Bethel and Aurora. Both of John Diedrich's sons played in the Aurora Colony band, and four of his grandsons were accomplished violinists.
He brought the skill of basketmaking to the colony, and these baskets were utilized for its most basic needs such as laundry, gathering fruit and eggs, and carrying wool and other materials. Every family received a variety of Ehlen's baskets, and their durability is shown by how many examples of his craft survive in the Aurora museum and in private collections to this day.
He apparently played for a July 4th dance on the Oregon Trail, as the second wagon train from Bethel journeyed to Oregon. According to the Statesman Journal: "The 1863 colony covered wagon train was in camp there [at Independence Rock] on our republic's birthday. They enjoyed dancing that night, to the unmatched music of their German masters of music. The leader that evening was John D. Ehlen. Before coming to America and joining the colony he had been the instructor and leader of one of the orchestras of the great German city of Hamburg. He was the first leader of the bands and orchestras of the colony at Bethel and Nineveh, Mo. Thus the dancers of 72 years ago today at that great rock in a weary land, in the midst of thousands of miles of unbroken wilderness, were favored with as good music as the world afforded. .... And the violin which John D. Ehlen used that memorable evening at Independence Rock was brought by him from Germany- and that instrument has all these years been in use at Aurora, most of the time by his grandson, Henry Clay Ehlen...."
Sources:
Statesman Journal, Salem, Oregon, July 4, 1935
http://www.auroracolony.org/old/families/ehlen_family/
Lorenz Ehlen (1850 - 1907)
Lorenz Ehlen was the eldest son of a large musical family in the Aurora Colony, and a grandson of John Diedrich Ehlen.. In 1894 he ran for and won the post of Marion County Clerk. The endorsement for him in the Woodburn Independent stated: "Mr. Ehlen, though having the ability and training for a professional life, has stayed on the farm, he is a musician of considerable talent, a clarinet player of more than ordinary ability. As to his character, as a man and as a citizen, it is sufficient to say that he is one of what used to be known as the Aurora Colony, known far and wide for their honest and industrious habits, their good citizenship and their solid republicanism.
"He plays the violin and clarinet skillfully and has furnished a full orchestra on many occasions of festivity on French Prairie. He is a self-made man along with the hard working pioneers at whose weddings and at whose children's weddings he has furnished good music and in whose heart he has a warm place. He draws a good bow, writes a good hand, and he will make Marion County a good, honest clerk."
He also played clarinet in the Aurora Brass Band, and appears in their picture below.
Source:
Aurora Colony Historical Society. Ehlen Family History. Research compilation, 2012.
Henry Clay Ehlen (1855 - 1935)
Henry Clay Ehlen, brother of Lorenz Ehlen, was born in Bethel, Missouri and came to Aurora as a child with his family. He played a number of musical instruments including violin, clarinet and cornet. The 1880 census lists him as a farm laborer, probably on his father's farm. After moving to the little railroad town of Uniontown, Washington in 1892 to take a government job, and playing for a few years in his brother's band there, he returned to Aurora and in 1897 married Aurora Keil, granddaughter of the colony founder. In the 1910 and 1920 censuses he is listed as a farmer. He was famous for his high quality hand-made clarinet reeds, which he sent regularly to customers all over the United States and abroad. His obituary included the following tribute from his former neighbor, Mrs. Ruby Brusch:
"Those who heard him play will never forget the way he could make a violin not just sing, but really talk. He was always eager to help anyone to learn to play music and spent hours teaching music to the young folks and would never accept pay for it. It was a gift — he was only too willing to pass on to others...
"It's too bad a genius ever has to die, there are so few of them. It was a rare treat to hear him and Mrs. Ehlen play together — one not to be forgotten. In memory of our beloved friend, Mr. Henry Clay Ehlen.

"I close my eyes and see you there
beside the window in your chair
your hands are clasped around the bow
and on your violin, soft and low
you imitate the birds and bees
then softly as a summer breeze.
The Washer Woman comes and goes,
Next the Blue Danube softly flows,
The Black Hawk Waltz, Star Spangled Banner, America,
The Wooden Shoes, a schottische and the Girls in Blue
You are not here, you went afar
But look! You left the door ajar.
And softly in another room
the violin plays yet another tune."
Henry wrote down 33 ballroom dance tunes in a manuscript which is in the collection of the Aurora Colony Historical Society museum.
Tunes played: tunes in the "Henry Ehlen Manuscript"
Source:
Williams, Vivian. The Aurora Violin Manuscripts. Seattle: Voyager Publications, 2016
William Hamilton Ehlen (1866 - 1935)

William Hamilton Ehlen was born in Aurora, attended the State Normal School at Monmouth, and graduated from the University of Oregon medical school (at that time in Portland) in 1890. When his older brother Henry moved to Uniontown, Washington in 1892, William went with him. He was the leader of the Uniontown brass band which also included Henry, and was a physician in the area for nearly forty years. In 1898 William and his wife Belle moved to Genesee, Idaho, and the Who's Who on The Pacific Coast for 1913 mentions that he was a director of the Genesee Exchange Bank; vice president and director of the First Bank of Troy, Idaho; mayor for three years of Uniontown; health officer in Genesee; and leader of the Genesee Brass Band and Orchestra. When he retired in 1930, he and Belle moved to Seattle, Washington.

He left a set of manuscripts for a quadrille band, including first and second violins, cornet, clarinet and flute. These manuscripts contain 79 dance tunes.

Tunes played: tunes in the "Uniontown Manuscripts"

Source:
Williams, Vivian. The Aurora Violin Manuscripts. Seattle: Voyager Publications, 2016
William Henry Ehlen (1876 - 1945)

William Henry Ehlen was born in Aurora, and was a first cousin of Lorenz, Henry, and William Hamilton Ehlen. He first learned music from his grandfather John Diedrich Ehlen, excelling at string instruments, especially the violin, and he also played the cornet. On September 17, 1898, the Clackamas County Independent reported: "The annual Hoppickers dance was held last Saturday night and the Pioneer Hall at Aurora was crowded by a merry gathering. The affair was all that was anticipated by those who looked forward to the event; fine music provided by Ehlen's orchestra." The 1900 census lists him as a farmer in Marion County; in 1906 he married Hattie Will. In the 1910 census he is listed as a meatcutter, and in 1920 as a post office clerk. He died in 1945.

His name appears in a violin manuscript in the Clark Moor Will collection of Aurora Colony materials in the archive at the University of Oregon in Eugene. Since he was born too late to have written the manuscript himself, he must have obtained it from a previous owner, most likely another Colony musician. Clark Moor Will (1893 - 1982) was a descendant of Aurora Colony members, and was a musician as well as a collector and researcher of materials relating to life in the settlement. On June 16, 1946, Will wrote:
"I made a special run to Aurora and stopped to see Great Aunt Henrietta whose daughter Hattie had been married to William Ehlen. He had died last year and she had two violins of his that she wished to sell. One was the old Tyrolean make that Henry Conrad Finck brought from Europe. When I asked to see them she asked if I would also like to see the old colony bass horn and trumpet that Bill's father Claus Henry had played in the Aurora Colony Band. She lugged the whole kaboodle along with music from the dusty attic. As I handled and studied the instruments Hattie watched me closely. 'Clark,' she said, 'I want you to have the trumpet. You know its worth. You know its record. You know the whole colony story. The horn is home.'"

The violin manuscript was probably included in the "music from the dusty attic."

Tunes played: music from the "1880 manuscript"

Source:
Williams, Vivian. The Aurora Violin Manuscripts. Seattle: Voyager Publications, 2016

Keil Orchestra ca. 1905. L to R: William Henry Ehlen, violin; Elias Keil, clarinet; Emmanuel Keil, violin, Ralph Zimmerman, cello
Emmanuel Keil (1852 - 1922)

Emmanuel Keil was born in Shelby County, Missouri, and was a son of William Keil, the charismatic preacher who founded the Bethel and Aurora Colonies. He played violin in at least two Aurora quadrille bands.

Source:
Aurora Colony Museum Archives

William Giesy (1847 - 1911)

The Giesy family was a large and important founding family in the Aurora colony, and included many musicians, including at least three violinists.

Source:
Aurora Colony Museum Archives

Aurora dance band ca. 1890. L to R: A. H. Giesy, cello; Emmanuel Keil, first violin; Fred Giesy, clarinet; Henry Giesy; Wm. Giesy, second violin; Fred Will, Sr., cornet
Andrew H. Giesy (1859 - 1944)

Andrew H. Giesy was born in Missouri, and ran the Aurora store between 1898 and 1920.

Source:
Aurora Colony Museum Archives

Grover Giesy (1885 - 1976)

Grover Giesy was the son of Martin Giesy, the Aurora colony's doctor. In 1916 he was a member of the 3rd Infantry Band.

Source:
Aurora Colony Museum Archives

Giesy's Orchestra ca. 1899. L to R: Ralph Zimmerman, cello; Frank Ziegler, cornet;
Andrew H. Giesy, violin and leader; Grover Giesy, violin; James Andrew Miller, viola;
Edward Will, clarinet.
Elias Keil (1875 - 1963)

Eli Keil was a grandson of Wilhelm Keil, founder of the Aurora Colony. He lived in Aurora all his life, was a farmer, and played both piano and violin.

Source:
1939 WPA interview at https://memory.loc.gov/mss/wpalh2/29/2903/29030109/29030109.pdf
Henry Conrad Finck (1822 - 1883)

Although he was not a member of the Bethel or Aurora colonies, Henry Conrad Finck was an important figure in the colony's musical scene. He was born in Germany, and in 1847 he was a traveling agent for a German musical instrument distribution house, supplying musical instruments to the Bethel Colony in Missouri. He stayed on at Bethel, and served as apothecary, physician, postmaster, and music teacher, giving lessons for any instrument as well as for voice. His wife died in 1858, and he moved to Aurora with his five children in 1862, where he led the brass band and choral groups, and continued his music teaching. He left Aurora in 1873, and moved to Anaheim, California. His son Henry Theophilus. Finck graduated from Harvard in 1876, became a famous author, and was music critic for the New York Evening Post for 43 years. He wrote the following in his book My Adventures in the Golden Age of Music: "Nearly every day we had home-made music, usually of a high order and often of the highest. My father was an excellent violinist. My brother played the flute and the piano; I the violoncello and the piano. Everybody sang, and young girls often came to join our choir. Father composed for them and was very happy. He also was the best guitar player I ever heard."

Source:
http://www.auroracolony.org/old/families/ehlen_family/
http://www.auroracolony.org/old/aurora/colony/lifestyle/music/

Henry Conrad Finck and his children
William Schwader (1841 - 1929)

Henry T. Finck wrote in My Adventures in the Golden Age of Music: "Two young men, Lawrence [Lorenz] Ehlen and William Schwader, often came to help us play string quartets. We began with the easy works, and then passed upward to Haydn, Mozart and Beethoven. Ehlen and Schwader were real enthusiasts. Nothing could prevent their coming even when rain poured down in torrents and their wagon had to be dragged through mud a foot deep."

Schwader also played cornet in Aurora's brass band.

Sources:
Finck quote at http://www.auroracolony.org/old/families/ehlen_family/
The Sou'wester, published by the Pacific County Historical Society, Autumn 1974 at http://pacificcohistory.org/SouWester/1974%20Autumn.pdf
Photo at http://www.auroracolony.org/old/aurora/colony/lifestyle/music/

The Aurora Band at Portland, July 4, 1876. Back row, left to right: John Giesy, flag; John Link, bass drum; Henry Meier, cymbal; Henry C . Ehlen, cornet ; William Schwader, cornet ; Carl Snyder, cornet ; Fred Keil, leader; Dr. A. J. Giesy, clarinet; Fred Giesy, clarinet; William "Cap" Miley, clarinet; Loren W. Ehlen, clarinet; Adoph Pflug, flag; Emanuel Keil, snare drum.
Front row: Claus Henry Ehlen, bass; Urban Will, bass; Henry Giesy, baritone; Samuel Giesy, bass; George Will, trumpet; Nick Giesy, alto ; George Beck, alto; William Beck, solo alto.
Joseph E. Sedlak (1822 - 1885)
Joseph Sedlak was a prominent musician and music teacher in Oregon in the late nineteenth century. He was born in Bohemia and lived in Portland for many years. In 1860 he was the proprietor and instructor at a music academy in Portland, giving lessons in singing, piano, violin, guitar, flute, clarionet, and all brass instruments. He also organized a cotillion band to furnish music on any occasion required. He married Lodema Crow in 1866. In the same year he was hired to teach instrumental music at the Portland Academy and Female Seminary. Sedlak played violin in the orchestra for the 1875 Amateur Musical Society concert at the Portland Masonic Hall, and was a member of Charles E. Bray's concert orchestra in Portland in April 1876. A versatile musician, he played E flat horn in the Hillsboro brass band on July 4, 1876, and he was also an organist. Fellow Portland resident and German immigrant Robert Yost, who played piano, cornet, bass, and other instruments, was one of the musicians with whom he often worked. Sedlak eventually returned to Bohemia where he died.
A violin manuscript written by him is in the collection of the archive at the Aurora Colony. We do not know what his connection was with the colony, but there is considerable overlap in repertoire between this manuscript and most of the ones from the Ehlen family. Since the population was fairly thin in the early days, one can assume that most of the publicly active musicians in the area knew each other. Perhaps he gave up playing in dance bands when he got married, or perhaps he decided that he wouldn't need his dance manuscripts any more when he decided to go back to Bohemia, and gave them to musician friends in the Aurora community, who then used the book and copied many tunes into their own music books.
The manuscript contains sixty-seven tunes, mostly quadrilles, waltzes, polkas, and other ballroom dance tunes. At the bottom of one of the pages is written "June 16 1863 J. E. Sedlak." The music is written in three different handwritings, including Sedlak's writing and writing by Portland musician Robert Yost, who also wrote a second violin manuscript (which unfortunately has no matching first violin part) in the collection of the Aurora Colony Museum's archive. The Sedlak book includes one tune marked as "arranged by Yost." There are also other manuscripts written by Sedlak, for trumpet and piccolo, in the Aurora museum's collection.
It is interesting that this is the only violin manuscript associated with Aurora that contains any traditional fiddle reels and hornpipes, which were probably used for contra dancing. This could be because of its earlier date: except in New England, the popularity of contra dancing had faded considerably by the end of the nineteenth century. Or it could be because Sedlak was from outside of the conservative German community of Aurora and played for a more diverse clientele in the Portland area.
Tunes played: tunes from the Sedlak manuscript
Source:
Williams, Vivian. The Aurora Violin Manuscripts. Seattle: Voyager Publications, 2016
Robert Yost (1830 - 1917)

"Professor" Robert Yost was born 1830 in Silberberg, Germany. At age 22 he went to England and enlisted in British army as a musician. He came to Portland in 1861, and "was for years one of the foremost musicians in the Northwest." He was instructor of the Military Band at the Vancouver Barracks, the first orchestra leader at the Haymarket Theater and other playhouses, and a prominent music teacher. He played violin, piano, cornet and other instruments.

He played frequently with Professor Sedlak. The second handwriting in Sedlak's violin tunebook appears to be that of Robert Yost, who also wrote a second violin manuscript (which unfortunately has no matching first violin part) in the collection of the Aurora archive. The Sedlak book includes one tune marked as "arranged by Yost."

Tunes played: tunes in the Yost and Sedlak manuscripts.

Sources:
Morning Oregonian, September 12 1917

Robert Yost
Oregon census information is from http://www.censusfinder.com/oregon.htm

IDAHO

Charles Bemis (1848 - 1922)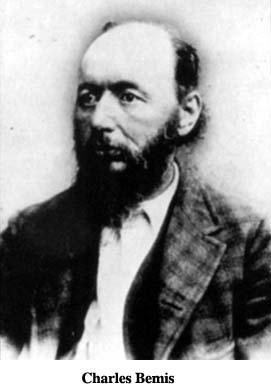 Charles Bemis was born in 1848 and came to the gold mining camp of Warrens, Idaho from Connecticut with his father in 1865. He preferred gambling to placer mining, and soon bought a saloon. A competing saloon/dance hall/gambling house was owned by Hong King, who was the husband or master of Lalu Nathoy, the now famous Chinese slave girl known as Polly. When Hong King died in the middle or late 1870's Polly moved in with Charles. By the mid 1880's he monopolized the saloon business in Warrens and was also working as deputy sheriff. In 1890 Charles was shot in the face, and Polly nursed him back to health. They married in 1894, despite the fact that such an inter-racial marriage was illegal at the time. However, the Justice of the Peace who married them, Amasa "Pony" Smead, could not have objected too strongly, since he himself was married to an Indian woman, which was also illegal! Charles and Polly moved to a farm 17 miles away on the Salmon River. Charles still owned the saloon, continued to play occasional dances in Warrens, and sold produce from the farm. He died in 1922; Polly died in 1933.

He was one of the fiddlers in the dance orchestra formed by Peter Beemer in the late 1860's. The other members of the band included another fiddler (Rube Bessey), Peter Beemer on the flute, a banjo player, and an accordion player. Beemer wrote down 124 tunes for the orchestra to play for dances.

For the dances in Warrens, Charles Bemis's saloon, which normally offered "Pure Whiskey, Wines, Liquors and Cigars," was converted to a dance hall. So that respectable ladies could attend, the bar was closed and covered with a canvas, the pictures were turned to the walls, the tables and chairs were stacked out of the way, and smoking or drinking were forbidden. On a typical Saturday night seventy-five to a hundred people would attend, about five men to each woman. At midnight the ladies served a buffet supper, after which the dancing resumed and might continue until dawn. This was a typical pattern for community dances in pioneer settlements.

Long after the orchestra disbanded Charles Bemis continued to play dances from Peter Beemer's manuscript.

Tunes played: tunes in Beemer manuscript

Sources:
Williams, Vivian, ed. The Peter Beemer Manuscript. Seattle: Voyager Publications, 2008.

Reuben Bessey (1816 - 1898)

Reuben Bessey was the other fiddler in the dance band that played at Charles Bemis's saloon. He was born in Massachusetts in 1816. He was a member of the James Warren party who first discovered gold at Warren's Diggins. When Bemis was shot in 1890, Bessey ran the saloon for him until he recovered. Over the years Bessey played violin for dances with several musical ensembles. He is buried in the cemetery on the hill above Warren.

Tunes played: tunes in Beemer manuscript

Source:
Williams, Vivian, ed. The Peter Beemer Manuscript. Seattle: Voyager Publications, 2008.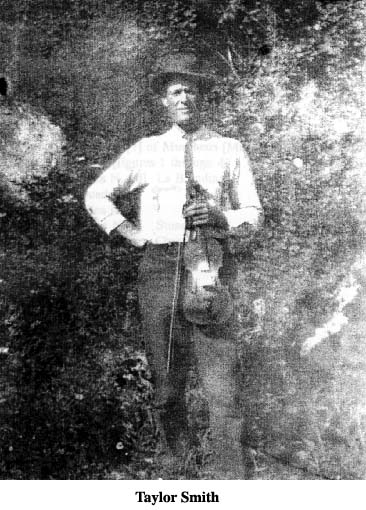 Taylor Smith (1881 - 1968)

In 1893 Charles Bemis and his wife Polly (a famous Idaho historical figure in her own right) took 12-year-old Taylor Smith into their home. Charles taught Taylor how to play the violin, and eventually gave the Peter Beemer manuscript to him. Taylor played dances from it for many years. In 1961 he allowed the Idaho Historical Society to make a microfilm copy, and wrote a brief history for them, in which he wrote that he also played dances from this manuscript.

He also played horn; with his sister on reed organ and his nephew on violin, he played dances in the Warrens area in the early 20th century.

Tunes played: tunes in Beemer manuscript.

Sources:
Williams, Vivian, ed. The Peter Beemer Manuscript. Seattle: Voyager Publications, 2008.
Cochrane, John. The Warren Collection: Music Manuscript Book from the Warren, Idaho, Mining Camp, 1864.
Dissertation, Boise State University, 1994.

Charles Barnard

Charles Barnard was an itinerant violin teacher who played and taught in various Idaho mining camps in the 1860's, including Florence, Warrens, Lewiston, and Idaho City.

Tunes played: Polka from Sch. Barnhard of Florence

Sources:
Cochrane, John. Early Boise Musicians: A Review of the First Instrumental Music Entertainers in the Boise Basin Mining Camps from 1863 to 1868. Dissertation, Boise State University, 1991.
_____________. The Warren Collection: Music Manuscript Book from the Warren, Idaho, Mining Camp, 1864. Dissertation, Boise State University, 1994.
McIntyre, R. "Pioneer Music Educators in Idaho: 1862-1865," Idaho Music Notes, Vol. 34, No. 1, 1993.

John Kelly (1845? - ) and Willie, the Snake Indian Boy (ca. 1861 - ca. 1875)

John Kelly was an itinerant violinist who entertained in various Boise Basin mining camps in the 1860's. His troupe, "Kelly's Varieties," supplied "Singing, and Dancing, Negro Extravaganzies by an unrivalled Troupe of Performers." The Boise News of November 28, 1863, said that "John Kelly is too well known all over the coast to need an introduction." Former Governor William McConnell described Kelly as "an artist with the bow who had no equal in that day. . . He commanded a salary second to none and was engaged in the largest gambling resort in Idaho City." To protect himself and his violin in the rowdy surroundings in which he performed, he devised a hanging stage, above the heads of the patrons on the main floor, with a ladder which he would pull up after himself.

According to the Idaho Historical Society, "Idaho gold camps had their share of actors and musicians in the 1860's and 1870's. A perennial favorite in southern Idaho was an Irish violinist, John Kelly, whose renditions of such popular airs as 'Old Dog Tray' and 'Write a Letter to My Mother' alternated with the heavier strains of Bach and Beethoven. The versatile maestro also sang popular ballads to his own accompaniment. Whenever Kelly performed in Idaho, he drew capacity crowds. One concert in Boise merited the newspaper opinion that Kelly's performance was 'the most fashionable entertainment ever given in this city.' Kelly's popularity was enhanced by the antics of Willie, his traveling partner and co-performer between 1863 and the early 1870's. Everyone in southern Idaho knew the story of that Snake Indian lad. Early in the spring of 1863 Jeff Standifer and fifty Indian fighters from Boise Basin had organized a volunteer expedition to punish a Snake band which was raising havoc with the gold rush. After one of the battles, the volunteers, so records one chronicler, found Willie nursing at the breast of his dead mother who was killed in the action. Standifer rounded up the surviving Indians, including Willie, and took them back to Boise Basin. Some of the prisoners were farmed out as cheap, but intransigent, laborers. Willie found himself in more pleasant surroundings. He was given to John Kelly, who was on a Basin tour at the time. The Snake Indian boy surprised everyone by quickly adapting to his new surroundings. Kelly taught the youngster to play the fiddle and to tumble and turn in the fashion popular with gymnasts of the period. Within a few months Willie had joined the act. He was "supposed to be the greatest contortionist of his age living," wrote a Boise newspaper editor. During the next few years Kelly and his Indian companion performed for audiences all over the country. Even Europe knew of the famous duet, for Kelly and Willie toured the violinist's native Ireland early in the 1870's. It was while in Ireland, however, that tragedy ended the friendship. Willie took ill and died, and John Kelly returned to America with a heavy heart. Neither he nor his audiences soon forgot the Snake Indian acrobat."

Sources:
Cochrane, John. Early Boise Musicians: A Review of the First Instrumental Music Entertainers in the Boise Basin Mining Camps from 1863 to 1868. Dissertation, Boise State University, 1991.
"John Kelly and Willie, the Snake Indian Boy," Idaho State Historical Society Reference Series Number 251, Revised May 1966.
Jay Rand Sanburn (1833 - 1919)

Sanburn Schottische was probably written by Jay Rand Sanburn, a gold miner, near Florence in 1862. Sanburn Schottische is one of the earliest tunes written within present day Idaho that can clearly be attributed to a specific writer. We have not confirmed yet that he played the fiddle.

When Idaho County was organized with its seat at Florence in 1862, Sanburn was the county clerk. In 1888 Sanburn became a state legislator. His collection of curios and minerals was purchased by the University of Idaho in 1901.

"HON. JAY RAND SANBURN. The life of this well known business man has been full of varied experiences and activities on the frontier, and in it all he has shown forth the real pioneer spirit, ever manifesting therewith integrity, capability, and faithfulness. Jay R. was born in Illinois, on May 12, 1833, being the son of early pioneers of that state, and at Knoxville he was educated. At the age of twelve he started in life for himself, and the first venture was to learn the harness maker's trade and saddlery. He followed this for five years and then took up the printing business in which he also became proficient. Four years after that, he came across the plains, driving five yoke of oxen all the way. He landed in Trinity county, California, and the same winter went into the butcher business. He mined and sold goods until 1858, then went to Frazer river in British Columbia, where he visited the Cariboo mines. In 1860, he went to Orofino, the next year to Florence and in 1862, he was in Boise basin. California was the destination again in 1864, and in 1870 we find him engaged on the locks at Oregon City. Returning again to California, he worked for six years in the Turkish baths there. Then he came to Shoshone county, and in 1890, he traveled to Coeur d'Alene. In 1890, he was appointed receiver to the United States land office in that city and for four years we find him in faithful discharge of the duties of that incumbency. Since that time until 1899, Mr. Sanburn has been engaged in various lines of business and in the year last mentioned he retired from the more active walks of life to enjoy the competence which his skill and labor have accumulated for him. However, he is still interested in mining and has some good properties.

"Politically, Mr. Sanburn had always been an ardent Republican until 1896, when he voted for Bryan and since has been a Socialist. He voted for A. Lincoln and every Republican candidate until the one mentioned. In 1888, Mr. Sanburn was elected as representative to the state legislature from Kootenai and Shoshone counties. It has always been the lot of the subject of this sketch to sail his bark on the more placid waters of celibacy and he is now enjoying the golden years of his life in this line and is highly esteemed by all being one of the influential and substantial men of our county." (Illustrated History)

Sources:
Eller, Gary. Pre-1910 Idaho Songs. http://www.bonafidaho.com
An Illustrated History of North Idaho, Embracing Nez Perces, Idaho, Latah, Kootenai and Shoshone Counties. Western Historical Publishing Company, 1903.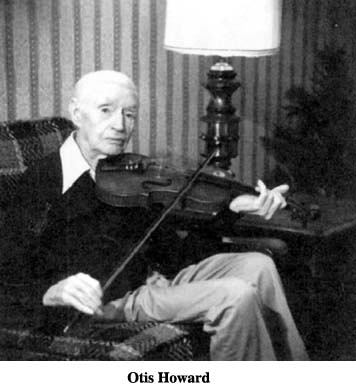 Otis Howard (1887 - 1981)

Otis Howard was born in Fort Collins, Colorado and named after General Otis Howard of Civil War and Indian War fame. His parents were originally from Indiana, and they migrated to Pine, Idaho, on the South Fork of the Boise River, in 1899. His father, uncle, four brothers, and two sisters all played fiddle or 5-string banjo. Otis helped his father drive freight wagons to and from the Atlanta and Rocky Bar mines, and later drove stagecoaches between Mountain Home and Atlanta. Later he worked in the mines, shoring timber and working on the Featherville gold dredge, and also worked in ranching, logging, and farming. He played dances in the area, and played banjo and steel guitar as well as fiddle.

Tunes played (recorded in 1963): Stoney Point, Century Hoedown*, Cripple Creek, Old Blue Mule*, Grey Eagle Hornpipe, Snowflake, Chickens in the Garden*, Unnamed hornpipe 1*,Sally Gooden, Eighth of January, Blue Mule, East Tennessee Blues, Rachel, Unnamed hornpipe 2*, Unnamed hornpipe 3*, Boilin' Down the Cabbage, Arkansas Traveler, Blue Valley Waltz, West of the Rockies Waltz*, Blue Mountain Waltz, Blind Girl Went to Heaven*, Unnamed Waltz*, Red Bird Waltz, Old Time Waltz*, Mighty Pretty Waltz, Waltz and schottische, Otis Howard Schottische*, Unnamed schottische 1*, Unnamed schottische 2*, Unnamed schottische*

*Known or suspected Otis Howard originals

Source:
Idaho Old Time Fiddling by Otis Howard. CD from tape recorded in 1963, Slim Chance Music, Nampa ID, 2009.

Census information for Idaho is at Idaho USGenWeb Archives at http://usgwarchives.org/id/idfiles.htm

BRITISH COLUMBIA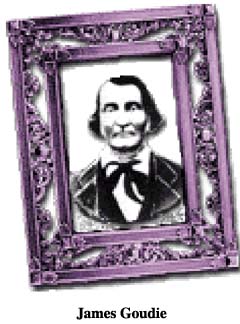 James Goudie (1809 - 1887)

James Goudie was born in Stromness, Orkney Islands. He worked as a blacksmith for the Hudson's Bay Company for five years, then became a miller for them. In the winter of 1829, while at York Factory on Hudson Bay, he made a violin for himself and learned to play it. He worked at Ft. Colville, north of Spokane, from 1830 to 1851. In 1849 he asked John Charles, who was passing through Ft. Colville, to obtain a fiddle (or strings?) for him. He married Catherine Jane Schwayips, a native woman from the area of Kettle Falls, and they had 7 children. In 1852 they moved to Fort Victoria on Vancouver Island. The journey, according to son-in-law McKenzie, was of epic proportions and took a year. Forty packhorses carried their goods south to Walla Walla and then to Vancouver where they picked up goods they had ordered from England a year earlier. They then followed the Cowlitz route to Fort Nisqually and finally crossed the strait in three canoes to Fort Victoria. Catherine died in 1853. In 1858 James married Jane Fydler, born in Stromness, Orkney.

Sources:
http://archiver.rootsweb.ancestry.com/th/read/ORKNEY/2009-02/1234338091
James Goudie, http://freepages.genealogy.rootsweb.ancestry.com/~goudied/james_goudie_1808-1887.html
John Greig (1825 - 1892)

"The first known limeburner in the vicinity of Victoria was John Greig. John Greig was born about 1825 in Burness, Orkney Islands. Nothing is known of his early life. Greig was described as being 5'6" tall, wiry, with red hair and a fair complexion.

"He joined the Hudson's Bay Company in 1844 at St. Ola, on a five year indenture. After arriving at York Factory, he apparently spent the winter 'at one of the northern forts,' Fort Churchill, according to one account. Family members relate that while he was there 'he learned to speak French' while conversing with his fellow workers, who were French Canadians. It is also related that he made a violin, and learned to play it by the spring of the following year.

"Greig was then sent to the Columbia Department of the HBC, by means of the 'Overland Express' which took from three to four months of 'exceedingly hard travel.' He was then sent to Fort Colville where he was employed as a laborer from June 1846 to 1851. Completing his indenture with the HBC in 1851, John Greig made his way to Fort Victoria on Vancouver Island, where he carried on transactions with the Company until June 1853.

"The early HBC land records reveal that he purchased 30 acres of land in Esquimalt District on Dec. 15, 1851, thereby being one of the first land owners on the Island.

"In 1849, Chief Trader Alexander C. Anderson officiated at the marriage of John Greig to Margaret, the daughter of James Goudie and his Native wife Catherine at Fort Victoria. James Goudie was a blacksmith and a miller, who had been at Fort Colville when Greig was there, and no doubt the two worked together at times.

"By 1854 John Greig had acquired 122 acres, (Sections 6 and 103) in Esquimalt District. The census of Vancouver Island taken by James Douglas on Dec. 31, 1854, interestingly lists John Greig as the owner of property valued at more than £20, and gives the following information; that there was a dwelling house, in which two adults (John and Margaret) and one child (John Jr., their first child) lived. That he had improved five acres of land, which had £10 of farming implements and machinery on it. He had eight horses, five milch cows, four working oxen, and five other kinds of cattle. He also recorded having nine swine and 20 poultry. As a farmer he seems to have performed well, managing to harvest 40 bushels of wheat, 20 bushels of peas, and 100 bushels of potatoes.

"John and Margaret would have a large family of 10 children: John, Robert, Margaret, James, Mary, Amelia, Tom, William, George, Frank, Emily, and Donald.

"Although all the area directories and voter lists from 1871 to the time of his death, state that his profession was 'that of a farmer,' (and so he was,) he was essentially known for his limeburning.

"On March 15, 1884, Greig transferred the property to his sons William and James. He would later humorously relate how he sold his property for '$10 and a Stetson Hat.'

"John Greig was well-known for his fiddle playing, and 'was in demand at local dances and social gatherings.'

"John Thomson, a son of William Thomson, and a former employee of Greig's 'had nothing but praise for the old pioneer. He cooked for the men and in the evening when he would bring out a bottle of scotch whiskey--give each one (of the men working for him) a drink, and then play on his violin (fiddle), much to the enjoyment of the men. When he wasn't playing his violin, he would reminisce (about) his journey overland from Eastern Canada.'

"'A story circulated at one time that John Greig was illiterate,' relates his great-granddaughter, Priscilla Bethell. 'This idea stemmed from the fact that one evening while entertaining at a dance someone handed him a sheet of music. He promptly propped it up on a chair and continued playing. It was discovered later that the sheet music was upside down. John Greig played entirely by ear and therefore the sheet music meant nothing to him.

"'From stories handed down from friends and relations,' she continues, 'I've gleaned some insight to his character. He was very humorous, liked his "nip," avid reader of his Bible, and very religious.'

"He was known for many years as 'Greig, the Fiddler' reported the Saanich Peninsula and the Island Review in 1951. 'His ability to play the violin proved more than a pleasant accomplishment on one occasion. It was believed to have saved his life when passing through interior of the province, many years ago. A report stated that he and a group of his fellows met with a body of hostile Indians. The aborigines were disposed to deal with the white invaders in a summary manner when John Greig commenced to play his fiddle. The savage Indians were so taken with the music that they did not only release their prisoners, but supplied them with a number of gifts.'

"John Greig died at the age of 67 on Oct. 14, 1892, and was interred at St. Stephen's Churchyard cemetery. His obituary in the Daily Colonist remarked concerning his passing the 'British Columbia lost one of those old timers who helped to make her what she is.'"

Source:
Morrison, Brad. "PENINSULA HERITAGE: John Greig: he fiddled while the limestone burned" In Beachcomber, Wednesday January 28 1998, page 7.
http://nowandthengenealogy.tripod.com/NewspaperArticles.html
Return to Voyager Recordings Home Page

Return to Articles Page