Pete Seeger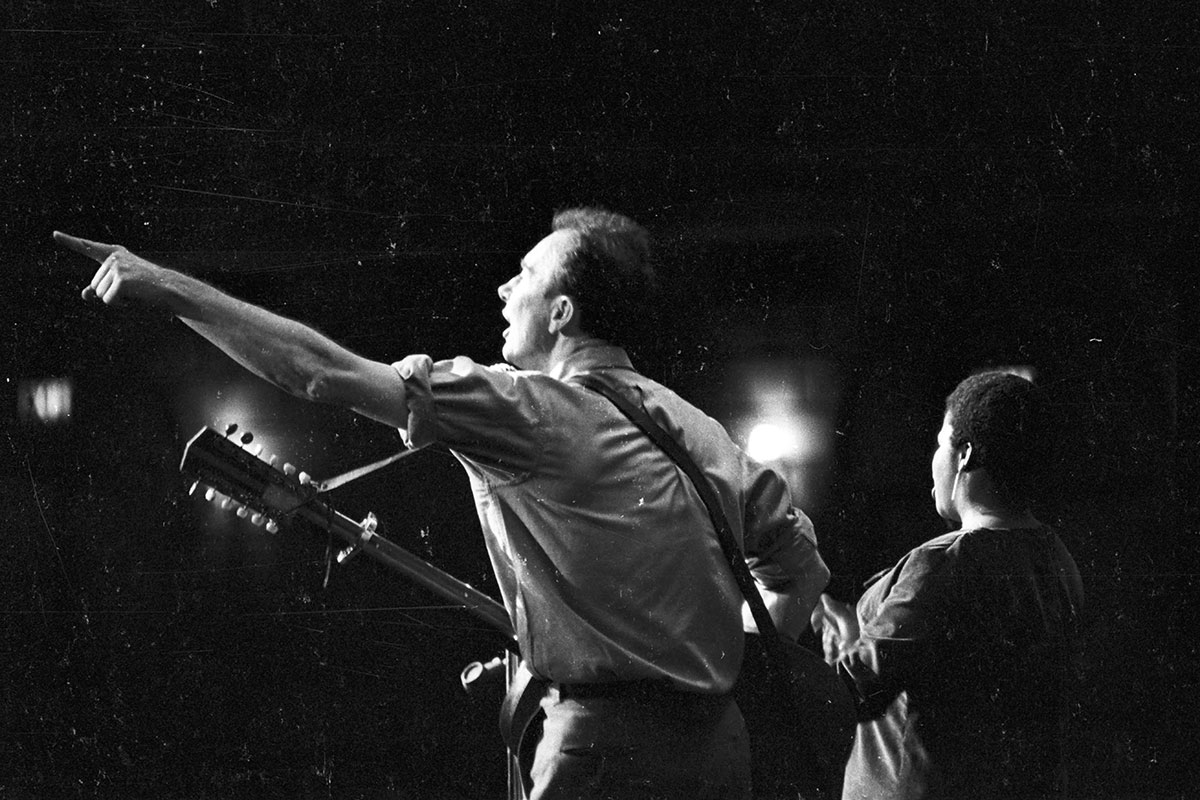 "Pete Seeger reminds us of our immense failures as well as shining a light toward our better angels and the horizon where the country we've imagined and hold dear we hope awaits us."
Pete Seeger (1919-2014) was the dean of 20th century folk singers. For over sixty years, up until his passing in January of 2014, he performed powerful songs and lent his energies to causes he believed in. On the hundredth anniversary of his birth, Seeger's influence and legacy has only grown as the issues he sang about, from labor struggles to environmentalism, have become increasingly urgent. His songs define these cultural and political flashpoints to this day, unique in their ability to offer a stance that is defined by power, clarity, and compassion.
Music was a major force in Pete's life from an early age. His father was the musicologist Charles Seeger, and his mother Constance was a classical violinist. At one point during his youth Seeger and his brothers traveled extensively with their parents, entertaining communities throughout the countryside. When he was sixteen, he accompanied his father to Bascom Lamar Lunsford's folk festival in Asheville, North Carolina. It is there that he first encountered the banjo and fell in love with it.
He went to Harvard hoping to become a journalist, but did not find what he was looking for there. In 1938, he settled in New York City and eventually met Alan Lomax, Woody Guthrie, Aunt Molly Jackson, Lead Belly, and others. The quality of music coming from this group immediately captured his attention. He assisted Alan Lomax at the Library of Congress' Archive of Folk Song and was exposed to a wonderful array of traditional American music. Many in this group of musicians eventually formed the Almanac Singers in 1940. In addition to Pete, the group included Lee Hays, Woody Guthrie, Bess Lomax, Sis Cunningham, Mill Lampell, Arthur Stern, and others. They lived in a communal home, "The Almanac House," in New York. The group performed for gatherings, picket lines, and any place where they could lend their voices in support of the social causes they believed in. Later, after World War II, many of the same people became involved in the musical organizations People's Songs and People's Artists.
In 1943, Seeger recorded in New York during a production of Earl Robinson's Lonesome Train. While recording, he stopped by Moses Asch's little studio and recorded several Spanish Civil War songs for his first acetate discs on Moses Asch's record label. This was the beginning of a very long and prolific relationship between the two men. Asch continued to record Pete during the 1950s and beyond, with Pete eventually recording over fifty records for Folkways Records. With Asch and Folkways, Pete was free to record the type of material that he felt was important to record. In 1955, he testified before the House Committee on Un-American Activities, pleaded the Fifth Amendment, and was sentenced to jail. After a long fight, he was acquitted on appeal in 1962.
During the 50s and 60s, Folkways published dozens of Pete's records. While the blacklisters were worried about Seeger singing before Middle America on the television, radio, or in nightclubs, his children's records were entertaining a new generation of youngsters in schools and summer camps, where he was also known to make appearances. His great children's albums from this period remain best sellers today, including his own story Abiyoyo. His series American Favorite Ballads taught a whole generation of young Americans the great American folk songs that Seeger himself had learned.
Many of the young people who heard Seeger in the 1950s became the leaders of the "folk song revival" which began later that decade. Musicians like the Kingston Trio's Dave Guard were inspired to take up music.
Following the '62 acquittal, now able to move freely and without the cloud of prison hanging over his head, Seeger began to increase his involvement in social activism, especially the African American civil rights movement. He marched in the South with Dr. Martin Luther King, Jr., and others. He gathered at the Highlander Folk School in Tennessee, and participated in re-working the hymn "I Will Overcome" into the iconic anthem "We Shall Overcome." He was also a strong voice against the Vietnam War, penning great anti-war songs like "Waist Deep in the Big Muddy" and "If You Love Your Uncle Sam (Bring 'Em Home)."
The fight to protect the environment also captured of his attention. Seeger heard the phrase "think globally, act locally" and it got him thinking about his own area around Beacon, New York (Pete Seeger: The Power of Song). His home was on a hill over the Hudson River, which by the mid-1960s had become a festering, polluted mess. Seeger and friends built the sloop Clearwater and sailed up and down the river, performing and raising awareness of the problem. Ultimately, the river became cleaner and cleaner and the polluters were stopped—demonstrating what Seeger's strong-minded perseverance could accomplish.
Pete Seeger was involved in almost every important facet of American culture in the years since. He was on the board of the Newport Folk Festival and served as a board member of Sing Out!, Smithsonian Folkways, and many other organizations. He and his wife Toshi ran the Clearwater Festival in New York state each year until her passing in 2013. Just days before his passing, he participated in the yearly celebration of Martin Luther King, Jr. in Beacon, New York. Up until the very end, he was committed to working for what he felt was right.
---
Videos
Pete Seeger's Advice to Smithsonian Folkways