His Folkways Years, 1963-1968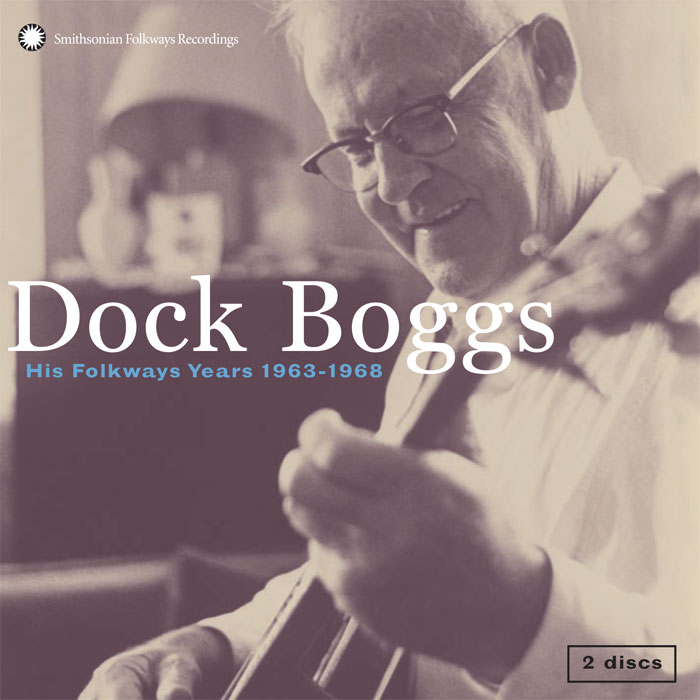 Dock Boggs recorded only 12 songs in the 1920s, but his raw, powerful singing and distinctive banjo-playing caused Harry Smith to include him in his Anthology of American Folk Music (SFW 40090) and Mike Seeger to search for him in the hills of Kentucky in 1963. A new series of recording sessions captured the 50 blues, instrumentals, regional and religious songs included in this two-CD set. Originally released to high acclaim on three Folkways Records LPs in the 1960s, they have influenced musicians ever since. Extensive notes by Mike Seeger and Barry O'Connell.

The complete text of Barry O'Connell's essay on Dock Boggs is available here.


EN ESPAÑOL
Dock Boggs grabó sólo doce canciones en la década de 1920, pero su canto puro y potente, además de su distintiva interpretación del banjo causó que Harry Smith lo incluyera en su Antología del folclor musical americano (SFW 40090) y que Mike Seeger lo buscara en las colinas de Kentucky en el año 1963.
En una nueva serie de sesiones de grabación recogió los cincuenta blues, en canciones instrumentales, regionales y religiosas incluidas en este conjunto de dos CD. Originalmente lanzado con alta aclamación en tres grabaciones Folkways LPs en la década de 1960, desde entonces ellos han influenciado a diferentes músicos . Extensas notas de Mike Seeger y Barry O'Connell.
El texto completo del ensayo de Barry O'Connell sobre Dock Boggs está disponible aquí.
Track Listing