Indian Music of the Upper Amazon
Various Artists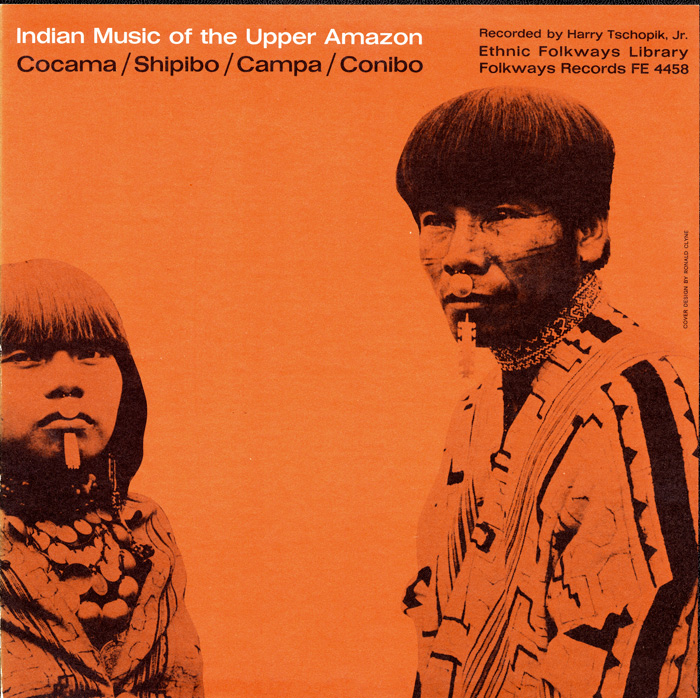 "The area designated by the vague term 'Upper Amazon' is actually incredibly extensive. The great Amazon system drains three million square miles of territory, or approximately half the South American continent. Some of its most remote tributaries, fed by melting glaciers in the Andes, originate less than eighty miles from the Pacific coast. Others extend upward into the highlands of Venezuela, Colombia, Ecuador, Peru, and Bolivia. This vast area, flanking the eastern slopes of the Andean chain, embraces a bewildering number of Indian tribes, an almost unbelievable number of unrelated languages, and a series of tropical forest cultures that range from exceedingly simple and primitive to highly sophisticated and complex..."

Harry Tschopik, Jr.

"A área designada pelo vago termo "Alto Amazonas" é em realidade incrivelmente extensa. O enorme sistema fluvial amazônico drena um território de três milhões de milhas quadradas, aproximadamente metade do continente sul-americano. Alguns dos afluentes mais remotos se originam oito milhas da costa do Pacífico e são alimentados pelas geleiras dos Andes. Outros vem das regiões altas da Venezuela, Colombia, Equador, Peru e Bolívia. Nesta vasta área há um número de tribos indígenas, com um inacreditável número de línguas distintas, e uma série de tradições tropicais que variam de extremamente simples e primitivas as mais sofisticadas e complexas..."

Harry Tschopik, Jr.

"El vago término 'Alto Amazonas' designa, en realidad, un área increíblemente extensa. El enorme sistema fluvial amazónico drena un territorio tres millones de millas cuadradas, aproximadamente la mitad del continente suramericano. Algunos de sus más remotos tributarios, alimentados por los glaciares andinos, se originan a menos de ochenta millas de la costa pacífica. Otros provienen de las tierras altas de Venezuela, Colombia, Ecuador, Perú y Bolivia. Esta vastísima área abarca un inmenso número de tribus indígenas, una casi increíble cantidad de lenguajes independientes, y una variedad de culturas que abarcan desde las extremadamente simples y primitivas hasta las más sofisticadas y complejas..."

Harry Tschopik, Jr.



Track Listing
| | | | | |
| --- | --- | --- | --- | --- |
| 101 | Fiesta Music | Drum and male voices | 2:16 | |
| 102 | Fiesta Drum Music | Two drums, pan-pipes, male and female voices | 1:45 | |
| 103 | Social Dance Music | Flute solo | 1:57 | |
| 104 | Traveling Music | Bass drum, tap drum and flute | 1:32 | |
| 105 | Girl's Puberty Rite | n/a | 2:16 | |
| 106 | Public Work Music | Drum, flute, shouts, calls and whistles | 2:49 | |
| 107 | Social Dance Music | Three drummers | 1:22 | |
| 108 | Work Song | Solo male voice | 1:22 | |
| 109 | Welcoming Drum Music | Solo drum | 1:06 | |
| 110 | War Song | Solo male voice | 2:27 | |
| 111 | Dance for Adolescent Girl | Drum, blowing tubes, bells, shouts and laughter | 1:43 | |
| 112 | Lullaby | n/a | 1:32 | |
| 201 | War Music | Two drums, pan-pipes, male and female voices | 1:50 | |
| 202 | Drinking Music | Drum and female voices | 1:14 | |
| 203 | Fiesta Dance Music | Solo on pan-pipes of thirteen tubes | 1:08 | |
| 204 | Fiesta Dance Music | Solo on pan-pipes of five tubes | 1:20 | |
| 205 | Game Lure Whistle | Game lure whistle | 0:45 | |
| 206 | Social Dance Music | Bass and Trap drum performers with flute | 2:20 | |
| 207 | Fiesta Drum Music | n/a | 1:13 | |
| 208 | Social Dance Music | n/a | 2:10 | |
| 209 | Social Dance Music | n/a | 1:12 | |
| 210 | Fiesta Music | Drum, male and female voices | 2:17 | |
| 211 | Public Work Music | Two drummers | 1:23 | |
| 212 | Animal Sacrifice Music | Flute soloist | 1:22 | |
| 213 | Funeral Music | Chorus of female mourners | 1:30 | |
| 214 | Fiesta Drum Music | Bass and Trap drums performers | 1:44 | |