John A. Lomax, Jr. Sings American Folksongs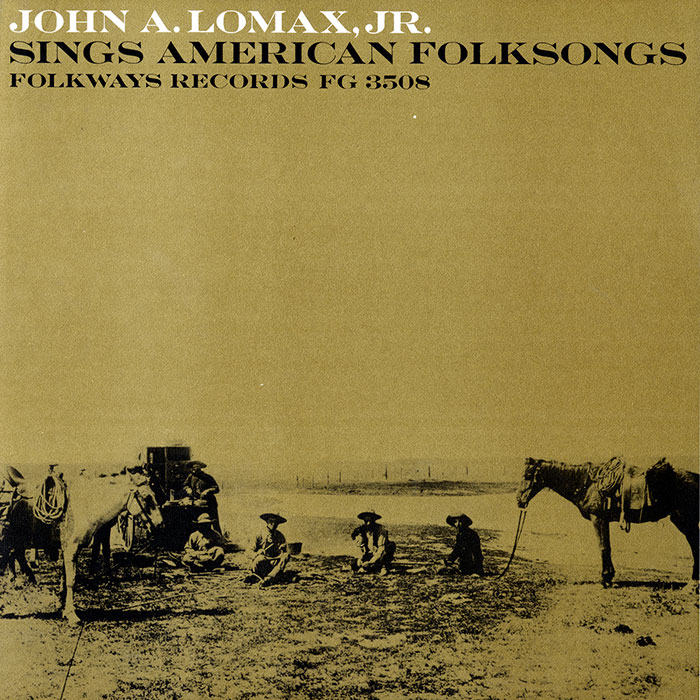 Singing unaccompanied, John A. Lomax Jr., the son of John Avery Lomax, the pioneering musicologist and folklorist, performs an eclectic collection of American folk songs, some pre-dating the Civil War. He learned the country lullaby "All the Baby Chickens in the Garden," on his father's knee, and the blues holler, "I'm All Out and Down," from Lead Belly after the iconic folk and blues musician had left the Angola penitentiary. Also included are work songs, a children's ballad, courting song, play-party song, and more.
There is a personal story behind every track. Lomax Jr. understood the historical importance of a song, and was keen to save aspects of American life from oblivion. Thus the lives of the cotton picker, the cowboy, and the buffalo skinner live on in this 1956 recording.
Track Listing
| | | | | |
| --- | --- | --- | --- | --- |
| 101 | The Texian Boys | John Lomax, Jr. | 1:54 | |
| 102 | I'm All Out and Down | John Lomax, Jr. | 2:24 | |
| 103 | The Midnight Special | John Lomax, Jr. | 3:13 | |
| 104 | All the Baby Chickens in the Garden | John Lomax, Jr. | 2:52 | |
| 105 | The Cocaine Song | John Lomax, Jr. | 2:01 | |
| 106 | The Factory Girl | John Lomax, Jr. | 1:32 | |
| 107 | St. James Infirmary | John Lomax, Jr. | 2:43 | |
| 108 | Whoopie Ti-Yi-Yo, Get Along Little Dogies | John Lomax, Jr. | 3:23 | |
| 109 | Tee Roo, Farmer's Curst Wife | John Lomax, Jr. | 2:20 | |
| 201 | Long John | John Lomax, Jr. | 2:29 | |
| 202 | The Tin Maker Man | John Lomax, Jr. | 0:27 | |
| 203 | Buffalo Skinners | John Lomax, Jr. | 3:38 | |
| 204 | Louisiana Girls | John Lomax, Jr. | 1:39 | |
| 205 | Hay Making Song | John Lomax, Jr. | 1:33 | |
| 206 | Long Time Ago | John Lomax, Jr. | 1:37 | |
| 207 | John Henry | John Lomax, Jr. | 4:27 | |
| 208 | Rye Whiskey (Jack of Diamonds) | John Lomax, Jr. | 2:18 | |
| 209 | Pick a Bale of Cotton | John Lomax, Jr. | 1:30 | |
| 210 | The Gal I Left Behind | John Lomax, Jr. | 1:34 | |
| 211 | Good Bye Old Paint | John Lomax, Jr. | 2:07 | |