El ave de mi soñar: Mexican Sones Huastecos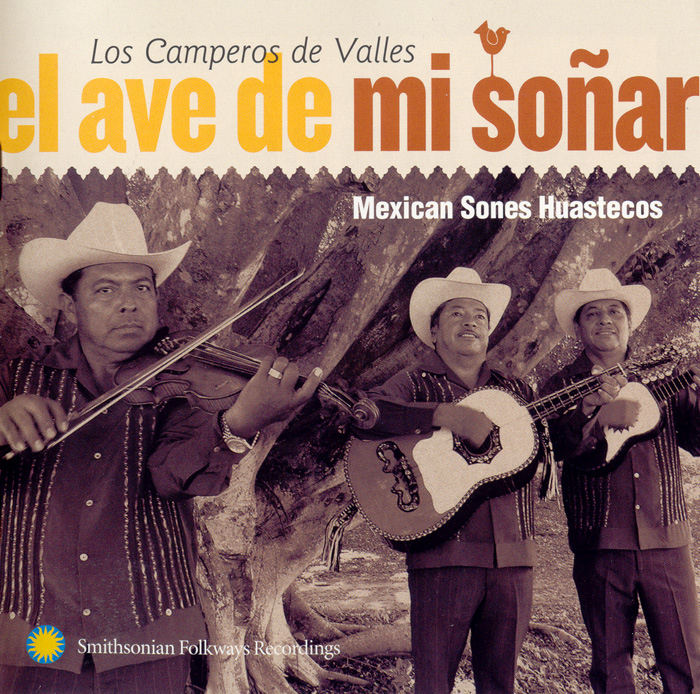 Hard-edged violin improvisations, driving guitar rhythms, and soaring falsetto vocal excursions mark the son huasteco, one of Mexico's most distinctive and celebrated regional styles of music. Raised on the cattle and sugar cane ranches of the Huastecan region of northeastern Mexico, the three men of Los Camperos de Valles, Marcos Hernández Rosales, Gregorio "Goyo" Solano Medrano, and Joel Monroy Martínez, are acclaimed international ambassadors for their music, their region, and their nation. El Ave de mi Soñar (The Bird of My Dreams) fuses age-old Huastecan repertoire, masterful stylings, and original poetry of musician-poet Artemio Posadas to create a deeply traditional, yet highly creative, monument to Mexican music.
LYRICS
Lyric transcriptions available here
EN ESPAÑOL
Las enérgicas improvisaciones de violín, los marcados ritmos de guitarra, y las excursiones vocales del requinto son las marcas distintivas del son huasteco, uno de los estilos regionales de México de mayor distinción y renombre. Criados en las vaquerías y las haciendas de caña de azúcar en las regiones huastecas del noreste de México, los tres hombres que integran Los Camperos de Valles son aclamados como embajadores internacionales de su música, su región y su nación. El Ave de mi Soñar es la fusión del repetorio tradicional huasteco, con magistrales innovaciones de estilo y la poesía original del músico y poeta Artemio Posadas para crear un monumento profundamente tradicional y a la vez muy creativo a la música mexicana.
RELATED VIDEO
Son Huasteco
Track Listing