Texas Towns & Tex-Mex Sounds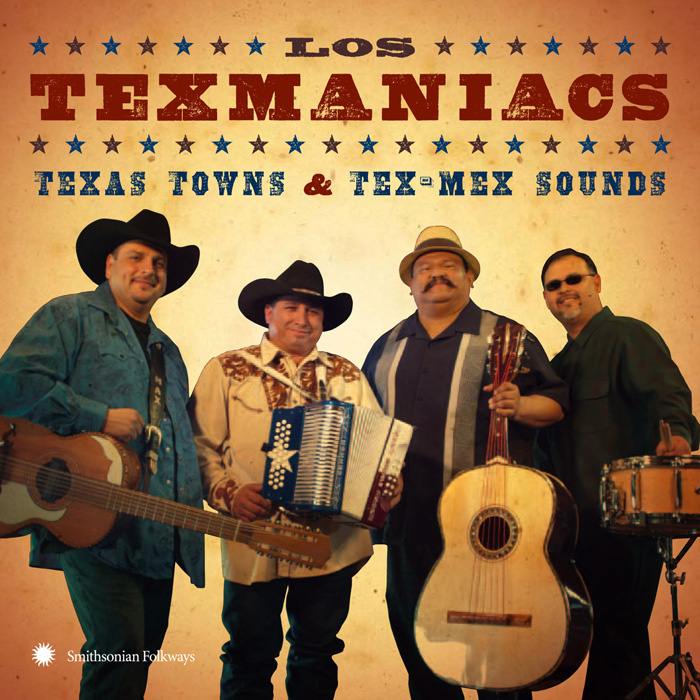 San Antonio, Laredo, El Paso, Corpus Christi, Seguín, and other Texas towns inspired this second Smithsonian Folkways recording of "hardcore conjunto" music by the spunky and spirited GRAMMY-winning group Los Texmaniacs. Their signature sound comes from deep within the heart of Texan tradition, while Max Baca's bajo sexto and David Farías' accordion playfully break new creative ground. Multi-instrumentalists Óscar García and Lorenzo Martínez complete the quartet, with guest cameos by Western Swing singer Ray Benson and Jason Roberts of Asleep at the Wheel, and Texas Western Swing Hall of Fame fiddler Bobby Flores. 62 minutes, 40 page booklet with bilingual notes and photos.

This album is part of the Smithsonian Folkways Tradiciones/Traditions Series of Latino music albums, produced with support by the Smithsonian Latino Center.

San Antonio, Laredo, El Paso, Corpus Christi, Seguín, y otros pueblos tejanos inspiraron esta segunda publicación Smithsonian Folkways de "conjunto duro" por el grupo vivaz y brioso, ganador del GRAMMY Los Texmaniacs. Su sonido característico viene de lo profundo del corazón de la tradición tejano, mientras el bajo sexto de Max Baca y el acordeón de David Farías abren caminos de creatividad e innovación. Multi-instrumentalistas Óscar García y Lorenzo Martínez completan el cuarteto, con actuación especial por el cantante de Western swing Ray Benson y Jason Roberts del grupo Asleep at the Wheel, y violinista del salón de fama de Texas Western Swing Bobby Flores. 62 minutos, folleto de 40 páginas con fotos y notas bilingües.
Track Listing