Product Spotlight
Make Your Own Sunny Day Mask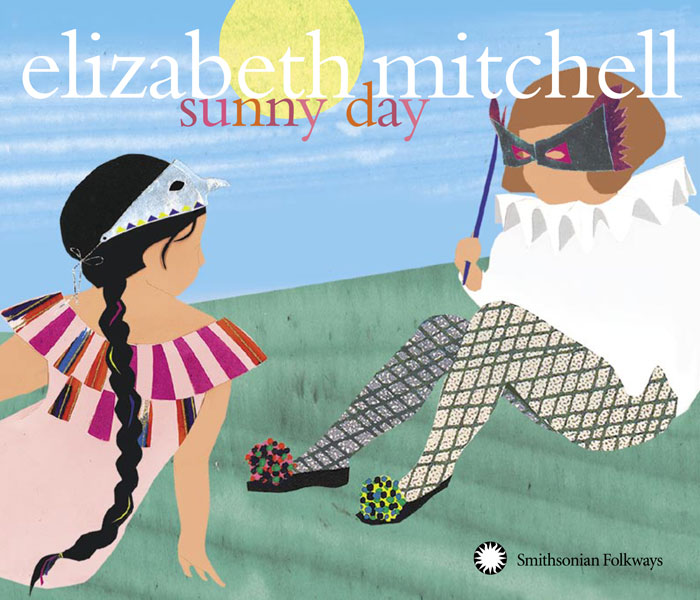 Sunny Day is the new album of songs by Elizabeth Mitchell. There are songs about the Sun, the Moon, rabbits, trains, and elephants. On the cover of the album, two girls are wearing homemade masks.
Masks are fun, and not just for Halloween! You can wear a mask to pretend to be a bird, space explorer, an imaginary creature, or even the President!
You can make your own Sunny Day mask! When you're done, share a photo of your mask on the Sunny Day Flickr Group and enter to win special prizes!
So let's get started!!! Just follow these four steps:
Step One:
Click here to download an easy mask and decorate it yourself. Print it on plain paper and follow the instructions. You'll need supplies like scissors, scotch tape, and crayons or markers. Here are ideas for other masks too. Be creative!
Step Two:
Take a digital photo of your mask and submit it to the Sunny Day Flickr™ Group.
On the Sunny Day Flickr™ Group, you can see everyone else's masks. Just be sure to follow the Flickr™ rules.
Make as many masks as you like, but please only submit your favorite.
When you submit, write about what inspired your creation!
Make sure you like the picture, as it may be seen by lots of people! We may post it to the general Flickr™ Group, the Smithsonian Folkways Facebook page, and elsewhere.
Step Three:
Enter to win the Sunny Day Mask Contest!
Three randomly selected winners will win an original mask designed and created by Storey Littleton (Elizabeth Mitchell's daughter and band member), an autographed Sunny Day CD, and an autographed Sunny Day poster.
How to Enter:
Enter the contest by sending an email to SmithsonianFolkways@si.edu with the subject "Sunny Day Mask Contest!" and include the entrant's name, age, mailing address, telephone number, and link to the photo on Flickr. If you prefer not to use Flickr but still want to submit your photo, attach the image as a .jpg or .gif to your email. Files larger than 2MB will not be accepted.
To enter the contest without submitting a photo, mail the entrant's name, age, telephone number, and mailing address to:

"Sunny Day Contest"
Smithsonian Folkways Recordings
PO Box 37012, Capital Gallery 2001, MRC 520
Washington, DC 20013-7012


Important note for entrants under 18: your entry must contain the name, mailing address, and telephone number for your parent or guardian with permission to participate.


Contest open through December 15th. No purchase necessary. Rules and conditions apply. Click here for official rules. By submitting an entry, you agree to contest rules and conditions.
Step Four:
Wear your mask to an upcoming Elizabeth Mitchell concert, bring a camera, and get your picture taken with Elizabeth Mitchell and family (and then upload that to Flickr™ too!). Click here to see the list of upcoming concerts.