Music of Haiti: Vol. 2, Drums of Haiti
Various Artists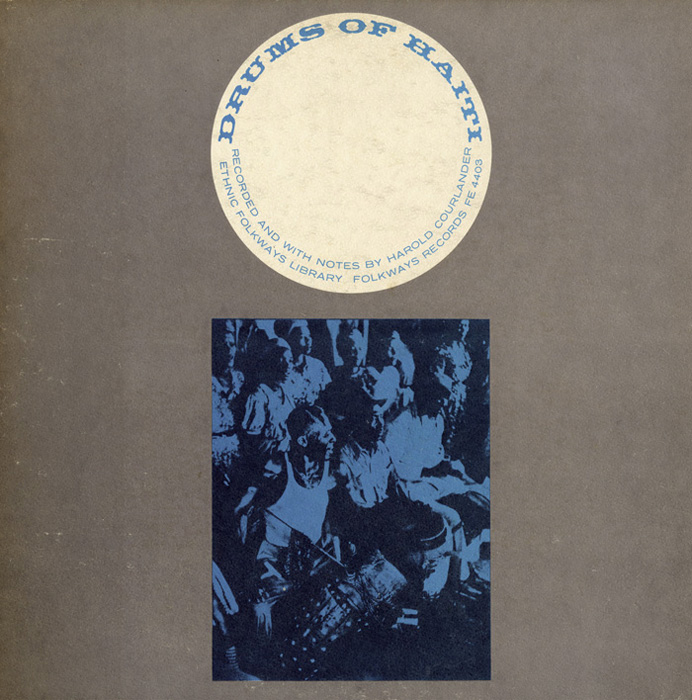 Beads of sweat roll from the brows of muscular drummers who never tire. They play the manman, moyen and bébé drums of vodoun, an often misrepresented organized religious and cultural practice that values communion with the land and respect for the community. The rhythms are said to chofé (or heat up) players and listeners alike, inspiring increasingly impassioned drumming and dancing. Folklorist, ethnographer and ethnomusicologist Harold Courlander, known for his important early work documenting the "vast unwritten literature, dances, music" of the Haitian peasants, released these field recordings from the mountain villages of Haiti before nearly any other recordings were available.
EN ESPAÑOL
Gotas de sudor ruedan por la frente de los musculosos tamboristas que nunca se cansan. Tocan el manman, moyen y tambores bébé de vudú, una práctica religiosa y cultural organizada, a menudo tergiversada, que valora la comunión con la tierra y el respeto por la comunidad.
Los ritmos son dichos para chofé (o calentamiento) de jugadores y oyentes por igual, inspirando tambores y bailes cada vez más apasionados. El folklorista, etnógrafo y etnomusicólogo Harold Courlander, conocido por su importante trabajo inicial que documenta la "vasta literatura hablada, los bailes, la música" de los campesinos haitianos, lanzó estas grabaciones de campo de los pueblos de las montañas de Haití antes que casi cualquier otra de las grabaciones estuvieran disponibles.
Track Listing