Norway: Fiddle and Hardanger Fiddle Music from Agder
Various Artists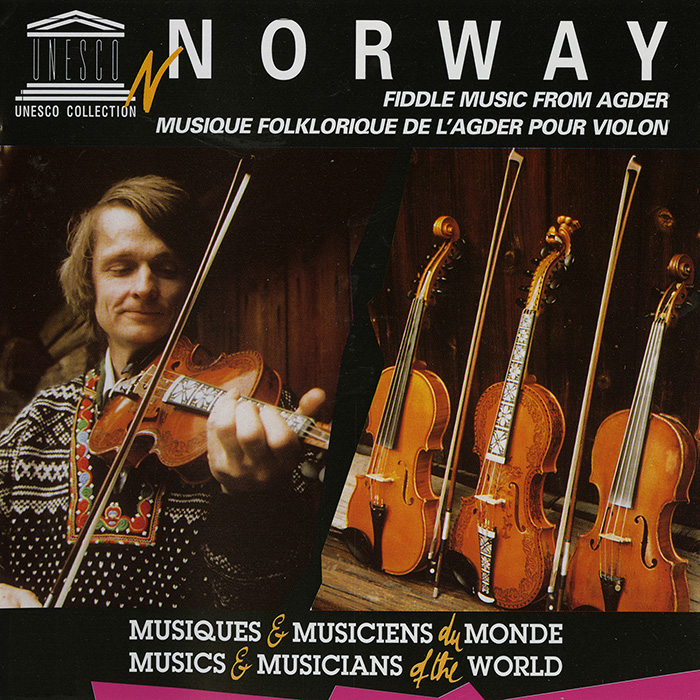 The hardingfele (fiddle from Hardanger) has been the principal stringed instrument of the fiddle tradition in the region of Agder in southernmost Norway since the 20th century. Similar in design to a violin, the hardingfele has four strings that are bowed and four or five understrings, or sympathetic strings, creating an echo-like sound.
This recording provides examples of the history and variation of violin music in Norway. Of interest are the distinct differences in sound between the fiddle, the hardingfele, and the lesser known setedalsfele (a cross between a hardingfele and violin, named after the Setesdal district). Vidar Lande performs traditional Norwegian dance pieces such as gangar, sprigar, and halling and the newer gammeldans songs (old-time dance) such as waltz and polkas. Lande grew up in Agdar and Bygland and learned to play the hardingfele from his uncle. His interest in native Norwegian fiddle music has resulted in his transcription and preservation of songs of this unique style of music.
The liner notes give historical and technical information about each song.
FREE DOWNLOAD
Please enjoy a free download of the song "Førespel" by Vidar Lande
This album is part of the UNESCO Collection of Traditional Music. More than 125 albums are being released by Smithsonian Folkways Recordings to make the series publicly available, including a dozen never-released albums of musical traditions from around the globe.
Track Listing
| | | | | |
| --- | --- | --- | --- | --- |
| 101 | Førespel | Vidar Lande | 1:12 | |
| 102 | Ola Hytta, gangar | Vidar Lande | 1:40 | |
| 103 | Fille-Vern | Vidar Lande | 1:45 | |
| 104 | Springdans | Vidar Lande | 2:04 | |
| 105 | Gunnu mæ tjønnas springar | Vidar Lande | 1:16 | |
| 106 | Brureslag etter Jørund Nordgaard | Vidar Lande | 2:26 | |
| 107 | Trippar etter Georg Brobakken | Vidar Lande | 1:37 | |
| 108 | Mazurka etter Jens Mykland | Vidar Lande | 1:31 | |
| 109 | Reinlender frå Åseral | Vidar Lande | 1:38 | |
| 110 | Vals etter Georg Brobakken | Vidar Lande | 1:18 | |
| 111 | Sordølen, gangar | Vidar Lande | 1:33 | |
| 112 | Sordølen | Vidar Lande | 2:14 | |
| 113 | Linborjen, springar | Vidar Lande | 2:31 | |
| 114 | Amtmannen | Vidar Lande | 2:04 | |
| 115 | Strømsingen, halling | Vidar Lande | 1:28 | |
| 116 | Springdans etter Jens Mykland | Vidar Lande | 1:07 | |
| 117 | Bjønne-Per's springar | Vidar Lande | 1:28 | |
| 118 | Frøyrakjen, gangar | Vidar Lande | 1:44 | |
| 119 | Ulveljodet | Vidar Lande | 2:06 | |
| 120 | Skorsvikjen, gangar | Vidar Lande | 1:41 | |
| 121 | Halvbror til reven | Vidar Lande | 1:50 | |
| 122 | Tveitlien, gangar | Vidar Lande | 3:33 | |
| 123 | Gangar etter Torjus Odden | Vidar Lande | 1:33 | |
| 124 | Dolkaren | Vidar Lande | 1:52 | |
| 125 | Gangar etter Ola Hytta | Vidar Lande | 2:41 | |
| 126 | Skrubben | Vidar Lande | 2:41 | |
| 127 | Marit i Hommens slått, gangar | Vidar Lande | 1:08 | |
| 128 | Homslien, gangar | Vidar Lande | 2:30 | |
| 129 | Systerslått | Vidar Lande | 1:54 | |
| 130 | Skjaldmøyslaget, med førespel | Vidar Lande | 2:20 | |
| 131 | Gravbakken, med førespel | Vidar Lande | 4:05 | |
| 132 | Gorrlaus I, gangar | Vidar Lande | 1:43 | |
| 133 | Gorrlaus II, gangar | Vidar Lande | 2:31 | |
| 134 | Gorrlaus III, gangar | Vidar Lande | 2:55 | |