Portugal: Music and Dance from Madeira
Various Artists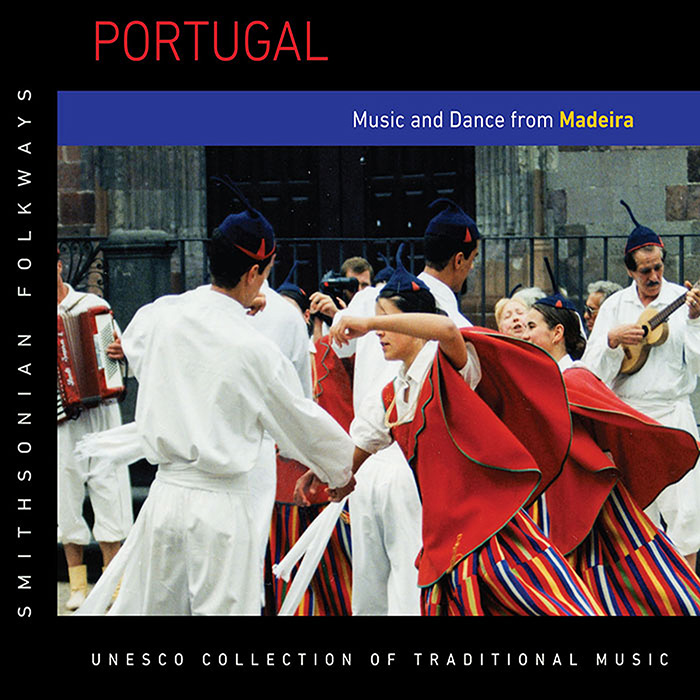 Part of Portugal since its discovery in the early 15th century, Madeira developed music, dance, and festival traditions that reflect and shape its history and social life. Political and economic changes since the 1970s have stimulated a renewed appreciation of local traditions that are researched and performed today by many grassroots folk groups, such as the one featured here. From the dramatic opening track of unaccompanied work calls to an old tragic ballad, song duels, dance songs, and instrumentals featuring a variety of local instruments, these sparkling and startling 1996–1997 recordings display the unique and enduring musical legacy of a disappearing rural life and the vigor of urban life. Produced and annotated through a collaboration of the Universidade Nova de Lisboa and the Associação Musical e Cultural Xarabanda in Madeira. 54 minutes, 38-page booklet. Previously unreleased.
FREE DOWNLOAD
Please enjoy a free download of the song "Toque de Pife (Flute Solo)"
This album is part of the UNESCO Collection of Traditional Music. More than 125 albums are being released by Smithsonian Folkways Recordings to make the series publicly available again, including more than a dozen never-released albums of musical traditions from around the globe.
Track Listing
| | | | | |
| --- | --- | --- | --- | --- |
| 101 | Cantiga dos Borracheiros (Song of the Borracheiros) | Grupo de Borracheiros da Associação Flores de Maio de Porto da Cruz | 7:03 | |
| 102 | Cantiga de Carregar Trigo (Song for Carrying Wheat) | Maria José Pestana | 1:11 | |
| 103 | Baile da Meia-Volta (Meia-Volta Dance), dance-song | Grupo de Folclore do Porto Santo | 6:43 | |
| 104 | Charamba, sung poetic competition, excerpt | António João Baptista, António Fernandes de Nóbrega, João Marques Gouveia, Manuel Figueira Vieira de Freitas | 3:16 | |
| 105 | Bailinho, dance-song | Eduardo Caldeira, António Francisco Teixiera, Virgílio Caldeira, Adelino Basílio | 4:49 | |
| 106 | O Veneno da Moriana (Moriana's Poison), ballad | Maria Noémia Santos Velosa | 3:22 | |
| 107 | Toque do Pife (Flute Solo) | João Caldeira | 1:19 | |
| 108 | Cantiga do Espírito Santo (Song of the Holy Spirit) | Cristina Perpétua de Gouveia | 3:34 | |
| 109 | História do Coelhinho (Story of the Little Rabbit), song | Virgílio Caldeira | 1:10 | |
| 110 | Triste Avezinha (Sad Bird), for mandolin orchestra | Orquestra de Palheta do Recreio Musical União da Mocidade | 4:55 | |
| 111 | Fado | Grupo de Folclore e Etnográfico de Boa Nova | 5:01 | |
| 112 | Mourisca dos Canhas (Mourisca of Canhas), dance-song | Grupo Folclórico da Ponta do Sol | 3:21 | |
| 113 | Senhor António (Mr. António), song | Grupo Folclórico da Ponta do Sol | 2:17 | |
| 114 | Baile dos Canhas (Dance of Canhas), dance-song | Grupo Folclórico da Ponta do Sol | 3:04 | |
| 115 | Encrenca (Trouble), instrumental composition | Musical Xarabanda | 2:56 | |