¡Que Viva el Canto! Songs of Chile
Rafael Manríquez and Friends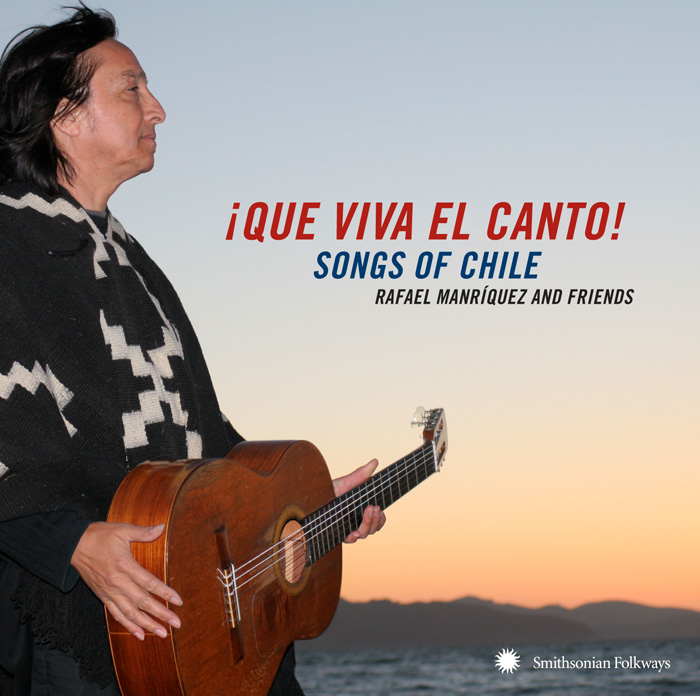 Over one hundred years and three regions of Chilean folk song style are summed up in this contemporary musical tour-de-force led by singer, guitarist, and composer Rafael Manríquez and friends. Guitar and harp-driven country tonadas, Andean cachimbos with charango and quena, southern Chiloé island songs with accordion, political nueva canción, edgy urban cuecas, and more offer a glimpse of Chilean folk music of today in its eclectic diversity. Guest artists include Eduardo Peralta, Héctor Pavez, Pedro Yáñez and a dozen other mainstays of the Chilean folksong movement. Bilingual, 44-page booklet, 73 minutes.
EN ESPAÑOL
Más de cien años y tres regiones del estilo de la canción popular chilena se resumen en esta proeza musical contemporánea liderada por el cantante, guitarrista y compositor Rafael Manríquez y amigos. Toques de guitarra y arpa del campo tonadas, cachimbos andinos con charango y quena, canciones del sur de la Isla de Chiloé con acordeón, la nueva canción politica, provocadoras cuecas urbanas y otras más que ofrecen una visión de la música popular chilena de hoy en su diversidad ecléctica.
Los artistas invitados incluyen a Eduardo Peralta, Héctor Pavez, Pedro Yáñez y una docena de otros pilares del movimiento de la canción popular chilena. Bilingüe, folleto de cuarenta y cuatro páginas, setenta y tres minutos.
RELATED VIDEO
Nueva Canción - Activist-musicians Rafael Manríquez, Quique Cruz, and Hector Salgado
Rafael Manríquez performs "Tonada de gris silencio"
Track Listing
| | | | | |
| --- | --- | --- | --- | --- |
| 101 | La Cueca de los poetas (The Cueca of the Poets) | Rafael Manríquez, Marcia Valdivieso, Luis Zepeda, David León, Juanito Ríos | 2:01 | |
| 102 | La golondrina chilota (The Swallow from Chiloé) | Rafael Manríquez, Eduardo Peralta | 3:30 | |
| 103 | Espigas para un recuerdo (Ears of Wheat as a Memento) | Rafael Manríquez, José Manuel Manríquez, Luis Zepeda, David León | 3:11 | |
| 104 | La Burrerita (The Little Burro Driver) | Rafael Manríquez, Claudio Araya, Francisco Araya | 3:16 | |
| 105 | Enredaderas (The Creeping Vine) | Rafael Manríquez, Luis Zepeda, Juan Hernández | 3:19 | |
| 106 | Brindis por Violeta Parra (Toast to Violeta Parra) | Hugo González | 0:57 | |
| 107 | Adios, corazón amante (Good-Bye, Dear Lover) | Jenisse Díaz, Rafael Manríquez | 3:05 | |
| 108 | Mi casa de campo (My Country Home) | Rafael Manríquez, José Manuel Manríquez, Luis Zepeda, Juan Hernández | 3:47 | |
| 109 | ¡Que viva el canto! (Long live the song!) | Rafael Manríquez, Luis Zepeda, David León, Juanito Ríos | 1:45 | |
| 110 | El cautivo de Til Til (The Captive of Til Til) | Ingrid Rubis, Rafael Manríquez | 2:49 | |
| 111 | En Lota la noche es brava (In Lota, the Night is Fierce) | Rafael Manríquez, Jorge Tapia | 3:03 | |
| 112 | Mi vals paraíso (My Paradise Waltz) | Rafael Manríquez | 3:44 | |
| 113 | Canto por siempre (I Sing Forever) | Hugo González, Pedro Yañez | 3:15 | |
| 114 | Tonada de gris silencio (The Tonada of Silent Gray) | Rafael Manríquez | 4:03 | |
| 115 | Cuando voy al trabajo (When I Go to Work) | Rafael Manríquez | 3:16 | |
| 116 | Hágale un aro a las penas (Put an End to Your Sorrows) | Rafael Manríquez, Luis Zepeda, David León | 1:59 | |
| 117 | Los cuarenta oficios (The Forty Jobs) | Rafael Manríquez, Pedro Yañez | 2:33 | |
| 118 | Deja la vida volar (Let Life Fly) | Rafael Manríquez, Claudio Araya, Francisco Araya | 3:42 | |
| 119 | Pericona por Lincomán (Pericona for Lincomán) | Rafael Manríquez, Marcos Acevedo, Ariela Medina, Sergio Gómez | 2:30 | |
| 120 | La señora de la calle (The Lady of the Street) | Rafael Manríquez | 3:53 | |
| 121 | ¿Y dónde andará el Chindo? (And Where Would Chindo Be?) | Rafael Manríquez, Marcos Acevedo, Ariela Medina, Sergio Gómez | 2:32 | |
| 122 | La clavelina (The Little Carnation) | Rafael Manríquez | 2:15 | |
| 123 | Si yo volviera a quererte (If I Were to Love You Once Again) | Rafael Manríquez | 2:33 | |
| 124 | Me gusta la cueca brava (I Like the Cueca Brava) | Rafael Manríquez, Héctor Pavez, David Barrows | 2:14 | |
| 125 | Yo defiendo mi tierra (I Defend My Land) | Rafael Manríquez, Jorge Tapia | 3:18 | |