Trinidad & Tobago: Trinidad - Music from the North Indian Tradition
Various Artists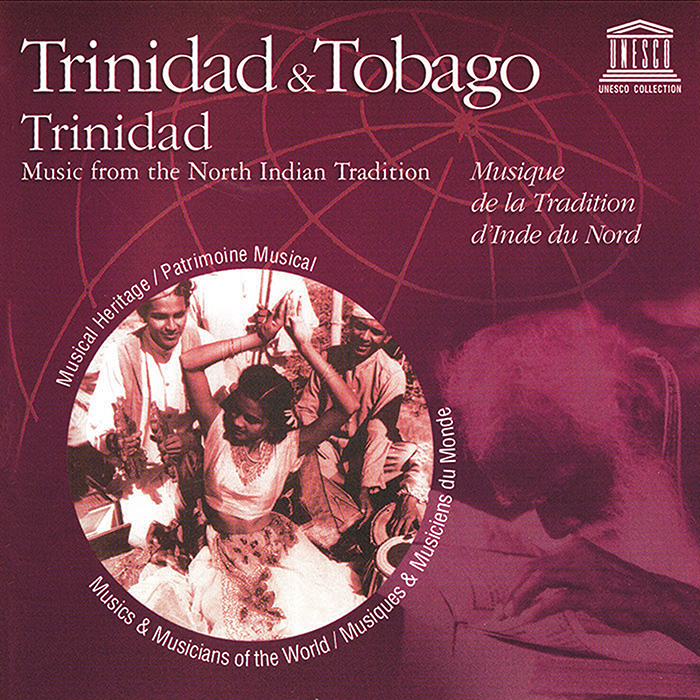 According to a 2011 census report issued by the government of Trinidad and Tobago, approximately one-third of the residents of the island of Trinidad identify themselves as being of East Indian descent. Brought to Trinidad primarily from the northern Indian states of Bihar and Uttar Pradesh by the British during the 19th century to serve as field hands, servants, and laborers, they also brought their culture, traditions, faith, and music. This 1994 field recording presents examples from traditional Indian secular and religious music, some of which is vanishing from the culture, to the genre of chutney, a new music form emerging in the Indo-Trinidadian community.
The liner notes were written by Dr. Laxmi G. Tewari, director of the World Music Program at Sonoma State University.
FREE DOWNLOAD
Please enjoy a free download of the song "Dhapalaa"
This album is part of the UNESCO Collection of Traditional Music. More than 125 albums are being released by Smithsonian Folkways Recordings to make the series publicly available, including a dozen never-released albums of musical traditions from around the globe.
Track Listing
| | | | | |
| --- | --- | --- | --- | --- |
| 101 | Kumar Tassa Group | Kumar Samlal, Tyab Mohammed, Nazim Mohamed, Raj Ramlal | 6:16 | |
| 102 | Kabir Bhajan | Debe Kabir Bhajan Group | 5:21 | |
| 103 | Kabir Bhajan | Kabir Raaj Vidya Group | 4:42 | |
| 104 | Birahaa and Aheer Dance | Kawal Ramjattan, Rudy Bachu, Ramdeen Chotoo | 3:57 | |
| 105 | Chutney | Lily John, Baal John, Jaglal, Mukundlal Samlal | 4:42 | |
| 106 | Jhaal Raamaayan | Sharda Prakash Goal | 10:31 | |
| 107 | Dhapalaa | Ravi Hemraj Jangalee, Mukesh Jangalee | 1:56 | |
| 108 | Bhajan | Bhanmatie Persad, Pandit Hardeo Persad, Pandit Umesh Persad, Sharvani Persad, Deo Narain, Mukundlal Samlal, Deomatie and Ragini Samlal | 5:45 | |
| 109 | Khemtaa | Dadbal Narine Chowhan, Ram Roop Lalchan, Rameo Lalchan, Ram Jas Samaroo, Rajkumar Soogrim | 4:32 | |
| 110 | Ulaaraa | Bansrajee Dhanraj, Lily John, Baal John, Jaglal | 4:45 | |
| 111 | Caiti | Sharda Prakash Goal | 10:49 | |