Ukraine: Traditional Music
Various Artists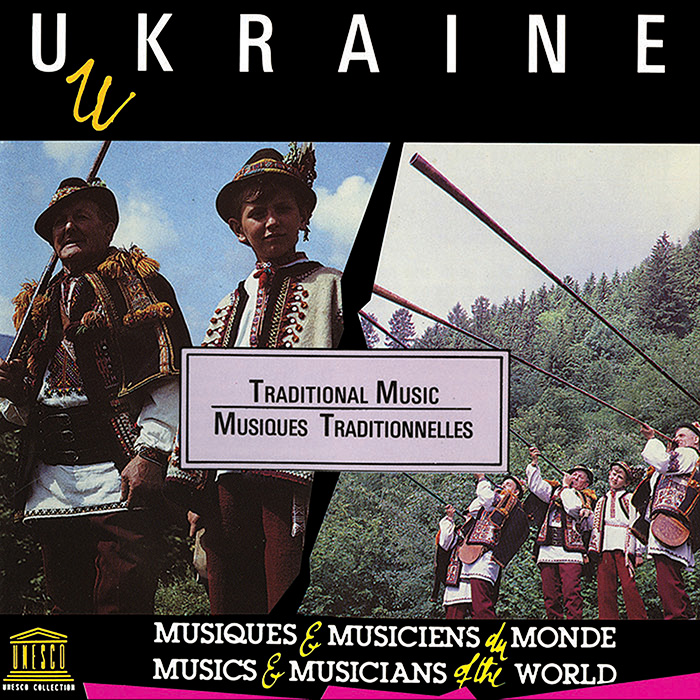 Modern-day Ukraine is the largest country entirely within Europe, bordering Russia to the east, Moldova and Romania to the southwest, Poland, Slovakia, and Hungary to the west, Belarus to the north, and the Black Sea to the south. Its varied terrain and interaction with neighbors have defined the specific regional characteristics of Ukraine's folklore.
Traditional Ukrainian music fits into one of two broad categories: ritual and non-ritual. Ritual folk songs are generally older and include incantations, lamentations, calendar songs, and wedding songs. Non-ritual songs include dumy, or historical and political songs, and lyric songs of love, family life, and lullabies. This collection of 34 folk songs was recorded prior to the breakup of the Soviet Union and the subsequent independence of Ukraine in 1991.
FREE DOWNLOAD
Please enjoy a free download of the song "The Rogues"
This album is part of the UNESCO Collection of Traditional Music. More than 125 albums are being released by Smithsonian Folkways Recordings to make the series publicly available, including a dozen never-released albums of musical traditions from around the globe.
Track Listing
| | | | | |
| --- | --- | --- | --- | --- |
| 101 | Overture: Trembitas with folk orchestra | Trembita players and folk orchestra of the Ivano Frankivske region | 0:55 | |
| 102 | In the mountain the peacocks parade | Folk ensemble of Ivanivka village in the Yarmolyntsi district of the Khmelnitski region | 1:30 | |
| 103 | Vesnianka: Spring song | Folk ensemble of Stariy Koni village in the Zaretnianski district of the Rivne region | 0:41 | |
| 104 | Vesnianka: Spring song | Folk ensemble of Vovtitsi village in the Zaretnianski district of the Rivne region, solo: Pelageia Kovtunovitch | 1:16 | |
| 105 | Vesnianka: Oh, on the mountain | Folk ensemble of Krasylivka village, Zhytomyr region | 0:58 | |
| 106 | Vesnianka: The herdsman | Folk ensemble of Stariy Koni village in the Zaretnianski district of the Rivne region | 1:41 | |
| 107 | Medley of Carpathian melodies: Vinotchok | J. Pavliuk, V. lliuk, M. Maximiuk | 1:06 | |
| 108 | We are going to decorate a shrub | Dominika Tchekun | 1:25 | |
| 109 | On the river near the willow tree | Folk ensemble of Ivanivka village in the Yarmolyntsi district of the Khmelnitski region | 1:56 | |
| 110 | Today is the festival of St. Peter | Folk ensemble of Lipniki village in the Kugini district of the Zhytomyr region | 1:24 | |
| 111 | The reapers | Folk ensemble of Kozelets village, Chernihiv region | 1:43 | |
| 112 | The sunset | Choral ensemble of Klyntsi village in the Ovruch district of the Zhytomyr region | 1:18 | |
| 113 | The sheperd departs | Orchestra of folk instruments of the Forest Industry of the Transcarpathian region | 6:34 | |
| 114 | For a garland | Folk ensemble of Vovchik village in the Kozelets district of the Chernihiv region | 1:26 | |
| 115 | Why do you weep, why do you lament? | Folk ensemble of Alexeevka village in the Starosiniaski district of the Khmelnitski region | 2:19 | |
| 116 | Wedding melodies for drymba | M. Netchai | 1:39 | |
| 117 | Duma about Marussia of Bohuslav | F. Jarko | 6:55 | |
| 118 | Lullaby: Oh, Liulonki | Dominika Tchekun and Nadejhda Tchekun | 1:49 | |
| 119 | Ritornello for the telenka | Folk ensemble of Teresva village in the Rakhiv district of the Transcarpathian region, solo: Anton Huzak | 2:32 | |
| 120 | The willow tree with many leaves | Folk ensemble of Polessa village in the Sosnitsa district of the Chernihiv region | 1:29 | |
| 121 | I am going to the mountain | Ivankivtsi village in the Starosiniavski district of the Khmelnitski region, solo: Ivan Kovalchuk | 1:57 | |
| 122 | The mountain behind the mountain | Choral ensemble of Kovalikha village in the Smila district of the Cherkassy region | 1:46 | |
| 123 | The rogues | Instrumental ensemble of Zherdino village in the Chemerdytsi district of the Khmelnitski region | 1:12 | |
| 124 | Good evening, little mother | Ivan village in the Mour Kourilivski district of the Vinnitsia region, solo: Anna Movtchan | 1:43 | |
| 125 | Oh owl, do not announce any more misfortunes | Vasil Nechepa | 3:37 | |
| 126 | Mama the dawn | Folk ensemble of Bonuslavka village in the Kharkiv district | 1:34 | |
| 127 | The seducer | Vladimir Trachuk, Victor Panchuk, Vladimir Zherebets, Valentina Tarassova | 0:51 | |
| 128 | Oh, thou with the curly locks, do not leave me | Uliana Kot | 1:37 | |
| 129 | On the wide Danube | Folk ensemble of Ostriv village in the Boug district of the Lyiy region | 1:21 | |
| 130 | Hutsulka | Roman, Ivan and Vasily Vatamaniuk | 4:23 | |
| 131 | The red mountain ash | Rosa Zhuk, Liudmilla Chijhuk, Maria Dorodko | 2:00 | |
| 132 | Hopak | A. Kozitski, M. Bugrim, I. Chikhar, G. Pekar | 1:00 | |
| 133 | Chumak song | Folk ensemble from Kybytsi village of the Myrhorod district of the Poltava region | 3:01 | |
| 134 | Arcan: The lasso | Folk ensemble of song and dance "Vesselka" of the House of Culture of Dolina, Ivano Frankivske region | 3:05 | |