Where Did You Sleep Last Night
Lead Belly Legacy Vol. 1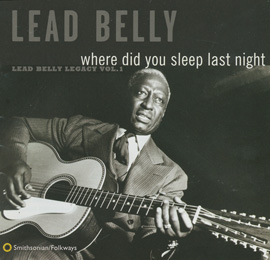 This recording is a testament to two men, the Louisiana African-American musician and composer, Lead Belly (born Huddie Ledbetter, 1885-1949), and New York recording engineer and Folkways record company owner Moses Asch. Their partnership created a lasting document of Lead Belly's wide repertoire. The songs Lead Belly recorded for Asch's Folkways in the 1940s had an enormous influence on the folk music revival that blossomed in the 1950s and 1960s, and have continued to influence contemporary folk, blues, and rock artists.
Between 1941 and 1947 Lead Belly recorded some of his best music in Moses Asch's tiny New York studio. Asch envisioned himself as a documenter and didn't like to interfere with the music. He thought of himself as "the pen with which these artists write." Lead Belly had made a number of 78 rpm recordings for RCA Bluebird, Columbia, and Capitol, but none of them was commercially successful. Major record companies tried to sell him as a blues musician, but Lead Belly's large repertoire also included children's play party songs, blues, American folk songs, prison songs, accordion pieces, cowboy songs, and the pop songs of the day. This didn't mesh well with what the major recording labels of the 1940s thought a Southern black man with a guitar should sing and play. It was Asch who let Lead Belly record anything he wished, and Lead Belly kept coming back to Asch's studio when his flirtations with stardom failed.
The surviving Asch masters of Lead Belly are now part of Smithsonian Folkways Recordings. For the first time in almost 50 years, these original acetates have been carefully remastered and newly annotated. This album is the first in a series of reissues of the Lead Belly/Asch recordings.
Originally released as a tribute to Lead Belly after his death in 1949, this reissue includes many out-takes and previously unreleased and alternate versions. The 34 tracks on this CD include "Irene," "In the Pines" (or "Where Did You Sleep Last Night"), and "Take This Hammer." Extensive notes include Lead Belly's own commentary on his songs. The album has been newly annotated by Smithsonian Archivist Jeff Place; and compiled by Jeff Place, Anthony Seeger and Kip Lornell.