Anthology of North American Indian and Eskimo Music
Various Artists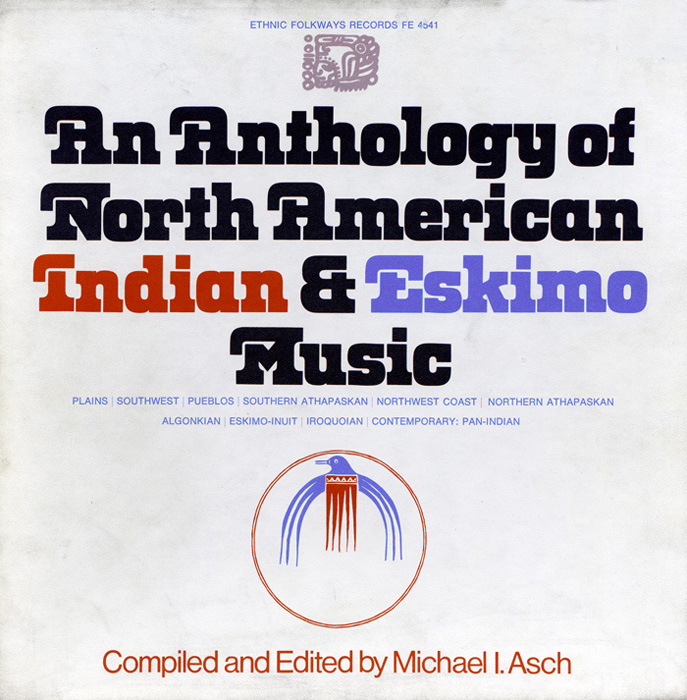 This extensive collection of Native American music contains songs from across the North American continent: from the Plains Cree to the Inuit in the Arctic, from Northwest Coast Potlatch music to the sounds of the Southeastern Seminoles. Compiled from earlier Folkways recordings by anthropologist Michael I. Asch, the anthology focuses on the function rather than the form of Native American music. The 50 songs center on social themes such as courting, grieving, hunting, and religious ceremony, and represent the utilitarian musical tradition of Amerindian peoples.
RELATED LESSON PLAN
"Modern Ritual and Contemporary Play: Music Traditions of the Inuit, Apache and Pacific Northwest Native Americans"
EN ESPAÑOL
Esta amplia colección de música nativa contiene canciones que atraviesan el continente norteamericano: de los Llanos Cree a los esquimales en el Ártico, desde la música de la Costa noroeste de Potlatch a los sonidos de los seminoles del sudeste.
Compilado de las primeras grabaciones Folkways por el antropólogo Michael I. Asch, la antología se centra en la función más que en la forma de la música nativa norteamericana.
Las cincuenta canciones se concentran en temas sociales como el cortejo, el duelo, la caza y la ceremonia religiosa, representan la utilidad de la tradición musical de los pueblos amerindios.
Track Listing
| | | | | |
| --- | --- | --- | --- | --- |
| 101 | Sun Dance | n/a | 1:32 | |
| 102 | Love Song | n/a | 0:57 | |
| 103 | Crazy Dog Song | Jim Low Horn, Mrs. Emil Wings, and Jack Low Horn | 1:41 | |
| 104 | Buffalo Dance Song | Kenneth Anquoe, Jack Anquoe, and Nick Webster | 1:03 | |
| 105 | Man's Love Song | Mark Evarts | 0:54 | |
| 106 | Hand Game Song | William Peaychew | 1:42 | |
| 107 | Prisoner's Song | William Burn Stick | 2:20 | |
| 108 | World War II Song | George Nicotine | 1:36 | |
| 109 | Warrior Death Song for Sitting Bull | n/a | 2:00 | |
| 110 | Canvas Dance Song | Eneas Conko and Baptiste Pichette | 1:40 | |
| 111 | Funeral Song | n/a | 1:37 | |
| 112 | Suguaro Song | n/a | 1:58 | |
| 113 | Peyote Song: First Song Cycle | Burton John and Roy James | 1:26 | |
| 201 | Moonlight Song | n/a | 2:09 | |
| 202 | Eagle Dance | n/a | 2:59 | |
| 203 | Butterfly Dance | n/a | 1:41 | |
| 204 | Lullaby | n/a | 0:58 | |
| 205 | Rain Dance | n/a | 1:47 | |
| 206 | Night Chant | n/a | 1:43 | |
| 207 | Song of Happiness | Fort Wingate (N.M.) Indian School | 1:09 | |
| 208 | Silversmith's Song | Ambrose Roan Horse | 1:09 | |
| 209 | Corn Grinding Song | n/a | 0:59 | |
| 210 | Children's Song: Wolf Song / Turtle Song / Turkey Song / Puppy Song (medley) | Irene Chalepah Poolaw | 1:47 | |
| 211 | Church Song | n/a | 1:03 | |
| 212 | Devil Dance, Crown Dance | n/a | 2:57 | |
| 301 | Wolf Song | Billy Assu | 2:05 | |
| 302 | Potlatch Song | Billy Assu | 1:38 | |
| 303 | Hamatsa Song, Cedar Bark Dance | Billy Assu | 1:12 | |
| 304 | War Song for Marriage | Billy Assu | 1:50 | |
| 305 | Rabbit Dance Song | n/a | 2:03 | |
| 306 | Cree Dance Song | n/a | 2:24 | |
| 307 | Fiddle Dance Song | n/a | 1:00 | |
| 308 | Bear Hunting Song | Sebastian McKenzie | 1:44 | |
| 309 | Inviting in Dance Song | Otis Ahkivigak | 0:47 | |
| 310 | His First Hunt | Kemukserar and Pangatkar | 2:06 | |
| 311 | Hunting for Musk Ox | Kemukserar and Pangatkar | 3:33 | |
| 401 | Corn Dance | Thomas Lewis | 2:08 | |
| 402 | Stomp Dance | Huron Miller | 1:57 | |
| 403 | Song of Welcome | Albert Yellow Thunder, Winslow White Eagle, and Blow Snake | 1:19 | |
| 404 | Buffalo Feast Song | Albert Yellow Thunder, Winslow White Eagle, and Blow Snake | 1:06 | |
| 405 | Morning Song | Albert Yellow Thunder, Winslow White Eagle, and Blow Snake | 1:12 | |
| 406 | Song of the Unfaithful Woman | Albert Yellow Thunder, Winslow White Eagle, and Blow Snake | 0:59 | |
| 407 | Hoot Owl Song | David, Oshawenimiki Kenosha | 1:09 | |
| 408 | Oh Mary | Fred Lacasse | 1:01 | |
| 409 | Catholic Hymn | Thomas Shalifoe | 0:42 | |
| 410 | Calusa Corn Dance Song | Billy, Gatcayehola Stewart | 1:32 | |
| 411 | Song of Removal | Susie Tiger and Billie Stewart | 1:40 | |
| 412 | Fortynine Dance | Fred Lacasse | 2:00 | |
| 413 | unidentified track | Fred Lacasse | 1:03 | |
| 414 | As Long As The Grass Shall Grow | Peter La Farge | 6:03 | |