Artist Spotlight
Arpex
Conjunto de arpa grande
Listen to Mexican arpa grande ensemble Arpex, and you will hear a remarkable demonstration of Michoacán's Tierra Caliente (hot land) signature musical tradition. The people of this hot, flat region are united by the Tepalcatepec River basin, rich farmlands, and the sound of one of Mexico's liveliest, most historically rooted, flourishing, and best-kept musical secrets: the conjunto de arpa grande (big harp ensemble). Arpex interprets the classic Michoacán song repertoire of sones, jarabes, valonas, and especially canciones rancheras that calenteños (natives of Tierra Caliente) from both sides of the Mexican and USA border continue to enjoy today.
The standard conjunto de arpa grande consists of five instruments. The group's namesake, the arpa grande (big harp), is a 37-stringed (this number may vary slightly) harp about five feet tall, which is leaned against the musician's shoulder in a standing position. It is joined by two regional guitars (vihuela and guitarra de golpe) and two violins.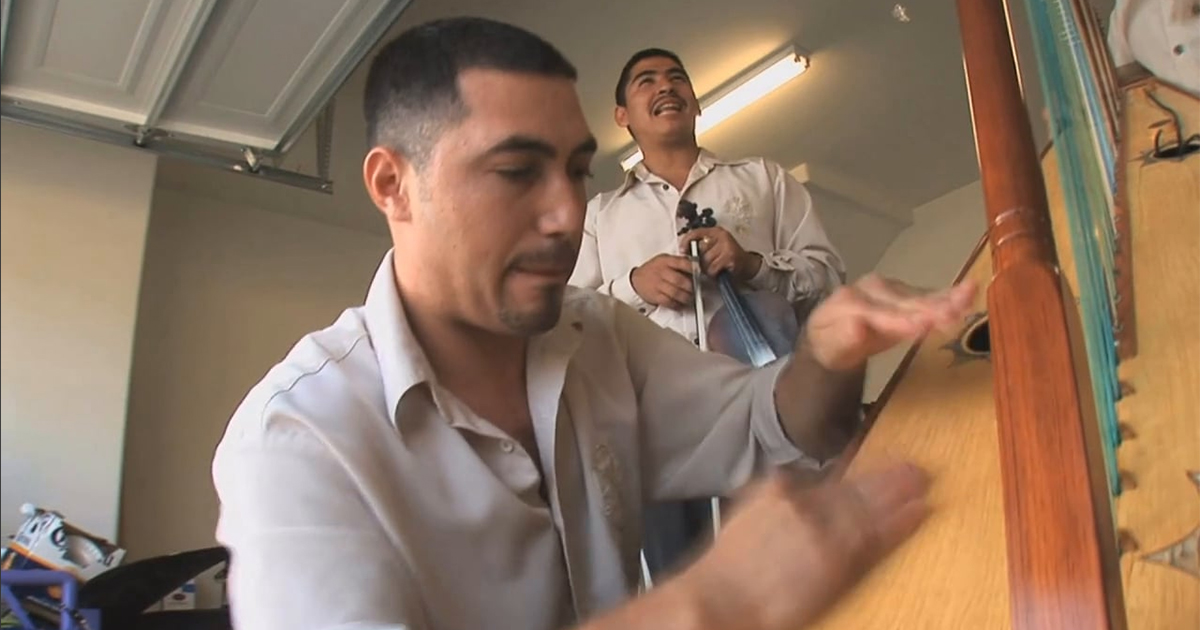 Most listeners are struck by the calenteño singing style, often pitched in a range so high that it seems impossible for male voices. Some assume that this singing, with little or no vibrato, is accomplished through falsetto, but it is not. Having at least one singer with an ultrahigh voice is an important asset to a professional conjunto de arpa, and capable singers are trained from an early age. Arpex boasts two such skilled singers: the brothers Rafael and Javier Valdovinos.
Drumming (tamboreo) is another dimension of the conjunto de arpa sound. One of the guitarists or violinists kneels next to the harp and strikes the flat front of the soundbox with his fingers. This drumming is used exclusively for sones. It can be complex, and some observers have called it virtuosic. Arpex continues this centuries-old method of drumming when they include guest performer Arcadio García Ortiz.
The conjunto de arpa grande is sometimes regarded as the country version of the Mexican mariachi. In the first half of the 20th century, mariachi came to mean an evolved type of musical ensemble identified with the city of Jalisco, as it added trumpets, more violins, and six-stringed guitars to its instrumentations. The mariachi ensemble became more commercialized in the film and music industries. All the while, the mariachi's rural cousin, the conjunto de arpa grande, remained at home, out of the commercial spotlight, playing as always for weddings, baptism, birthdays, funerals, and other local events. Though the mariachi ensemble may have eclipsed the conjunto de arpa grande in popularity and commercial success for many years, the traditional sound is enjoying a resurgence in Mexico with commercial groups such as Conjunto Alma de Apazingán and at government-sponsored festivals. The music is also gaining popularity in the Western and Pacific Northwest USA with Michoacano migration throughout California, Washington, Oregon, and Utah and young groups, such as Arpex, introducing the sound to their new communities.
Members of Arpex are native to calenteño towns and ranches, where they learned to play from family members and honed their musical skills performing in local conjuntos. Miguel Prado Mora, director and harpist, is from Chapula; Arnoldo Galván Segura, violinist, is from Las Canolitas; brothers Javier and Rafael Valdovinos Acevedo, vocals, violin, and guitarra de golpe, are from El Aguacito; and Ramón Isabel Ramos Gómez, vihuela, is the only non-Michoacano member from Guadalajara, Jalisco. As participants in the historic migration route of Michoacanos into California, most members of Arpex moved to the USA in the 1990s and now reside in the San Joaquin Valley town of Atwater, CA. The group has been performing together, under Miguel Prado's leadership, since 2003. With most members aged in their late 20s or early 30s, Arpex represents a current movement among Mexican and Mexican-American youth to explore and reclaim traditional and rural Mexican music and use it to create dialogue and cultural exchange between Mexico and the USA.
Arpex, like most traditional arpa grande groups, plays an important role in their community and has consistent work performing at local religious and social events such as quinceañeras, weddings, birthdays, and baptisms. Yet Arpex also plays at large events with world-class groups such as Mariachi Vargas de Tecalitlán, and they performed with Mariachi Los Camperos de Nati Cano at Radio Bilingüe's annual ¡Viva el Mariachi! Festival in Fresno, CA, in 2007. To create a fuller sound for the larger venues, the group has the ability to "go electric" by adding a drum set, electric bass, and microphones.
Arpex's impressive musicality and high range, calenteño singing style rank them amongst the best arpa grande groups on either side of the border. Their talent was recognized with a 2007 Latin Grammy nomination for their Smithsonian Folkways recording ¡Tierra Caliente!. In some ways, the nomination was also a recognition of the resurgence of the traditional conjunto de arpa grande sound and its growing popularity throughout Mexico and the USA.