¡Tierra Caliente! Music from the Hotlands of Michoacán by Conjunto de Arpa Grande Arpex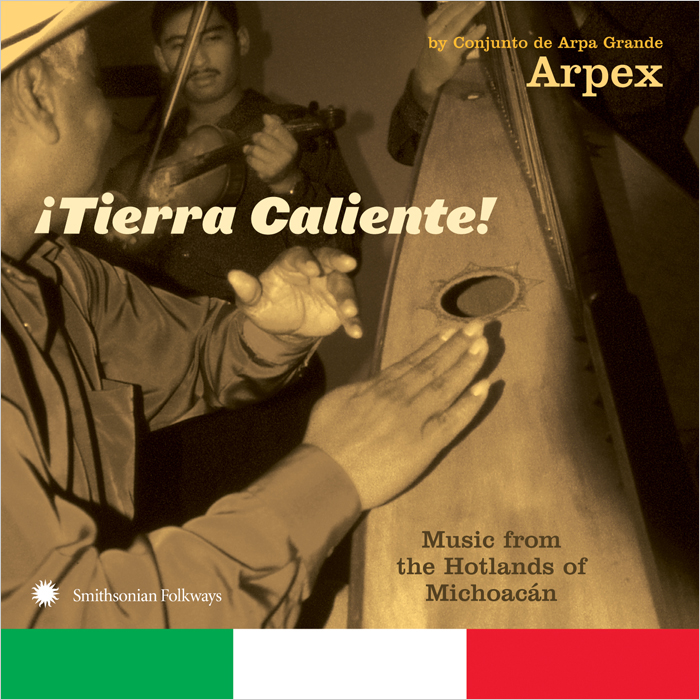 The conjunto de arpa grande (big harp ensemble) is the country cousin of the Mexican mariachi. When the mariachi was transplanted to cities and added trumpets in the mid 20th century, the conjunto de arpa stayed home in the towns and on the ranches of rural Michoacán. Its two violins, two guitars, and harp (that doubles as a drum) play driving sones, sentiment-saturated ranchera songs of love, and farcical valonas (poemic narratives), all with a disarming directness that is the hallmark of one of Mexico's best-kept musical secrets. 36-page booklet, photos. 50 minutes.
RELATED VIDEO
Conjunto de Arpa Grand
EN ESPAÑOL
El Conjunto de arpa grande es el primo campesino del mariachi mexicano. Cuando el mariachi fue trasplantado a las ciudades y se le añadieron las trompetas a mediados del siglo veinte, el Conjunto de arpa permaneció en casa en los pueblos y en las haciendas del Michoacán rural.
Sus dos violines, dos guitarras y arpa (que dobla como un tambor) tocan sones conducentes, canciones de rancheras de amor saturadas de sentimiento y valonas de farsa (narraciones poéticas), todas ellas con una franqueza desarmante que es el sello de uno de secretos musicales mejor guardados de México. Folleto de 36 páginas, fotografías. 50 minutos.
Track Listing