Rahim AlHaj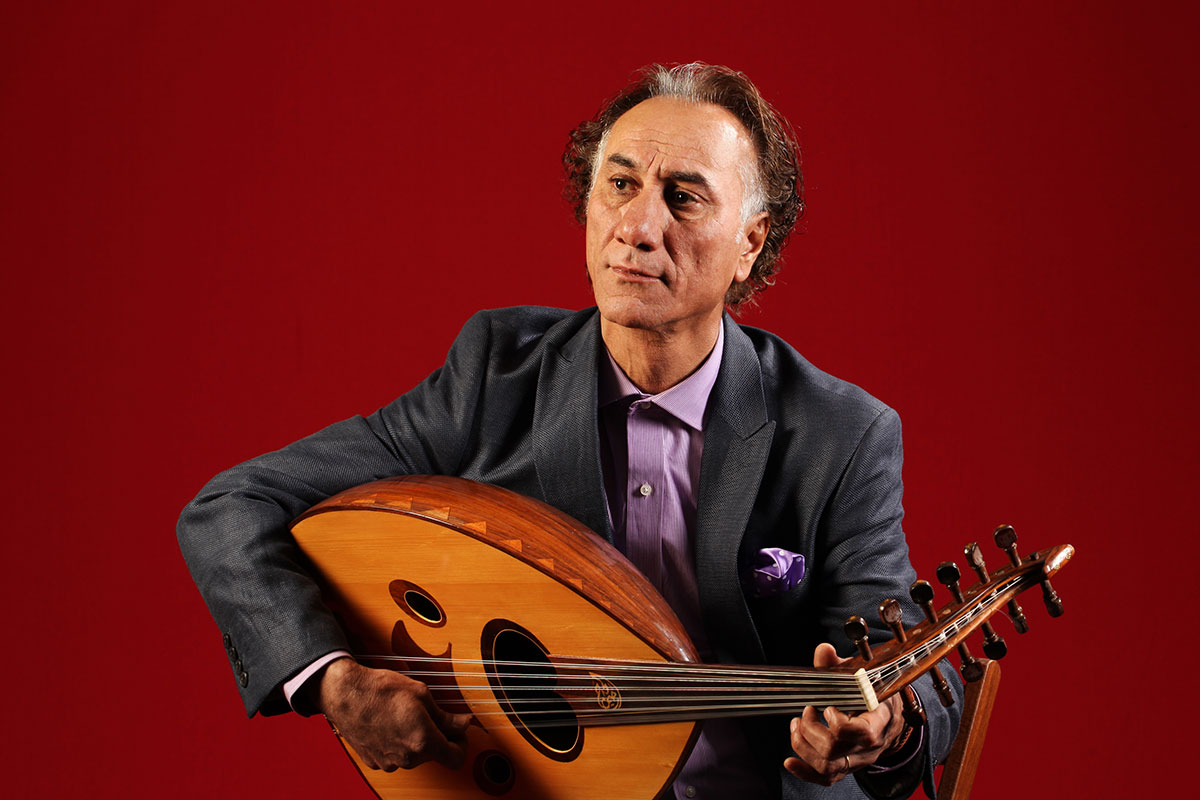 "AlHaj's music tells powerful stories about the blessedness and fragility of life. Small but powerful, the oud reveals stories of joy and pain while conveying a deep understanding of sad history and a hopeful future."
Rahim AlHaj has long functioned as a politically conscious musical goodwill ambassador. The Iraqi-American oud virtuoso, who fled his native country in 1991 after being imprisoned twice for his opposition to the Saddam Hussein regime, spreads peace and unity through his music, transporting listeners to a world of beauty and tranquility.
Dating back to the start Iran-Iraq War of 1980-1988, AlHaj was a star student of the oud at the prestigious Institute of Music in Baghdad. By the time he graduated in 1990, he was a vocal opponent of the war. Following his imprisonments, he fled Iraq, ultimately emigrating to the U.S. and arriving in Albuquerque, New Mexico. AlHaj became a U.S. citizen in 2008, and his career took flight: He performed hundreds of concerts all over the world, released a string of albums and collaborated with artists such as R.E.M.'s Peter Buck, jazz guitarist Bill Frisell and the Kronos Quartet.
In his second album for Smithsonian Folkways Recordings, AlHaj issued the powerful Letters From Iraq, which brought to life correspondence he received from Iraqi women and youth. Following that moving record, AlHaj decided to tell his own remarkable story.
After 40 years since fleeing Iraq, he was still haunted by the carnage he had witnessed as a teenager, along with the emotions he felt when the U.S. and the U.K. aligned to combat the "axis of evil" (North Korea, Iran, and Iraq), and he set out to create an album that would be his personal statement of peace, friendship and unity.
AlHaj, a two-time Grammy nominee, wanted to find musicians who understood the power of his mission and created a trio comprised of Sourena Sefati, an Iranian-American master of the santur and Palestinian-American percussionist, Issa Malluf. The trio's most recent album, One Sky, represents AlHaj's artistic appeal to each of us to make a positive difference toward a better world, however we can. The collaboration reflects the spirit of friendship, tolerance and an acknowledgement that everyone must live in peace under the same sky.
Through his music, Rahim AlHaj makes good on his commitment to create music that bridges cultural and sociopolitical divides. Filled with intoxicating waves of sound and brilliant melodies, AlHaj succeeds in spreading his message of global understanding and love.
---
Videos
Rahim AlHaj Trio: Middle Eastern Music from New Mexico

Rahim AlHaj - Full Performance (Live on KEXP)

Rahim AlHaj NPR Music Tiny Desk Concert