Australia: Music from the New England Tablelands of New South Wales, 1850–1900
Various Artists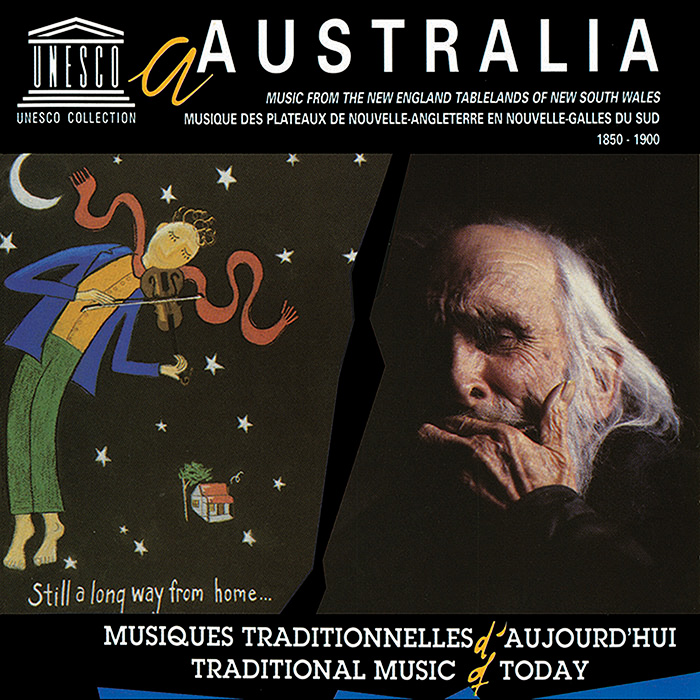 Australia: Music from the New England Tablelands of New South Wales, 1850–1900 represents a reconstruction of traditional Australian New England music, known as "bush music," from the second half of the 19th century. The material for the album was drawn from fieldwork gathered by researchers between 1983 and 1990, and only songs that could be traced back to 1850–1900 were included.
The music, all of English, Irish, Scottish, and other European origins, includes solo and ensemble performances ranging from hunting songs to dance songs to hymns. The songs were an important part of the social life of Australian New Englanders before the turn of the century; musicians, audience, and dancers participated together, and community was favored over virtuosity. The main instruments featured on the album and of that historical time period are fiddle, button accordion, mouth organ, and the Anglo system concertina.
FREE DOWNLOAD
Please enjoy a free download of the song "Bruce Smith's Set Tune"
This album is part of the UNESCO Collection of Traditional Music. More than 125 albums are being released by Smithsonian Folkways Recordings to make the series publicly available, including a dozen never-released albums of musical traditions from around the globe.
Track Listing
| | | | | |
| --- | --- | --- | --- | --- |
| 101 | Bruce Smith's Set Tune | Mark Rummery | 1:43 | |
| 102 | Mazurkas: Ben Cherry's / Alice Doran's / Mick Pitkin's | Mark Rummery, Cathy Ovenden, Chris Sullivan, Barry McDonald | 2:49 | |
| 103 | The Lad from Erin's Isle | Mark Rummery, Cathy Ovenden, Chris Sullivan, Barry McDonald | 1:55 | |
| 104 | Polkas: Pop Holland's / Bruce Smith's / Jim Lowe's | Mark Rummery, Barry McDonald, Rob Beasley | 1:54 | |
| 105 | Dingo Flat | Mark Rummery, Cathy Ovenden, Chris Sullivan, Barry McDonald | 3:38 | |
| 106 | Set Tunes: Ben Cherry's / Wait Till The Clouds Roll By, Jenny Dear | Mark Rummery, Cathy Ovenden, Barry McDonald | 3:32 | |
| 107 | Georgie Sands | Mark Rummery, Cathy Ovenden, Chris Sullivan, Barry McDonald | 2:36 | |
| 108 | Ben Cherry's Schottisches | Mark Rummery, Barry McDonald | 2:50 | |
| 109 | Johnny Lad | Barry McDonald, Mark Rummery | 5:26 | |
| 110 | Jigs: Chase Me Charley / Richard Ferris' / Jim Lowe's | Mark Rummery, Chris Sullivan, Barry McDonald | 2:06 | |
| 111 | Thunderbolt's Dream | Mark Rummery, Barry McDonald | 2:47 | |
| 112 | Step Tunes: Arnie Berger's / Have You Ever Seen the Devil? / Victor Cherry's / Alf Cosgrove's | Mark Rummery, Cathy Ovenden, Chris Sullivan, Barry McDonald | 4:27 | |
| 113 | Barbara Allen | Barry McDonald | 4:18 | |
| 114 | Waltzes: Watson's Creek Waltz / Pearl Browning's | Mark Rummery, Barry McDonald, Theresa Nano | 2:29 | |
| 115 | William Grimes The Drover | Mark Rummery, Cathy Ovenden | 2:38 | |
| 116 | Step Tunes: Mick McGarryís Jigs / The Bullshit Over The Calf Pen | Mark Rummery, Cathy Ovenden, Chris Sullivan, Barry McDonald | 3:46 | |
| 117 | My Name Is Alma Chandler / Merry-Go-Round Waltz | Mark Rummery, Barry McDonald, Theresa Nano, Cathy Ovenden | 3:56 | |
| 118 | Schottisches: Jim Lowe's / Steve Harte's / Sam Looker's | Mark Rummery, Cathy Ovenden, Chris Sullivan, Barry McDonald | 3:55 | |
| 119 | Mouth-organ Medley: Why Did My Master Sell Me? / Starry Night For A Ramble / O God Of Love | Jim Lowe, May Lowe, Mark Rummery, Barry McDonald | 5:05 | |
| 120 | O God Of Love / Reprise | Barry McDonald, Graeme "Fritz" Kreusler, Jim Lowe | 3:04 | |