Hell Bound and Heaven Sent Blues
Big Joe Williams and Short Stuff Macon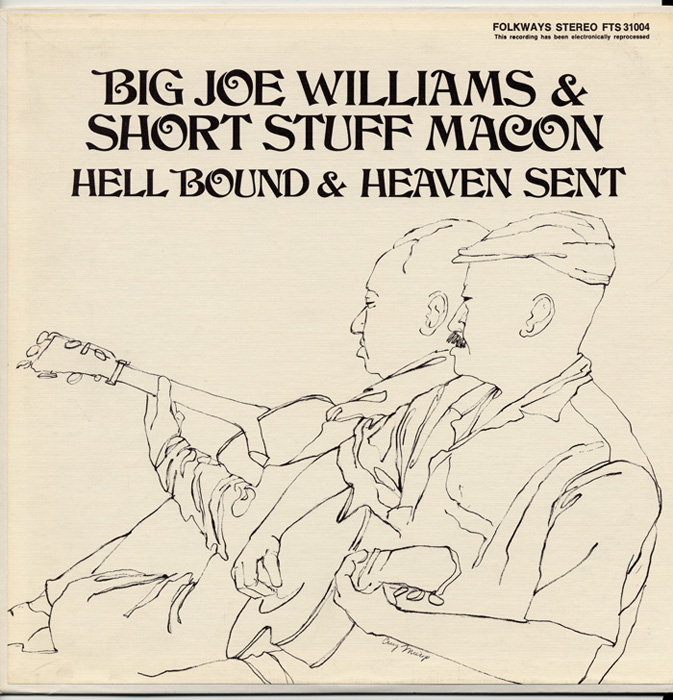 Recorded on the night of May 18, 1964 after a small concert at Bard College, Hell Bound and Heaven Sent Blues documents two blues singers and guitar players, Big Joe Williams and John Wesley "Short Stuff" Macon, amidst a struggling tour with an uncertain future. After a number of intimate shows at clubs, cafes, and schools, the pair had run out of options with no money and little hope other than Big Joe's notion to "head west." With ragged and road-weary songs like "Don't Leave Me Here" and "Hell Bound Blues," it's blatantly apparent just how dire their prospects were.
Growing up in rural Crawford, Mississippi, the two had come face to face with adversity since a young age—poverty, racism, and illiteracy were just a few obstacles they faced. Macon spent the first twenty-one years of his life playing his music almost entirely to himself, while Williams struggled on one unsuccessful tour after another. In spite of, or because of this, their strain of Delta blues is unique and idiosyncratic. Williams' 9-string guitar and Macon's crackling southern drawl seem as urgent and powerful today as they did in 1964.
Liner notes include track listings, original artwork, and writing by Paul Nelson.
Track Listing