Borderlands: From Conjunto to Chicken Scratch
Various Artists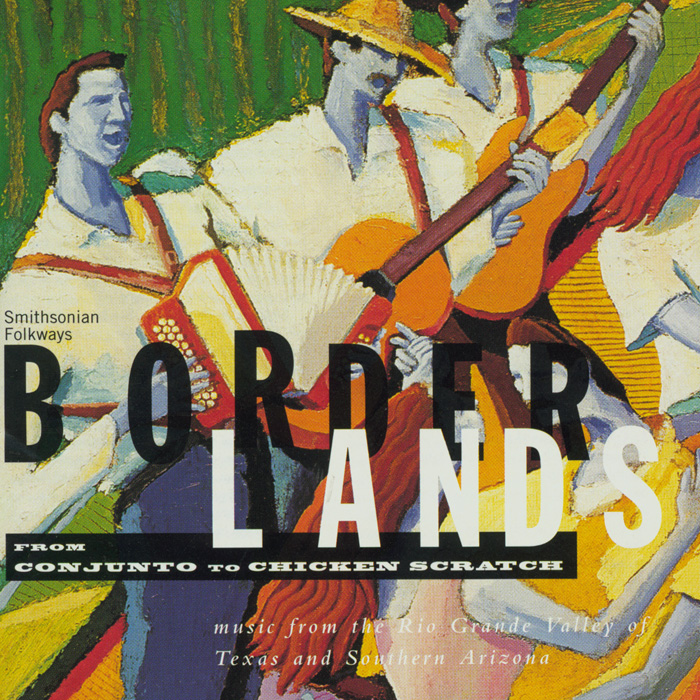 A unique musical culture flourishes in the Rio Grande Valley of Texas and southern Arizona: Yaqui Pascola dance, Tohono O'odham fiddle band music, and the more contemporary Native American Chicken Scratch sound with traditional conjunto polkas and corridos, Latino-influenced big bands, northern Mexican and German-rooted norteno, modern conjunto and orquestra Tejana. Licensed from four small regional record labels that specialize in this music. In addition to five American Indian tracks, this album also includes 13 Hispanic and Southwestern American songs. 56 minutes

"The party album of the year...the best accompaniment to tequila since the taco chip" — Rolling Stone

En el valle del Rio Grande [Rio Bravo] florece una cultura musical Ãnica, en esa zona ubicada entre Texas y el sur de Arizona: desde la danza Pascola de los indios Yaqui y la música para banda de violines Tohono O'odham, hasta las sonoridades más contemporáneas del Chicken Scratch de los indégenas norteamericanos, las tradicionales polcas y corridos de conjunto, las big bands con influencia latina, la música norteña con influencias tanto mexicanas como alemanas, el conjunto moderno y la orquesta tejana. Esta compilación ha sido autorizada por 4 compañías disqueras regionales especializadas en este tipo de música. Además de los 5 cortes de música indégena, este álbum incluye también 13 canciones de origen hispánico y del sureste americano. 56 minutos


Para información sobre ordenar haga clic aquí.


Track Listing