Classic Sounds of New Orleans from Smithsonian Folkways
Various Artists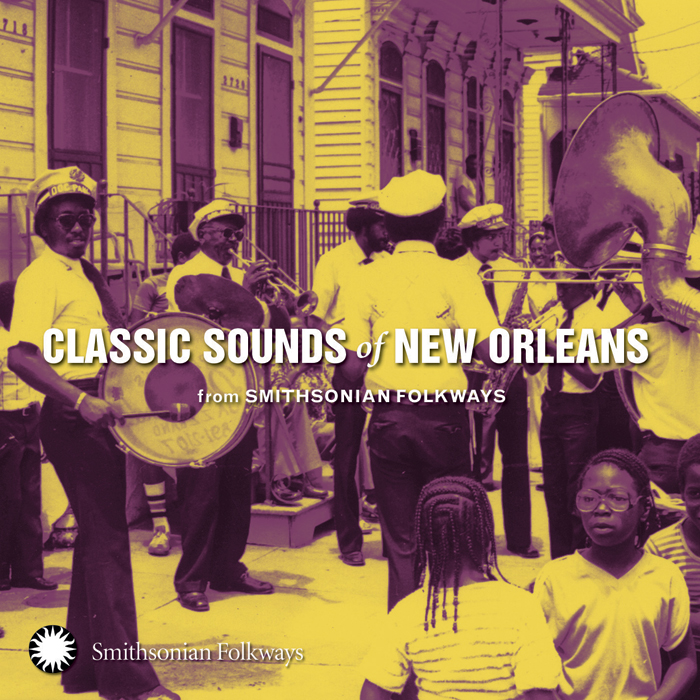 From street parades to nightclubs, from church houses to dance halls, music is key to New Orleans' uniqueness. Drawn from the Smithsonian Folkways repository of classic New Orleans sounds, this collection treats us to the city's many musical veins, including jazz, blues, rhythm and blues, gospel, spirituals, and more. The Eureka Brass Band, Lonnie Johnson, Snooks Eaglin, Billie and De De Pierce, the first commercial recordings of Mardi Gras Indians, Champion Jack Dupree, Baby Dodds and other signature artists remind us why this musical city is admired around the world.
26 tracks, 73 minutes, 32-page booklet.
This is the 19th release in the Smithsonian Folkways Classic series. Click here to learn more about this enjoyable introduction to the diverse repertoire of American music.
FREE DOWNLOADS
Please enjoy a free download of "We Shall Walk Through the Streets of the City" in both dirge and march styles, each performed by Doc Paulin and his group.
| | | |
| --- | --- | --- |
| We Shall Walk Through the Streets of the City - Dirge | MP3 | FLAC |
| We Shall Walk Through the Streets of the City - March | MP3 | FLAC |
Track Listing