Croatia: Traditional Music of Today
Various Artists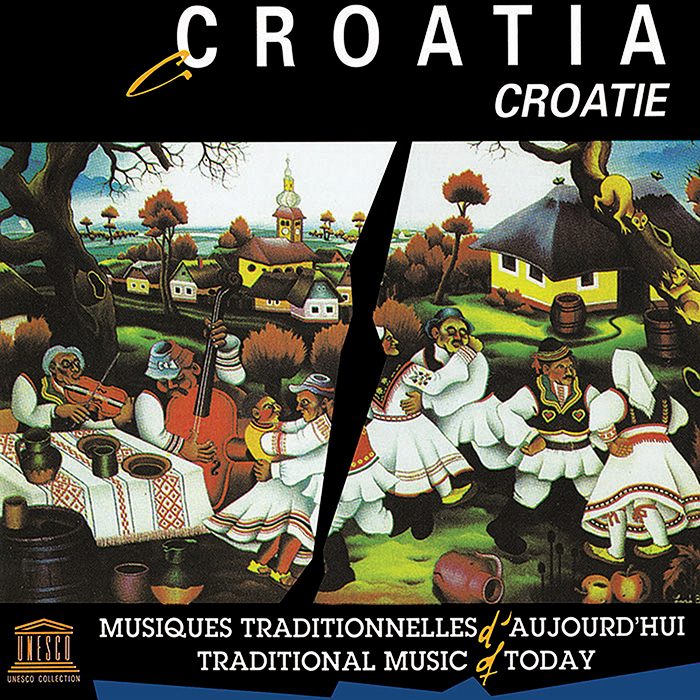 Croatia's traditional music of today is the focus of this 1988 UNESCO release. In the liner notes, Svanibor Pettan, Secretary General of the International Council for Traditional Music, sheds light on the Croatian tradition's contemporary evolution. One pair of recordings illustrates the stylistic changes that have occurred in a single place over time: two generations of performers from the same village sing in different styles (tracks 17–18). Another pair of recordings compares versions of the same song performed in two different places (23–24). A guslar, who traditionally invokes the exploits of historic (or mythic) heroes, here exhorts listeners to act on a contemporary problem, Croatia's low birth rate. A traditional tune is arranged by professionals, and a new composition is based on traditional patterns. Twenty-six recordings from various musical regions and cultural communities, from city and village, explore not only the rich variety of Croatia's traditional music but the dynamism of tradition itself.
FREE DOWNLOAD
Please enjoy a free download of the song "Polka"
This album is part of the UNESCO Collection of Traditional Music. More than 125 albums are being released by Smithsonian Folkways Recordings to make the series publicly available again, including more than a dozen never-released albums of musical traditions from around the globe.
Track Listing
| | | | | |
| --- | --- | --- | --- | --- |
| 101 | Desinecki Drmeš (Drmeš from Desinec) | n/a | 1:17 | |
| 102 | Tararajcica | Matej Krstinic, Josip Maricic | 1:16 | |
| 103 | Polka | Ivan Radic, Ivan Sindicic | 1:11 | |
| 104 | Oj, Lika Goji Konja I Junaka (The Country Of Lika Raises Heroes and Horses) | n/a | 1:36 | |
| 105 | Pivaj, Seko / Gospe Sinjska (Sing, Sister / Madonna of Sinj) | n/a | 2:01 | |
| 106 | Rodi, Majki, Jedno Dijete Vise (O, Mother, Give Me Birth To One More Child) | Mile Krajina | 4:56 | |
| 107 | Gospin Plac (Madonna's Weeping) | Ivo Grigicevic, Tonci Rubinic | 4:54 | |
| 108 | Kvadrilja (Quadrille) | n/a | 2:16 | |
| 109 | Dobar Vecer, Moja Draga (Good Evening, My Sweetheart) | Osjak | 3:41 | |
| 110 | Grozdana Polka | Josip Poljancic | 2:05 | |
| 111 | Dobar Vecer, Dobri Ljudi (Good Evening To You, Good People) | n/a | 2:09 | |
| 112 | Kolo Iz Drenovaca (Kolo from Drenovaci) | Josip Ivakic | 2:01 | |
| 113 | Tanac | n/a | 2:20 | |
| 114 | Drmeš | Pavo Spoljaric | 2:44 | |
| 115 | Ptica Vuga (The Oriole) | Marija Tuksar | 3:30 | |
| 116 | Janica Je Proso Žela (Janica Reaped The Millet) | n/a | 1:07 | |
| 117 | Mravac Muvu Isprosio (An Ant Proposed to a Fly) | n/a | 2:20 | |
| 118 | Sedam Zvijezdi (Seven Stars) | n/a | 2:27 | |
| 119 | Cardaš | n/a | 1:59 | |
| 120 | Kolo Iz Duboševice (Kolo from Duboševica) | Vlado Kolijesar | 2:19 | |
| 121 | Ne Dirajte Mi Ravnicu (Do Not Touch My Plain) | Zlatni dukati | 4:06 | |
| 122 | Balun-Mantinjada | Istranova Ensemble | 5:03 | |
| 123 | Potpuhnul Je Tihi Vetar (Light Wind Has Blown) | Milena Bozac, Ivan Bozac | 3:46 | |
| 124 | Popuhnul Je Tihi Vjetar (A Gentle Wind Has Blown) | Josip Sigur, Mato Maglic | 1:45 | |
| 125 | Kraj Kapele Svete Ane (Next To The St. Anne's Chapel) | Kraljevi ulice | 4:17 | |
| 126 | Samoborci Piju Vino Z Lonci / Turopoljski Drmeš (The Inhabitants Of Samobor Drink Wine From Buckets) | Prestige Ensemble | 2:26 | |