Doc's Guitar: Fingerpicking & Flatpicking (DVD)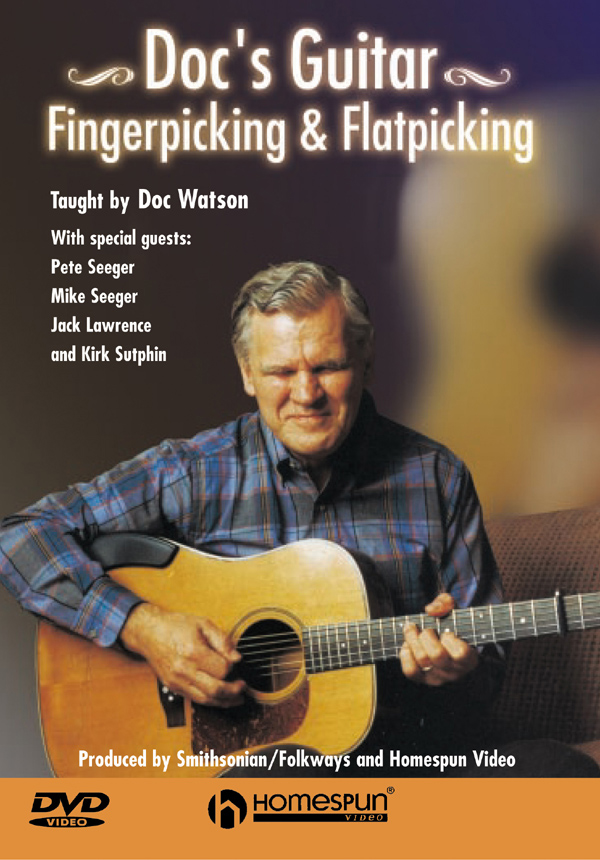 Doc Watson has been astonishing and delighting audiences for more than forty years, playing his flat top guitar with technical virtuosity and impeccable tone and timing. This DVD captures Doc in a special guitar workshop, teaching the most requested fingerpicking and flatpicking songs and instrumentals in his vast repertoire. Accompanied by some legendary musical friends, Doc provides an intimate look at the guitar technique, musical philosophy and fine musicianship for which he is known and loved throughout the world.
Learning guitarists will see and hear Doc's guitar playing slowed-down in close-up detail, with split-screen images to help you easily watch both his hands. With his characteristic good humor, his clear explanations and dazzling demonstrations, he'll soon have you playing his definitive arrangements of "Deep River Blues", "Bluebell", "Southbound", "Black Mountain Rag", "Georgie", "Way Downtown", "Don't Let Your Deal Go Down", "Blue Railroad Train", "Windy and Warm", "Beaumont Rag", "East Tennessee Rag", and "The Cuckoo".