Tú eres mi flor: Songs for Children en Español
Elizabeth Mitchell and Suni Paz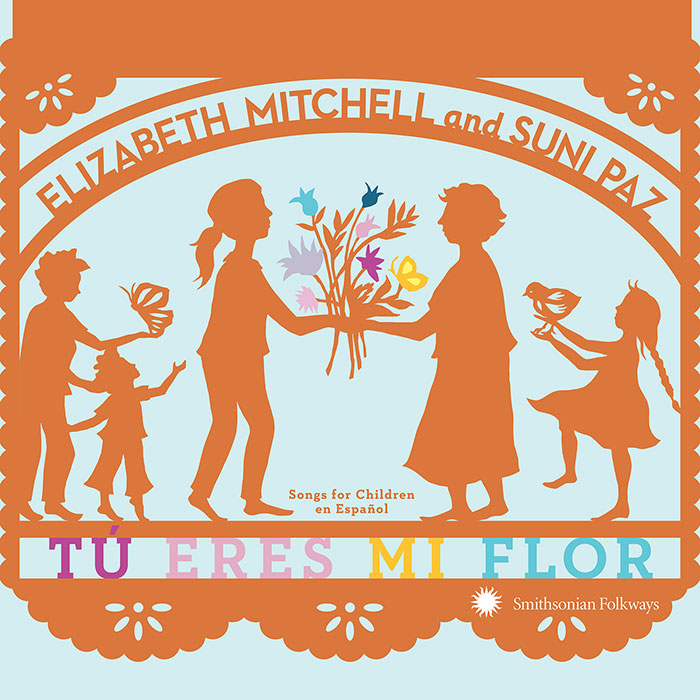 Tú eres mi flor is a sunny collection of songs sung in Spanish by beloved children's artists Elizabeth Mitchell and Suni Paz. Featuring many well-known American folk songs that have been adapted for the enjoyment of both Spanish and English speaking children, these songs are filled with simple, repeated imagery, ideal for learning vocabulary; they're also fun and easy to sing! Universal themes of harmony, compassion, gratitude, and kindness underscore the duo's firm belief that learning each other's languages and songs is a powerful way to come together.
35 minutes, 40-page booklet with bilingual notes and lyrics in English and Spanish. Recommended for ages 3-10.
En Español
Tu eres mi flor es una colección de alegres canciones cantadas en español por los queridos artistas de música infantil Elizabeth Mitchell y Suni Paz. Con numerosas y conocidas canciones populares americanas que han sido adaptadas para los niños de habla hispana e inglesa, estas canciones están llenas de imágenes simples y que se reiteran, ideales para aprender vocabulario; ¡también son divertidas y fáciles de cantar! Los temas universales de armonía, compasión, gratitud y amabilidad subrayan la firme creencia del dúo de que el aprender el idioma y las canciones de otros nos ofrece una forma poderosa de encontrarnos.
35 minutos, folleto de 40 páginas con notas bilingües y letras en inglés y español. Recomendado para edades 3-10.
Track Listing