Fast Folk Musical Magazine (Vol. 5, No. 2) Live at the Bottom Line 1988
Various Artists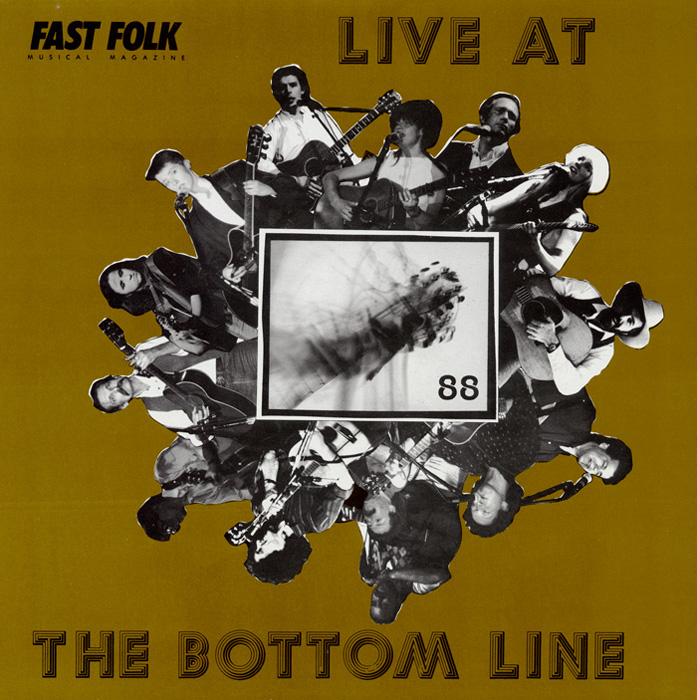 The Bottom Line was a popular folk music venue in Greenwich Village during the 1970s–1990s. For this recording,
Fast Folk Musical Magazine
drew on two shows presented in April 1988. The performances range from solo acoustic to full house band accompaniment with electric guitar, piano, bass, drums, and violin. Among the variety of musical styles (traditional folk, folk-rock, Tejano, and more) and artists included are Suzanne Vega, Shawn Colvin, and Jack Hardy.
A 26-page facsimile of the Fast Folk Musical Magazine is included with the recording.
Track Listing
| | | | | |
| --- | --- | --- | --- | --- |
| 101 | Up Until Then | Jack Hardy, Shawn Colvin, and Margo Hennebach | 4:07 | |
| 102 | Brothers | David Roth with Lillie Palmer and Jack Hardy | 3:13 | |
| 103 | Gallo Del Cielo (Rooster from Heaven) | Tom Russell and Fats Kaplan | 6:03 | |
| 104 | Danton Intro | Lillie Palmer | 1:06 | |
| 105 | Danton | Lillie Palmer and Mark Dann | 4:24 | |
| 106 | Godzilla | Eric Frandsen | 2:21 | |
| 107 | Bon Vinae | Aztec Two-Step | 4:33 | |
| 108 | The Well | Richard Shindell | 3:43 | |
| 109 | My Father's Shoes | Cliff Eberhardt and Mark Dann | 2:45 | |
| 110 | Shotgun Down the Avalanche | Shawn Colvin with David Roth and Lillie Palmer | 4:11 | |
| 111 | Margaret & Vincent | Frank Tedesso and Margo Hennebach | 4:01 | |
| 112 | On A Winter's Night | Williw Nininger | 3:12 | |
| 113 | Sierra Blanca | David Massengill and band | 4:49 | |
| 114 | Hidden In Plain Sight | Richard Meyer, Josh Joffen, Lillie Palmer, and Rod MacDonald and band | 3:46 | |
| 201 | Monkey See, Monkey Do (Intro) | Josh Joffen | 0:32 | |
| 202 | Monkey See, Monkey Do | Josh Joffen, Richard Meyer, and Marcie Boyd | 3:11 | |
| 203 | Rising In Love | Shawn ColvinDavid Roth | 2:52 | |
| 204 | The Hunter Intro | Jack Hardy | 0:27 | |
| 205 | The Hunter | Jack Hardy and band | 6:15 | |
| 206 | Celibacy Intro | Marcie Boyd | 0:17 | |
| 207 | Celibacy | Marcie Boyd and Willie Nininger and band | 3:31 | |
| 208 | Uneasy Nights | Richard Meyer and band | 5:17 | |
| 209 | Rose of Rangoon Intro | Erik Frandsen | 0:47 | |
| 210 | Rose of Rangoon | Erik Frandsen, Jeff Hardy, and Howie Wyeth | 3:15 | |
| 211 | Un Rabdomante Incompetente (Intro) | Germana Pucci | 0:14 | |
| 212 | Un Rabdomante Incompetente | Germana Pucci, Richard Meyer, and Rod MacDonald | 4:08 | |
| 213 | Wooden Horse | Suzanne Vega | 4:23 | |
| 214 | The Last Call | David Massengill and Lisa Gutkin | 4:19 | |
| 215 | On the Road in NY Town | Rod MacDonald with ensemble and band | 6:06 | |
| 216 | Talk Around Town | Shawn Colvin and band | 5:18 | |