Sea Music of Many Lands: The Pacific Heritage
Various Artists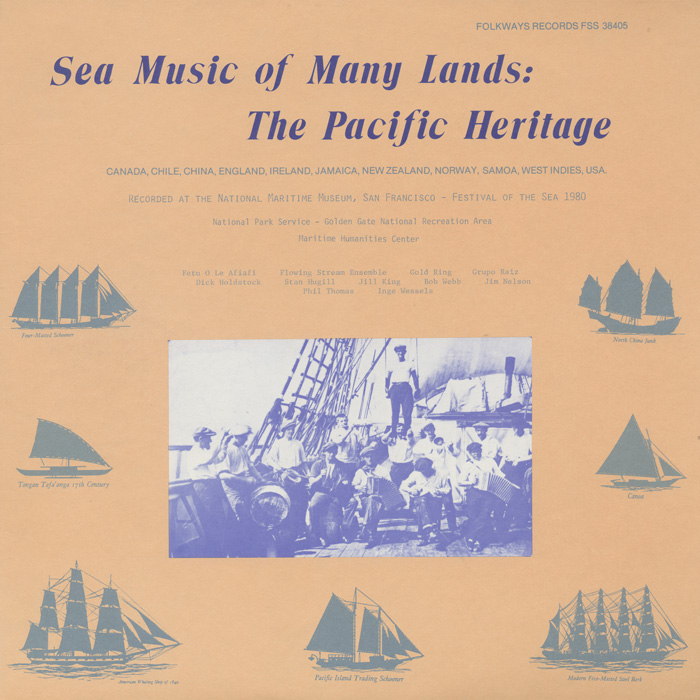 Recorded in 1980 at the annual Festival of the Sea in San Francisco, Sea Music of Many Lands: The Pacific Heritage showcases maritime music from around the world. The music ranges from shanties and ballads ("Grey Funnel Line") to instrumental medleys ("Ships Are Sailing/Foxhunters Reel/High Reel") and ensemble pieces ("Décimas del Folklore Venezolano"). From England, Ireland, Scandinavia, New Zealand, Chile, and many other countries, these songs express the joys and hardships of life on the sea. Liner notes include information on the cultural groups represented, track notes, and lyrics.
RELATED LESSON PLAN
"Pacific Islander Songs, Sounds, and Signals: Music of Samoa, Fiji, and Tonga"
EN ESPAÑOL
Grabado en 1980 en el Festival anual del Mar en San Francisco, Música del mar de muchas tierras: El patrimonio del Pacífico muestra música marítima de todo el mundo.
La música varía desde salomas y baladas ("Grey Funnel Line") a popurrís instrumentales ("Ships Are Sailing/Foxhunters Reel/High Reel") y piezas de conjunto ("Décimas del Folclor Venezolano"). Desde Inglaterra, Irlanda, Escandinavia, Nueva Zelanda, Chile y muchos otros países, estas canciones expresan las alegrías y dificultades de la vida en el mar. Las notas incluyen información sobre los grupos culturales representados, notas de la pista y letras.
Track Listing