Folk Songs of Puerto Rico
Various Artists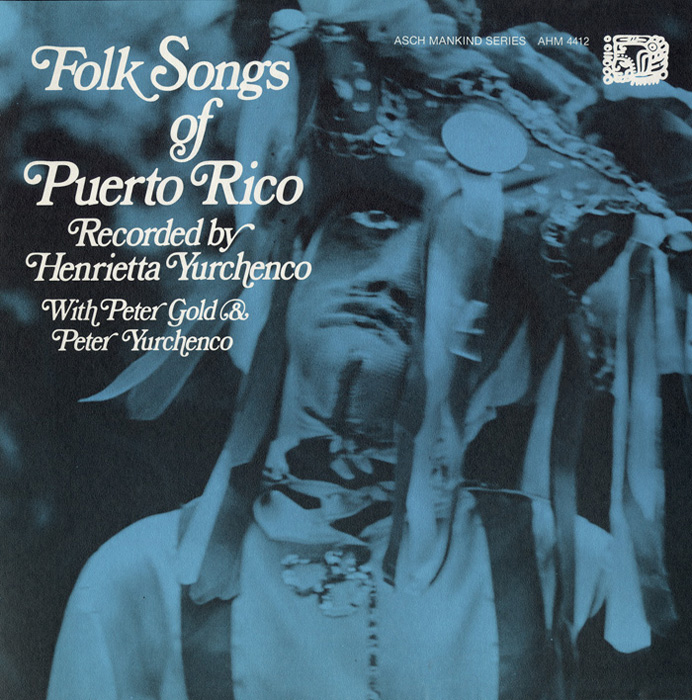 It's all about cultural roots: on this record, the presence of the décima (a ballad-like song form often philosophical in nature) and the pasodoble (a fast Spanish dance that introduces a bull fight and the entrance of the bull fighters) reflects the cultural association of the majority Puerto Ricans to their Spanish colonial past. A plena (humorous, satirical song of the "common man") is distinctly Puerto Rican. A guaracha (an old-fashioned Afro-Cuban street dance) ties Puerto Ricans to their Afro-Caribbean heritage.
EN ESPAÑOL
Estas son todas las raíces culturales: en este disco, la presencia de la décima (una forma de balada a menudo de naturaleza filosófica) y el paso doble (una rápida danza española que introduce una corrida de toros y la entrada de los toreros) refleja la asociación cultural de la mayoría de los puertorriqueños a su pasado colonial español.
Una plena (canción humorística, satírica del "hombre común") es netamente puertorriqueña. Una guaracha (una antigua danza afro-cubana de la calle) ata a los puertorriqueños a su herencia afrocaribeña.
Track Listing
| | | | | |
| --- | --- | --- | --- | --- |
| 101 | Decima | Luis Marcano, José Miguel Velez, Francisco Cruz | 4:21 | |
| 102 | Aguinaldo | Luis Marcano, Gilberto Laza, José Miguel Velez, Francisco Cruz | 2:39 | |
| 103 | Pasodoble | Luis Marcano | 3:49 | |
| 104 | Me Mataron el Gallo | Luis Marcano, Gilberto Laza | 3:09 | |
| 105 | La Plena Viene de Cidra | Luis Marcano, Gilberto Laza | 1:29 | |
| 106 | Waltz | Luis Marcano | 2:46 | |
| 107 | Guaracha - La Mujer del Zapatero | Gilberto Laza | 2:30 | |
| 201 | Bomba | Raul and Freddy Ayala | 1:36 | |
| 202 | Juba | Raul and Freddy Ayala | 1:03 | |
| 203 | Ven Acá, Ven Acá / Melitón Tón Be (medley) | Two drummers, mixed singers at the fiesta of Santiago in Loiza Aldea | 2:38 | |
| 204 | El Rabo de la Cometa / Dolores (medley) | The Parilla Family | 2:39 | |
| 205 | Venga Ron / Agua Tiré (medley) | The Parilla Family | 2:44 | |
| 206 | Christmas Party: Maria Magdalena / Christmas Party: Waltz (medley) | Ana Iris Parilla, guiro player, Viviano Pizarro | 3:42 | |
| 207 | Piece for Concertina and Drum | Viviano Pizarro, "Chichito" Cruz Ortiz | 2:47 | |
| 208 | Mensaje de Alto, Rondalla del Templo de Mita | Rondalla group from the Templo de Mita in Hato Rey | 3:55 | |