Greece: Traditional Music
Various Artists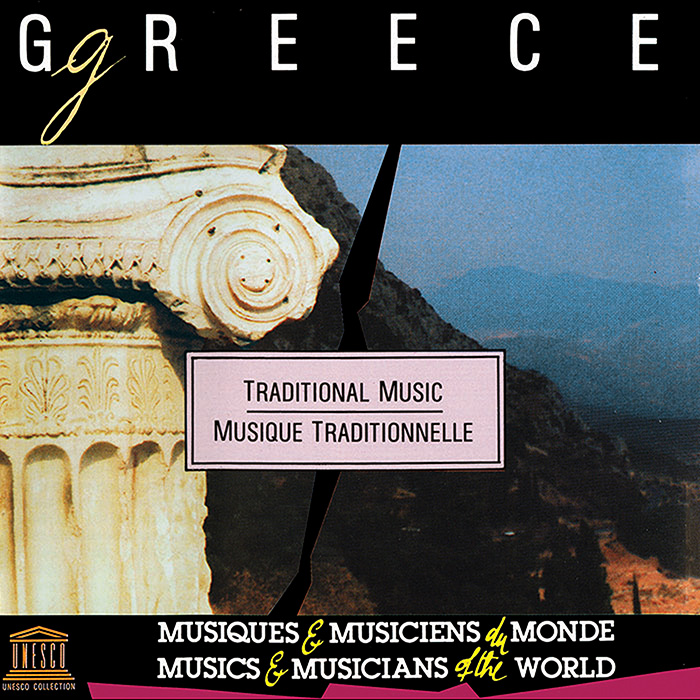 After two millennia under the Roman, Byzantine, and Ottoman empires, not to mention musical invasions from the West, what remains of Greece's early musical heritage? What can be called "Greek"? Although the origins of musical genres and systems identified with the country are often confused, misunderstood, and mislabeled, this 1970 collection provides fourteen vivid examples of vocal and instrumental music from mountain and island regions that have maintained the closest ties to ancient tradition.
The liner notes also provide information about each song and a brief history of Greek music.
FREE DOWNLOAD
Please enjoy a free download of the song "Clarinet Solo"
This album is part of the UNESCO Collection of Traditional Music. More than 125 albums are being released by Smithsonian Folkways Recordings to make the series publicly available, including a dozen never-released albums of musical traditions from around the globe.
Track Listing
| | | | | |
| --- | --- | --- | --- | --- |
| 101 | Miroloi | Sabbas Siatras, Photis Chalkias, Anastasis Chalkias, Polychro Chalkias, Chrisots Litos | 5:14 | |
| 102 | Wedding Song from North Epirus | Sabbas Siatras, Photis Chalkias, Anastasis Chalkias, Polychro Chalkias, Chrisots Litos | 4:34 | |
| 103 | Shepherd's Song | Leonidas Koufoianis | 3:03 | |
| 104 | Clarinet Solo | Leonidas Koufoianis | 1:20 | |
| 105 | Klephtic Song | Christos Panoytsos, Kyriakos Kosoulas, Georgios Florios, Yorgos Tikos | 5:20 | |
| 106 | Skaros | Kyriakos Kosoulas, Georgios Florios, Yorgos Tikos | 3:49 | |
| 107 | Thracian Air | Kariofilis Doitsidis | 3:20 | |
| 108 | Table Song | Theopoula Doitsidu, Kariofilis Doitsidis | 2:51 | |
| 109 | Ud Solo | Kariofilis Doitsidis | 2:43 | |
| 110 | Santuri Solo | Konsolas Ermollos | 1:52 | |
| 111 | Shepherd's Dance Song | Nicolaos Papauramidis | 3:58 | |
| 112 | Lyre Solo | Ioannis Skalidis | 2:43 | |
| 113 | Recitative | Despina Skalidu, Ioannis Skalidis, Vasilios Manudakis | 3:14 | |
| 114 | Mountaineer's Song followed by a Mantinades | Ioannis Gerakakis, Vasilios Solonstros | 3:15 | |