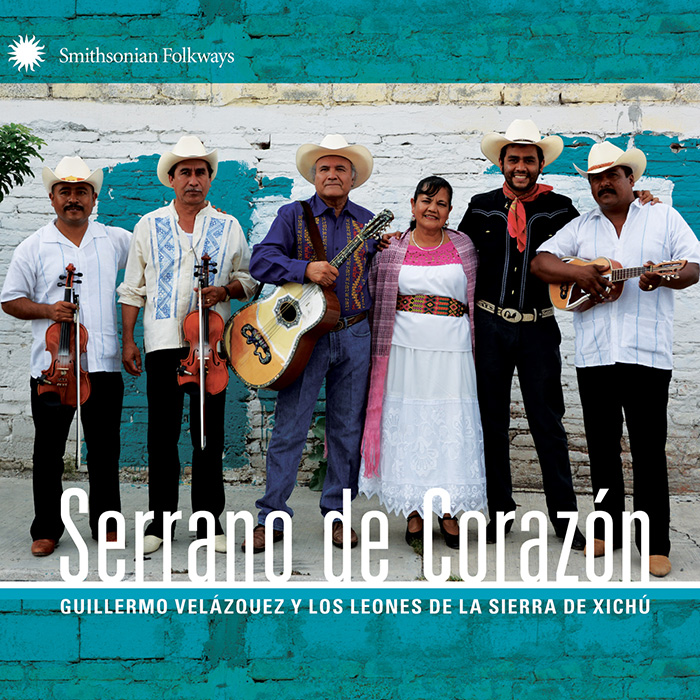 Huapango arribeño is a distinctive regional tradition of Mexican music born of colonial roots, longstanding but secluded in its mountainous homeland in the central states of Guanajuato, San Luis Potosí, and Querétaro. Extraordinary folk poet Guillermo Velázquez and his Leones de la Sierra de Xichú with their violins, guitarra quinta huapanguera, jarana, and percussive dancing carry the heartbeat of this ancient and enthralling vein of poetic and musical creation. Serrano de Corazón (highlander at heart) brings us the tradition at its finest, evoking the spirit of all-night topadas, competitive duels between poets and their musicians for the delight of all. 76 minutes, 40-page bilingual booklet with photos.
This album is the 45th in the Smithsonian Folkways Tradiciones/Traditions series of Latino music albums, produced with support from the Smithsonian Latino Center.
EN ESPAÑOL
El huapango arribeño es una distintiva tradición regional de música mexicana que nace de raíces coloniales, de larga data pero aislada en su tierra natal serrana de los estados centrales de Guanajuato, San Luís Potosí y Querétaro. El destacado e extraordinario poeta popular Guillermo Velázquez y sus Leones de la Sierra de Xichú con sus violines, guitarra quinta huapanguera, jarana, y baile de zapateado, llevan el latido del corazón de esta antigua y cautivadora vena de creación musical y poética. Serrano de Corazón nos entrega la tradición en su máxima expresión, evocando el espíritu de topadas maratónicas que duran toda la noche, duelos competitivos entre poetas y sus músicos para el deleite de todos. 76 minutos, 40-páginas folleto bilingüe con fotos.
Este álbum es el número 45 de la serie de Folkways Tradiciones/Traditions de álbumes de música latina, producidos con el apoyo del Smithsonian Latino Center.
RELATED VIDEO
"Serrano de Corazón" by Guillermo Velázquez y los Leones de la Sierra de Xichú
Guillermo Velázquez y los Leones Speak on The Roots of Huapango Arribeño
Track Listing