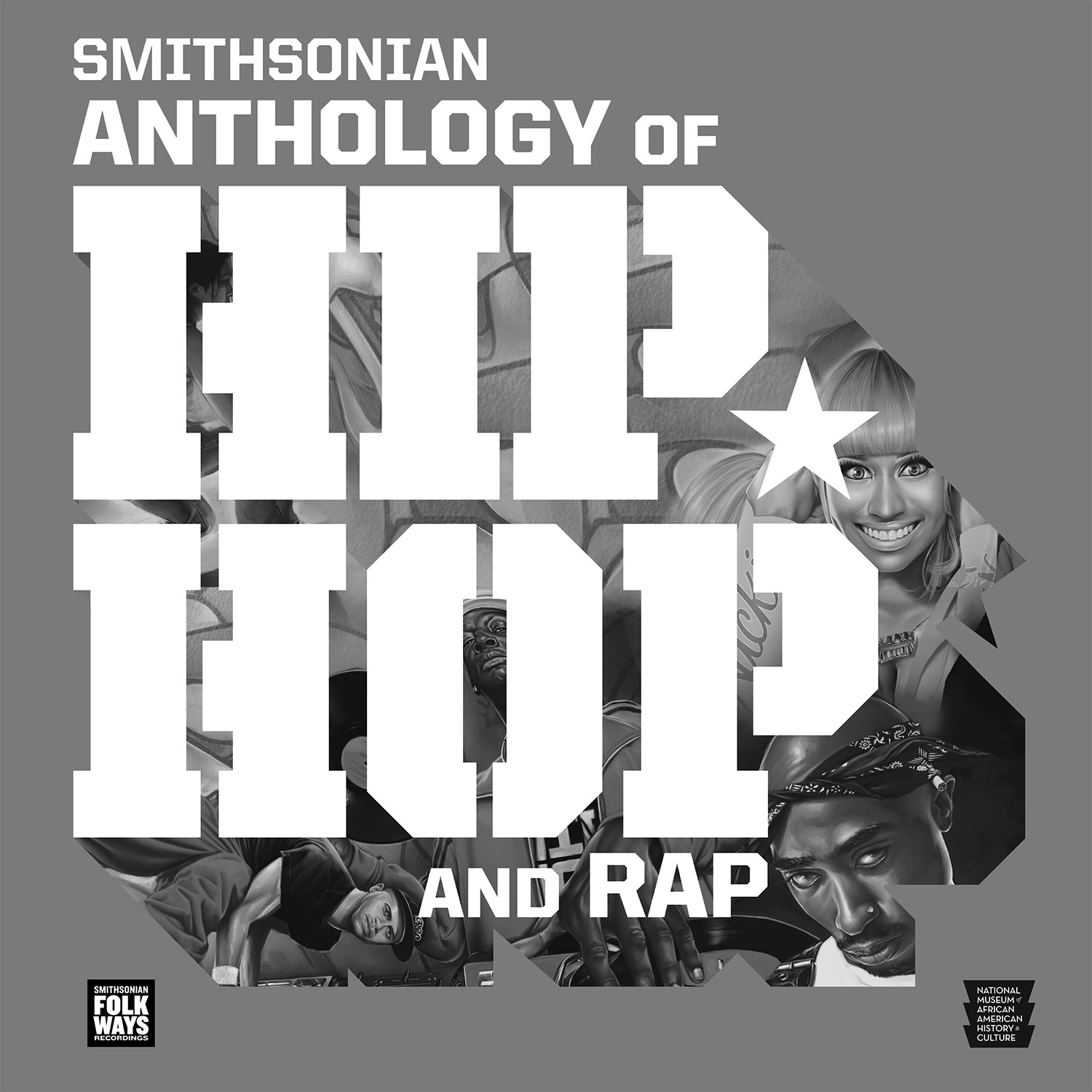 Tracklist
Disc 1
Fatback - King Tim III
Sugarhill Gang - Rapper's Delight
The Sequence - Funk You Up
Kurtis Blow - The Breaks
Funky Four +1 - That's the Joint
Spoonie Gee feat. The Sequence - Monster Jam
Treacherous Three - The Body Rock
Blondie - Rapture
Grandmaster Flash – The Adventures of Grandmaster Flash on the Wheels of Steel
Afrika Bambaataa & The Soulsonic Force - Planet Rock
Disc 2
Grandmaster Flash & The Furious Five - The Message
The Fearless Four - Rockin It
Cold Crush Brothers - Punk Rock Rap
Herbie Hancock - Rockit
Afrika Bambaataa & The Soulsonic Force - Looking for the Perfect Beat
Run-DMC - It's Like That
Whodini - Friends
Cold Crush Brothers - Fresh, Fly, Wild & Bold
T. La Rock - It's Yours
The World's Famous Supreme Team - Hey! DJ
Newcleus - Jam On It
UTFO - Roxanne, Roxanne
Disc 3
Roxanne Shanté - Roxanne's Revenge
Fat Boys - Fat Boys
Doug E. Fresh & MC Ricky D - La Di Da Di
LL Cool J - I Can't Live without my Radio
Schoolly D - P.S.K. 'What Does It Mean?'
Run-DMC feat. Aerosmith - Walk This Way
Beastie Boys - Paul Revere
Ultramagnetic MC's - Ego Tripping
Ice-T - 6 'N The Mornin'
Kool Moe Dee - How Ya Like Me Now
LL Cool J - I Need Love
Eric B feat. Rakim - Eric B is President
Mantronix - King of The Beats
Disc 4
Stetsasonic feat. the Rev. Jesse Jackson & Olatunji - A.F.R.I.C.A.
Jazzy Jeff & The Fresh Prince - Parents Just Don't Understand
Audio Two - Top Billin'
MC Lyte - Lyte As A Rock
Big Daddy Kane - Raw
Marley Marl feat. Master Ace, Craig G, Kool G Rap, & Big Daddy Kane - The Symphony
MC Lyte - I Cram to Understand U (Sam)
Tone Lōc - Wild Thing
Rob Base & DJ E-Z Rock - It Takes Two
Jungle Brothers – I'll House You
N.W.A. - Fuck Tha Police
Public Enemy - Fight the Power
The Stop the Violence Movement - Self Destruction
Too Short - Life Is...Too Short
Slick Rick - Children's Story
3rd Bass - The Gas Face
Disc 5
Queen Latifah feat. Monie Love - Ladies First
Public Enemy - Bring the Noise
De La Soul - Me Myself and I
Biz Markie - Just a Friend
The D.O.C. - It's Funky Enough
2 Live Crew - Me So Horny
Digital Underground - The Humpty Dance
MC Hammer - U Can't Touch This
Vanilla Ice - Ice Ice Baby
Brand Nubian - All for One
Geto Boys - Mind Playing Tricks on Me
A Tribe Called Quest - Scenario
Black Sheep - The Choice is Yours
Salt-N-Pepa - Let's Talk About Sex
Yo-Yo feat. Ice-Cube - Can't Play with My Yo-Yo
Naughty By Nature - O.P.P.
Disc 6
Dr. Dre feat. Snoop Doggy Dogg - Nuthin' But a 'G' Thang
Ice Cube - It Was a Good Day
Sir Mix-A-Lot - Baby Got Back
Arrested Development - Tennessee
Digable Planets - Rebirth of Slick (Cool Like Dat)
House of Pain - Jump Around
Positive K - I Got a Man
Pete Rock & C.L. Smooth - They Reminisce Over You (T.R.O.Y.)
UGK - Pocket Full of Stones
Wu-Tang Clan - C.R.E.A.M.
Cypress Hill - Insane In The Brain
The Pharcyde - Passin' Me By
Eightball & MJG - Comin Out Hard
Common Sense - I Used to Love H.E.R.
Da Brat - Funkdafied
Nas – N.Y. State of Mind
Craig Mack feat. The Notorious B.I.G., Rampage, LL Cool J, Busta Rhymes - Flava In Your Ear
Disc 7
Beastie Boys - Sabotage
The Notorious B.I.G. - Juicy
Gang Starr feat. Nice & Smooth - DWYCK
Warren G feat. Nate Dogg - Regulate
Snoop Doggy Dogg - Murder Was The Case
E-40 feat. Suga T - Sprinkle Me
Goodie Mob - Cell Therapy
Coolio feat. L.V. - Gangsta's Paradise
2Pac - Dear Mama
Mobb Deep - Shook Ones, Part 2
Method Man feat. Mary J. Blige - I'll Be There For You / You're All I Need To Get By
Foxy Brown feat. Jay-Z - I'll Be
Lil Kim feat. Puff Daddy - No Time
Bone Thugs-N-Harmony - Tha Crossroads
Wu-Tang Clan feat. Cappadonna - Triumph
Busta Rhymes - Put Your Hands Where My Eyes Could See
Master P feat. Silkk The Shocker, Mia X, Fiend - Make 'Em Say Uhh!
Disc 8
Missy Elliot - The Rain (Supa Dupa Fly)
Lauryn Hill - Doo Wop (That Thing)
DMX - Ruff Ryders' Anthem
The Roots - The Next Movement
Mos Def - Mathematics
BG - Bling Bling
dead prez - Hip Hop
Eminem feat. Dido - Stan
OutKast - Ms. Jackson
Nelly - Country Grammar (Hot Shit)
Ludacris feat. Pharrell - Southern Hospitality
Nas - One Mic
50 Cent - In Da Club
Lil Jon & The East Side Boyz feat. Ying Yang Twins - Get Low
Disc 9
Talib Kweli - Black Girl Pain
Kanye West - Jesus Walks
Three 6 Mafia feat. Young Buck, Eightball & MJG - Stay Fly
Rick Ross – Hustlin'
Lupe Fiasco feat. Nikki Jean – Hip-Hop Saved My Life
Young Jezzy feat. Nas - My President
David Banner feat. Chris Brown & Yung Joc - Get Like Me
Lil Wayne feat. Robin Thicke - Tie My Hands
Jay Electronica - Exhibit C
Nicki Minaj - Super Bass
Macklemore & Ryan Lewis feat. Wanz - Thrift Shop
J Cole feat. TLC - Crooked Smile
Kanye West - Blood On The Leaves
Drake - Started From the Bottom