George Jean Nathan's The New American Credo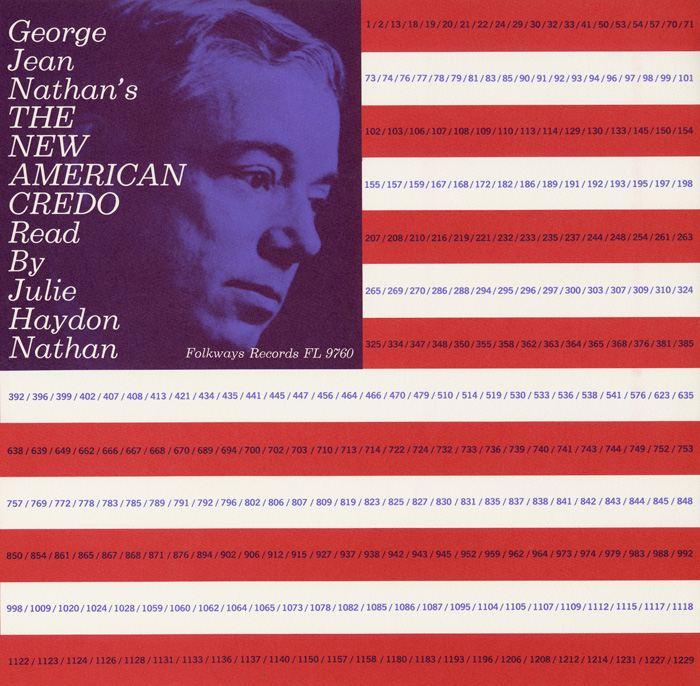 Was George Washington really holding a flag when he crossed the Delaware River? Is it true that throwing salt over one's left shoulder after spilling it prevents bad luck? These "basic assumptions" and many others are found in George Jean Nathan's satirically humorous yet thought-provoking collection of ideas in The New American Credo. Julie Haydon, Nathan's wife and an experienced actress, reads excerpts from this work, originally published in 1927.
Liner notes include the text and short biographies of Nathan and Haydon.
Track Listing
| | | | | |
| --- | --- | --- | --- | --- |
| 101 | Nos. 1, 2, 13, 18, 19, 20, 21, 22, 24, 29, 30, 32, 33, 41, 50 | Julie Haydon Nathan | 2:33 | |
| 102 | Nos. 53, 54, 57, 70, 71, 73, 74, 76, 77, 78, 79, 81, 83, 85, 90, 91, 92, 93, 94 | Julie Haydon Nathan | 2:05 | |
| 103 | Nos. 96, 97, 98, 99, 101, 102, 103, 106, 107, 108, 109, 110, 113, 114, 129, 130, 133 | Julie Haydon Nathan | 2:10 | |
| 104 | Nos. 145, 150, 154, 155, 157, 159, 167, 168, 172, 182, 186, 189, 191, 192, 193, 195, 197, 198 | Julie Haydon Nathan | 2:15 | |
| 105 | Nos. 207, 208, 210, 216, 219, 221, 232, 233, 235, 237, 244, 248, 254, 261, 263, 265 | Julie Haydon Nathan | 2:10 | |
| 106 | Nos. 269, 270, 286, 288, 294, 295, 296, 297, 300, 303, 307, 309, 310, 324, 325, 334, 347 | Julie Haydon Nathan | 2:02 | |
| 107 | Nos. 348, 350, 355, 358, 362, 363, 364, 365, 368, 376, 381, 385, 392, 396, 399 | Julie Haydon Nathan | 1:55 | |
| 108 | Nos. 402, 407, 408, 413, 421, 434, 435, 441, 445, 447, 456, 464, 466, 470, 479 | Julie Haydon Nathan | 1:53 | |
| 109 | Nos. 510, 514, 519, 530, 533, 536, 538, 541 | Julie Haydon Nathan | 0:50 | |
| 201 | Nos. 576, 623, 635, 638, 639, 649, 662 | Julie Haydon Nathan | 0:52 | |
| 202 | Nos. 666, 667, 668, 670, 689, 694, 700, 702, 703, 710, 713, 714, 722, 724, 732 | Julie Haydon Nathan | 2:02 | |
| 203 | Nos. 733, 736, 739, 740, 741, 743, 744, 749, 752, 753, 757, 769, 772, 778, 783, 785, 789 | Julie Haydon Nathan | 1:50 | |
| 204 | Nos. 791, 792, 796, 802, 806, 807, 809, 819, 823, 825, 827, 830, 831, 835, 837, 838 | Julie Haydon Nathan | 1:52 | |
| 205 | Nos. 841, 842, 843, 844, 845, 848, 850, 854, 861, 865, 867, 868, 871, 876, 894 | Julie Haydon Nathan | 2:11 | |
| 206 | Nos. 902, 906, 912, 915, 927, 937, 938, 942, 943, 945, 952, 959, 962 | Julie Haydon Nathan | 1:53 | |
| 207 | Nos. 964, 973, 974, 979, 983, 988, 992, 998, 1009, 1020, 1024, 1028, 1059, 1060, 1062 | Julie Haydon Nathan | 2:03 | |
| 208 | Nos. 1064, 1065, 1073, 1078, 1082, 1085, 1086, 1087, 1095, 1104, 1105, 1107, 1109, 1112, 1115, 1117, 1118, 1122, 1123 | Julie Haydon Nathan | 2:16 | |
| 209 | Nos. 1124, 1126, 1128, 1131, 1133, 1136, 1137, 1140, 1150, 1157, 1158, 1180, 1183, 1193, 1196, 1206, 1208, 1212, 1214, 1231, 1227, 1229 | Julie Haydon Nathan | 2:49 | |