Long Time Passing: Kronos Quartet and Friends Celebrate Pete Seeger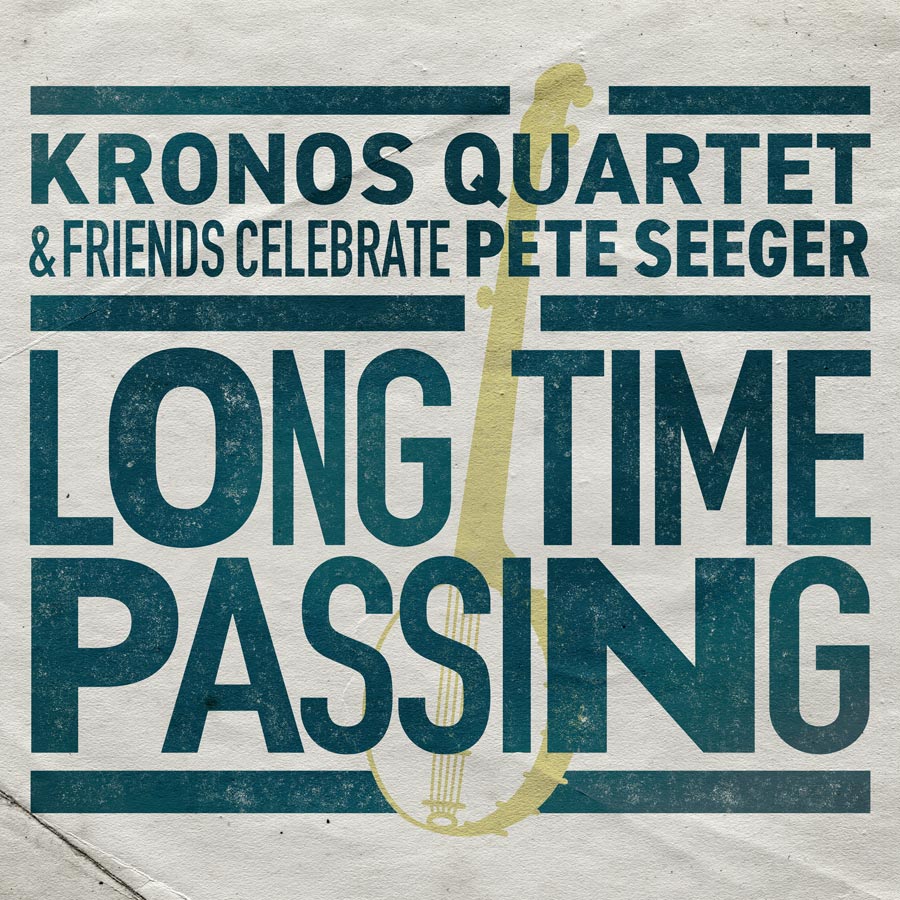 On Long Time Passing, the trailblazing Kronos Quartet celebrates the music of Pete Seeger and rejoices in the spirit, inspiration, and fearlessness inherent in his life's work. Along with guests Sam Amidon, Maria Arnal, Brian Carpenter, Meklit, Lee Knight, and Aoife O'Donovan, the group examines Seeger's celebration of beauty and the pleasure of singing together. Through the power of these eternally relevant cries for unity and moral integrity, the album articulates the responsibility we have as citizens and members of a greater community to question war and injustice, and to develop the courage to raise our voices together both in word and song.
Special Bundles Available
Explore beyond Long Time Passing by bundling your pre-order with even more Pete Seeger or Kronos Quartet music! For the Pete Seeger superfan, the Spirit of Seeger Bundle collects Long Time Passing with Pete Seeger: The Smithsonian Folkways Collection, released in 2019 in celebration of Pete Seeger's 100th birthday, featuring all of Pete's classic songs plus previously unreleased material. As a bonus you also get a limited-edition t-shirt featuring art from Pete's classic release Where Have All The Flowers Gone?. If you're interested in hearing more from Kronos Quartet, pick up the Kronos Quartet on Folkways Bundle, which includes the group's 2010 album Rainbow from the Music of Central Asia series, showing the groundbreaking quartet performing music from Azerbaijan and Afghanistan.
Track Listing
| | | | | |
| --- | --- | --- | --- | --- |
| 101 | Which Side Are You On? | Kronos Quartet with Lee Knight | 2:22 | |
| 102 | The President Sang Amazing Grace | Kronos Quartet with Meklit | 3:56 | |
| 103 | Raghupati Raghav Raja Ram | Kronos Quartet | 3:40 | |
| 104 | Waist Deep in the Big Muddy | Kronos Quartet with Brian Carpenter | 3:23 | |
| 105 | Jarama Valley (Live in Barcelona) | Kronos Quartet with Maria Arnal | 3:18 | |
| 106 | Garbage | Kronos Quartet with Lee Knight | 3:06 | |
| 107 | Storyteller | Kronos Quartet | 16:29 | |
| 108 | Mbube (Wimoweh) | Kronos Quartet with Sam Amidon, Brian Carpenter, Lee Knight, and Aoife O'Donovan | 2:44 | |
| 109 | If I Had a Hammer | Kronos Quartet with Sam Amidon | 2:07 | |
| 110 | Where Have All the Flowers Gone? | Kronos Quartet with Sam Amidon, Brian Carpenter, Lee Knight, and Aoife O'Donovan | 4:03 | |
| 111 | Step by Step | Kronos Quartet with Lee Knight | 3:02 | |
| 112 | Anda Jaleo (Live in Barcelona) | Kronos Quartet with Maria Arnal | 2:37 | |
| 113 | Kisses Sweeter Than Wine | Kronos Quartet with Aoife O'Donovan | 3:10 | |
| 114 | Turn, Turn, Turn | Kronos Quartet with Sam Amidon, Brian Carpenter, Lee Knight, and Aoife O'Donovan | 3:58 | |
| 115 | We Shall Overcome | Kronos Quartet with Sam Amidon, Brian Carpenter, Lee Knight, Meklit, and Aoife O'Donovan | 5:08 | |