¡Soy Salvadoreño! Chanchona Music from Eastern El Salvador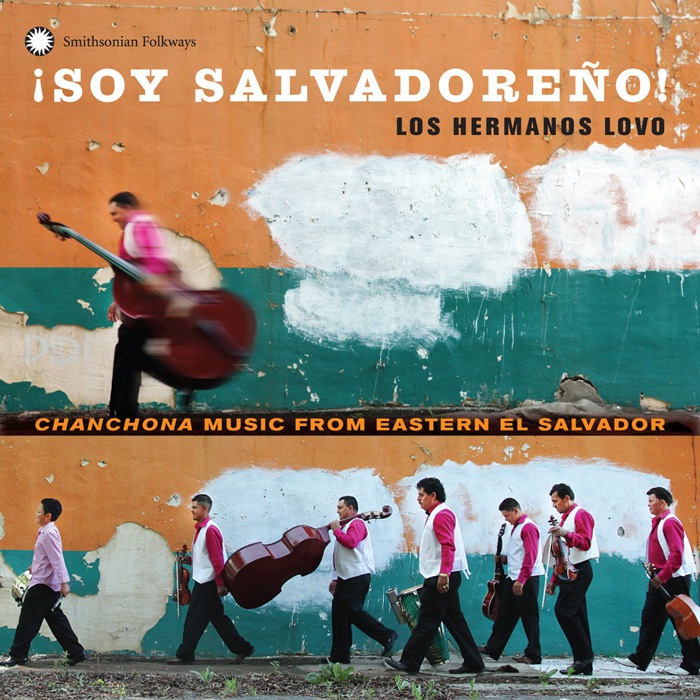 The low–slung mountains and rural villages of eastern El Salvador are home to one of the most joyous yet little-known regional musics of Latin America. Called chanchona—"big pig," the local name for the string bass—it is music made by and for country people. When the family group Los Hermanos Lovo fled the civil war of the 1980s and 1990s, they took their homegrown music with them to Washington, D.C. There, the lively sounds of the cumbia are as much an invitation to dance as a way of creating a sense of "home" and cultural solidarity. 14 tracks, 51 minutes, 36-page booklet, bilingual notes.
This album is part of the Smithsonian Folkways Tradiciones/Traditions series of Latino music albums, produced with support by the Smithsonian Latino Center.
Las escarpadas montañas y los pueblos en el oriente de El Salvador son el hogar de la música regional más alegre pero menos conocida de América Latina. Conocida por el nombre chanchona- "chancho grande"—el nombre local para el bajo de cuerdas—esta es la música hecha por y para la gente del campo. Cuando el grupo Los Hermanos Lovo huyeron de la guerra civil de la década de las ochentas y noventas, se llevaron la música de su patria a Washington, D.C. En Washington, el sonido animado de la cumbia era tanto una invitación a bailar como una manera de crear un sentido de hospitalidad y de solidaridad cultural.
FREE DOWNLOAD
Please enjoy a free download of "Las tres fronteras (The Three Borders)"
RELATED VIDEO
Los Hermanos Lovo Discuss Chanchona
Track Listing