Artist Spotlight
Los Pleneros de la 21
Afro-Puerto Rican traditions
Los Pleneros de la 21 gelled as a group in 1983, when conservatory-trained percussionist Juan "Juango" Gutiérrez followed his pride in his Puerto Rican culture and assembled a group of street-corner musicians in New York City to perform the signature genres of Afro-Puerto Rican music: bomba and plena. The group took its name from a bus stop in Santurce, Puerto Rico, one that identifies a neighborhood known for its plena musicians. From the beginning, the group honored their heritage by maintaining the essence of traditional drumming, singing, and dancing, while infusing their performances with the instrumental sounds, harmonies, and textures of contemporary Puerto Rican music enjoyed by Puerto Rican in New York. Their success helped spark a renaissance of bomba and plena in the United States, as dozens of other groups emerged, inspired by their example.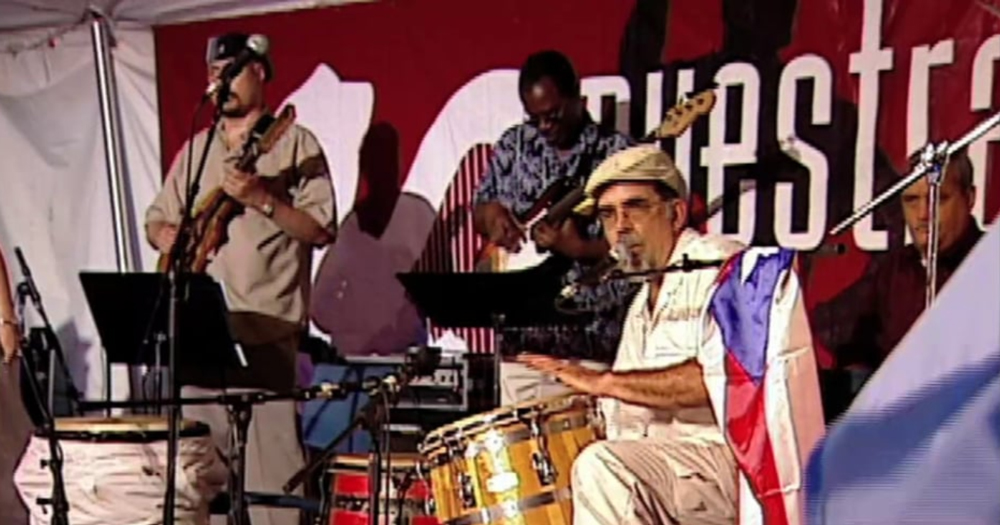 Bomba is an umbrella term for a variety of regional rhythmic patterns and associated dance styles, cultivated by African slaves and their descendants in early colonial Puerto Rico. The music provided them diversion as well as spiritual inspiration. It is customarily sung in call-and-response fashion and played on barrel-shaped drums (barriles), each with a single goatskin head. Dance is an integral part of bomba, and during its performance the highest-pitched drum engages in a dialogue with dancers, lending bomba an intensely participatory quality. A dancer will make movements with his or her hands and body, which the lead drummer then translates into sound.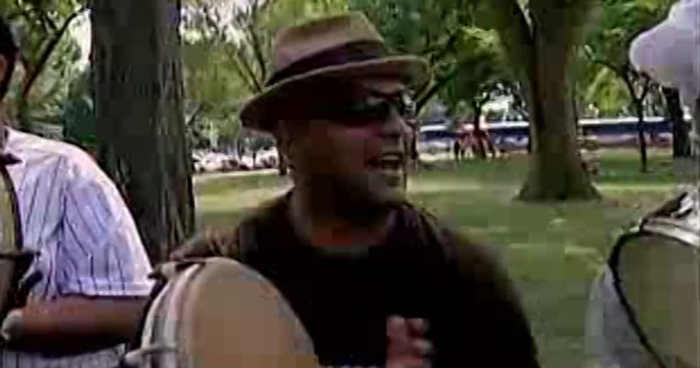 Los Pleneros de la 21 brings this interaction to the stage during their performances, as well to the community with their dancing and drumming workshops for people of all ages. Other instruments typically used include the maraca, a shaken gourd rattle, and the cuá (also called fuá), two sticks played against the wood of the barriles or another piece of wood.
The plena arose among urban workers of coastal areas, particularly Ponce and Mayagüez, shortly after 1898, when Spain lost political control over Puerto Rico and the U. S. colonization of Puerto began. Its distinctive percussion instruments are the panderetas, a set of several different-sized frame drums with single goatskin heads. As in bomba, the verses are call and response, but with a pronounced emphasis on the lyrical narration of daily life and satirical commentary on current events. Each generation of plena musicians (pleneros) produces a new body of work reflecting the events of their day, so that over time, the plena has offered a rich portrait of Puerto life, both on the island and in the U. S. diaspora. Los Pleneros de la 21 have added their composed narratives to the collective tradition that reflect the unique events of their lives; one of their most political plenas is "Isla Nena," a song about the U. S. military occupation of Vieques, Puerto Rico.
Bomba and plena are the core of Los Pleneros de la 21's musical production yet música jíbara (mountain music of Puerto Rico), jazz, salsa, rock, rap, and other genres are appreciable influences in their repertoire. Cultural critic Juan Flores commends Los Pleneros de la 21 for "innovating within the tradition, rather than superimposing innovations onto the tradition." Group leader Juango Gutiérrez agrees, adding, "You have to let the plena breathe." In this spirit, Los Pleneros de la 21 know how to make audiences dance to the point of exhaustion while letting the plena and the bomba shine, rather than going the more familiar commercial route of using these genres as flavorings to spice up other genres. Los Pleneros de la 21 disprove the myth that the plena and the bomba cannot make a party jump and the people dance as do the salsa, the merengue, and the reggaetón. The plena and the bomba may be "traditional" and "folkloric," but they can also be popular and contemporary, and it is the innovation that Los Pleneros de la 21 bring to the tradition while maintaining its essence that makes their achievement unique. The upbeat music draws people in, which is evident from the hundreds who regularly pack the group's concerts and community events.
Los Pleneros de la 21 have graced the stages of Carnegie Hall, Lincoln Center, and Symphony Space, as well as countless other esteemed venues in the continental United States, Hawai'i, Puerto Rico, Cuba, Mexico, Canada, Australia, and Russia. At the same time they are a beloved East Harlem grassroots institution with an educational mission and a strong community following. They play and hold workshops at New York City schools, universities, and community events throughout the tri-state area and all over the United States. Their eagerly anticipated annual events have become East Harlem traditions: Las Fiestas de Cruz (Feast of the Holy Cross), An Evening with the Masters, Fiesta Navideña (Christmas Party), and The Children's Workshop Graduation. Their relationships with other grassroots organizations, most notably Rincón Criollo Cultural Center (known as La Casita de Chema) in the South Bronx, keep these musical traditions and educational efforts grounded in community life.
Los Pleneros de la 21 inhabit a vital and distinctive space in the contemporary Puerto Rican musical landscape. They navigate between forces frequently perceived as opposed to one another: tradition and innovation, street-based performance skills and formally trained musicianship, which appears in its most advanced form on their latest CD released by Smithsonian Folkways Recordings. In Para Todos Ustedes: Bomba y Plena desde Nueva York, Los Pleneros de la 21 give back to their community, and give to all of us, the gift that was given to them, the best of bomba and plena, wrapped in a musical package of their own creativity.