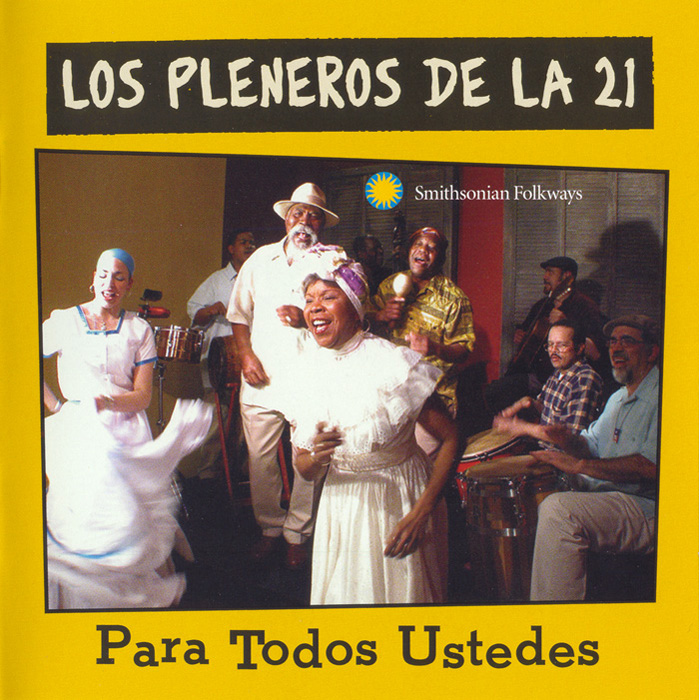 The bomba and plena are the heartbeat of Afro-Puerto Rican music. In Para Todos Ustedes (For All of You), New York's acclaimed Los Pleneros de la 21 wraps these venerable drumming, singing, and dancing traditions in a creative web of fresh arrangements, contemporary harmonies, and a message of pride in their musical ancestors. Trombonist Papo Vázquez, percussionist John Santos, salsero Hermán Olivera, and singer Miriam Félix join Los Pleneros de la 21 in this engaging, breakthrough album crafted from the solid strands of both old and new. 36-page booklet.

La bomba y la plena son el latido del corazón de la música afro-puertorriqueña. En Para Todos Ustedes, los aclamados Pleneros de la 21 tejen de una manera creativa estas tradiciones venerables de tambor, canto, y baile en arreglos novedosos, armonías contemporáneas, y con un mensaje de orgullo de sus antepasados en la música. Trombón Papo Vázquez, percusionista John Santos, y salsero Hermán Olivera acompañan a Los Pleneros de la 21 en esta grabación cautivadora e innovadora realizada sobre una base sólida de lo viejo y de lo nuevo.
AWARDS
2006 GRAMMY Award Nominee for Best Traditional World Music Album
RELATED VIDEOS
Performance of "Carmelina"
Track Listing