Man's Early Musical Instruments
Various Artists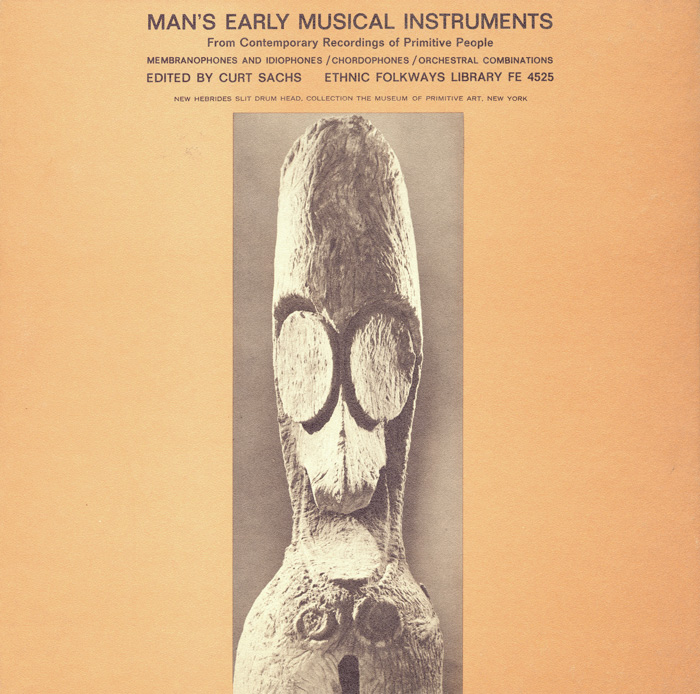 This 1956 educational compilation was edited by famed German musicologist Curt Sachs (1881 — 1959). Sachs was a co–creator of the Sachs–Hornbostel system of musical instrument classification, which the album showcases using examples from previous Folkways recordings. The album begins with the most basic percussion, foot–stamping and hand–clapping. It continues with various membranophones (skin–sounders), idiophones (self–sounders), aerophones (wind instruments), and chordophones (stringed instruments), and finishes with various examples of orchestral combinations of them all. The liner notes include an introductory essay by Sachs along with photographs and a discography of the source material used.
RELATED LESSON PLAN
"The Balinese Gamelan Orchestra Club"
EN ESPAÑOL
Esta compilación educativa de 1956 fue editada por el famoso musicólogo alemán Curt Sachs (1881 - 1959). Sachs fue un co-creador del sistema de Sachs-Hornbostel de clasificación de instrumentos musicales, que el álbum muestra usando ejemplos de anteriores grabaciones de Folkways.
El álbum comienza con la percusión, más básica, taconeo y palmas. Continúa con diversos membranófonos (resonadores), idiófonos (auto sonidos), y aerófonos (instrumentos de viento) y cordófonos (instrumentos de cuerda) y termina con varios ejemplos de combinaciones orquestales de todos ellos. Las notas incluyen un ensayo introductorio de Sachs, junto con fotografías y una discografía de la materia prima utilizada.
Track Listing