Marc Chagall: Written and Read in Yiddish by Aaron Kurtz
Aaron Kurtz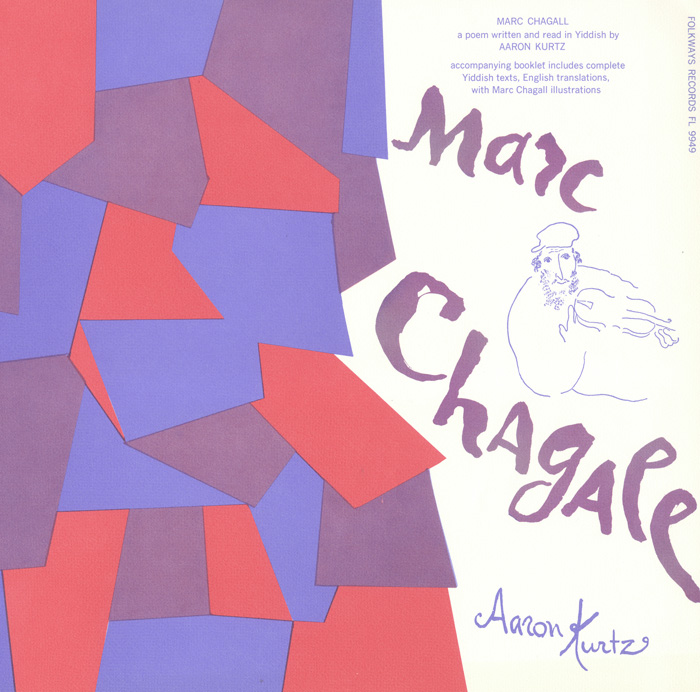 Marc Chagall (1887–1985) and Aaron Kurtz (1891–1964) were born just four years apart in Hasidic Jewish communities near the small Russian city of Vitebsk (now in Belarus). Much of Chagall's art reflects the folk culture of East European Jewry that he and poet Kurtz shared in their youth. Kurtz was intimately familiar with what Chagall was portraying —through the eyes of a "modernist" painter influenced by cubism—in his quasi-realistic paintings or in the other media he employed, such as stained glass and ceramics.
Author of his own poems and editor of a journal of Yiddish poetry, Kurtz in 1947 wrote the book Marc Chagall, an extended poem based on the Chagall's imagery and life. Kurtz reads selections from the book on this recording, peppering his recitation with excerpts of Yiddish songs, and often modifying the lyrics to relate to Chagall and his imagery.
Liner notes contain a transcript of the Yiddish along with a complete English translation plus black-and-white illustrations by Chagall.
Track Listing