Mandolin Instruction: Old Time, Country and Fiddle Tunes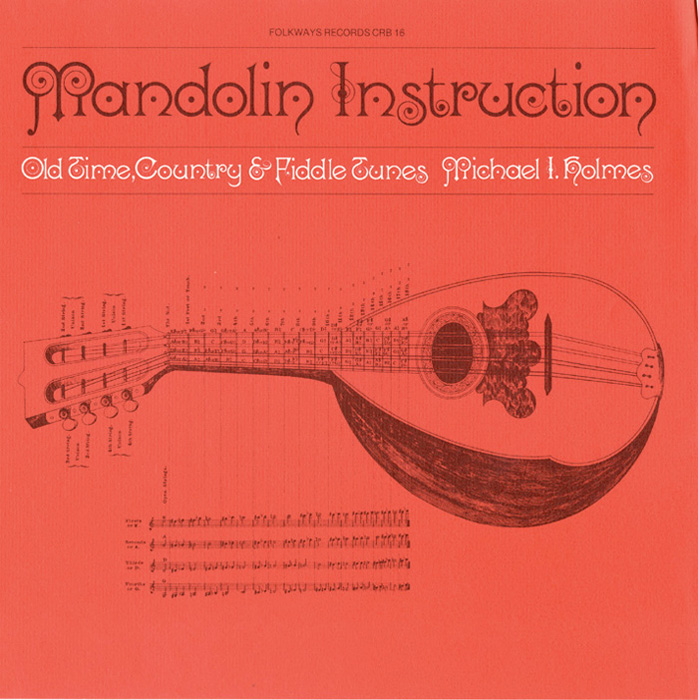 String instrumentalist Michael Holmes provides a recorded tutorial in the playing of the mandolin. The recording is composed of two parts. The first part presents examples of mandolin playing in traditional folk music first slowly and then at performance speed. The second part has Holmes replaying all the songs from the first part and joined by Reed Martin (banjo) and Mike Rivers (guitar).
The extensive liner notes provide information of buying and tuning a mandolin and musical notation for the 15 songs presented as part of this tutorial.
Holmes dedicated this recording to Pete Seeger, "whose version of "Woody's Rag" was the first tune I ever heard played on the mandolin."
Track Listing
| | | | | |
| --- | --- | --- | --- | --- |
| 101 | Tune to a "G" | Michael Holmes | 0:13 | |
| 102 | Soldier's Joy, slow | Michael Holmes | 1:25 | |
| 103 | Soldier's Joy, fast | Michael Holmes | 0:43 | |
| 104 | St. Anne's Reel, slow | Michael Holmes | 1:27 | |
| 105 | St. Anne's Reel, fast | Michael Holmes | 0:41 | |
| 106 | Cripple Creek, slow | Michael Holmes | 0:44 | |
| 107 | Cripple Creek, fast | Michael Holmes | 0:22 | |
| 108 | Old Joe Clark, slow | Michael Holmes | 1:23 | |
| 109 | Old Joe Clark, fast | Michael Holmes | 0:38 | |
| 110 | Turkey in the Straw, slow | Michael Holmes | 1:16 | |
| 111 | Turkey in the Straw, fast | Michael Holmes | 0:38 | |
| 112 | Colored Aristocracy, slow | Michael Holmes | 1:04 | |
| 113 | Colored Aristocracy, fast | Michael Holmes | 0:44 | |
| 114 | East Virginia | Michael Holmes | 0:24 | |
| 115 | Will the Circle Be Unbroken | Michael Holmes | 0:48 | |
| 201 | Arkansas Traveler, slow | Michael Holmes | 1:32 | |
| 202 | Arkansas Traveler, fast | Michael Holmes | 0:41 | |
| 203 | Girl I Left Behind Me, slow | Michael Holmes | 1:30 | |
| 204 | Girl I Left Behind Me, fast | Michael Holmes | 0:39 | |
| 205 | Devil's Dream, slow | Michael Holmes | 1:50 | |
| 206 | Devil's Dream, fast | Michael Holmes | 0:46 | |
| 207 | Fisher's Hornpipe, slow | Michael Holmes | 2:04 | |
| 208 | Fisher's Hornpipe, fast | Michael Holmes | 0:39 | |
| 209 | Flop Eared Mule, slow | Michael Holmes | 1:54 | |
| 210 | Flop Eared Mule, fast | Michael Holmes | 0:44 | |
| 211 | Lost Indian, slow | Michael Holmes | 1:23 | |
| 212 | Lost Indian, fast | Michael Holmes | 0:35 | |
| 213 | Ragtime Annie, slow | Michael Holmes | 1:56 | |
| 214 | Ragtime Annie, fast | Michael Holmes | 1:00 | |
| 301 | Soldier's Joy | Michael Holmes | 1:37 | |
| 302 | Saint Anne's Reel | Michael Holmes | 1:49 | |
| 303 | Cripple Creek | Michael Holmes | 0:54 | |
| 304 | Old Joe Clark | Michael Holmes | 1:38 | |
| 305 | Colored Aristocracy | Michael Holmes | 1:41 | |
| 306 | East Virginia | Michael Holmes | 0:43 | |
| 307 | Will The Circle Be Unbroken | Michael Holmes | 0:43 | |
| 401 | Arkansas Traveler | Michael Holmes | 1:41 | |
| 402 | The Girl I Left Behind Me | Michael Holmes | 1:46 | |
| 403 | Devil's Dream | Michael Holmes | 1:16 | |
| 404 | Fisher's Hornpipe | Michael Holmes | 1:11 | |
| 405 | Flop Eared Mule | Michael Holmes | 1:46 | |
| 406 | Lost Indian | Michael Holmes | 1:37 | |
| 407 | Ragtime Annie | Michael Holmes | 2:21 | |
| 408 | Turkey in the Straw | Michael Holmes | 1:46 | |