Music from the Dominican Republic: Vol. 1, The Island of Quisqueya
Various Artists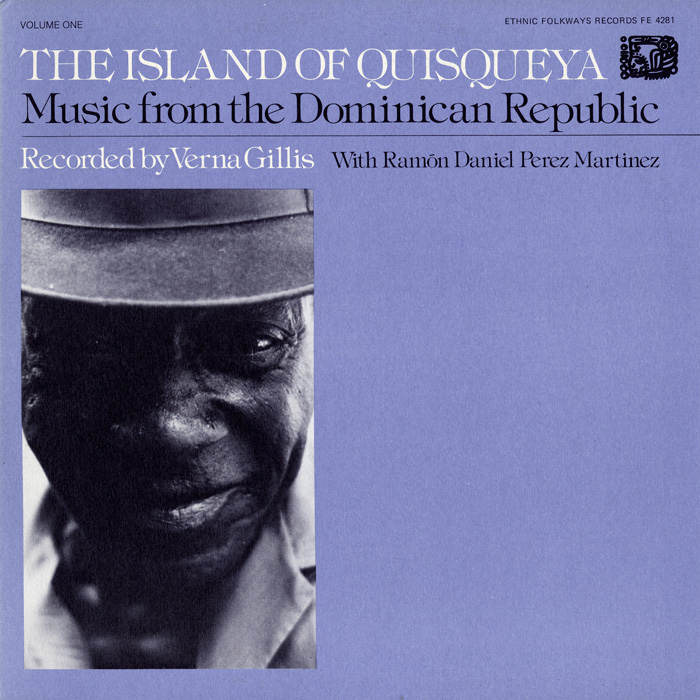 Recorded by Verna Gillis and Ramón Daniel Pérez Martínez.
"Lying midway between Puerto Rico and Cuba in the West Indies is the Dominican Republic, a country which occupies the eastern two-thirds of an island it shares with the country Haiti. The aboriginal name of the island was Quisqueya, which means 'mother of the earth.' When Columbus discovered the island in 1492 he renamed it 'Española.' In Santo Domingo, founded in 1496, one still sees the remains of the first church built in America. Here is the house where Cortés kept the court records before he had even heard of Mexico. From here Ponce de León set out in search of the Fountain of Youth..."
Grabado por Verna Gillis y Ramón Daniel Pérez Martínez.
"La República Dominicana está localizada en las Antillas Mayores, a medio camino entre Cuba y Puerto Rico, ocupando dos terceras partes de la isla que comparte con Haití. El nombre aborígen de la isla es Quisqueya, que significa 'madre de la tierra.' Cuando Colón descubrió la ista en 1492 la llamó 'Española.' En Santo Dominto, fundada en 1496, todavía se pueden ver los restos de la primera capilla construida en América. Fue aquí donde Cortés llevó libros de registro para la corona antes de siquiera haber oido hablar de México. Fue desde aquí desde donde partió Ponce de León es su búsqueda de la Fuente de la Eterna Juventud..."
RELATED ALBUMS
Music from the Dominican Republic Vol. 2, The Island of Española
Music from the Dominican Republic Vol. 3, Cradle of the New World
Music from the Dominican Republic Vol. 4, Songs from the North
Track Listing
| | | | | |
| --- | --- | --- | --- | --- |
| 101 | A Novena | Drummers, singers from Samana | 5:45 | |
| 102 | O Reina | Heraldo Enriques, Pablo Jiron, and Saturnino Enriques | 4:57 | |
| 103 | Instrumental, with Vocal | Isabel Jimenes and Santos, Colon, and Damito Jimenes | 5:25 | |
| 104 | A Novena | People from the community at the home of Mr. Amable | 5:49 | |
| 201 | Merengues: "Apagame La Vela" (Put Out My Candle) | Nicolo Guitierres, Porfifio Rosario, and Santo Peña | 4:56 | |
| 202 | Merengues: Merengues | Seseco Martinez, Bicolo Avila, and Goyo Caminero | 3:42 | |
| 203 | Merengues: "Cuando Yo Vine del Cibao" (When I Arrived from Cibao) | Tomás Aguino de León, Maria Isabel Trinidad, Licinio Modesto | 4:14 | |
| 204 | Merengues: "Julio Ven" (Julio Is Coming) | Erasmo Errera, Julio, Virgilio Errera | 3:47 | |
| 205 | Merengues: "Las Mujeres Son el Consuelo de los Hombres" (Women Are Men's Confort) | Nicolo Guitierres, Porfifio Rosario, and Santo Peña | 4:00 | |
| 206 | Merengues: Merengues | Seseco Martinez, Bicolo Avila, and Goyo Caminero | 3:28 | |