Myanmar: Music by the Hsaing Waing Orchestra: The Burmese Harp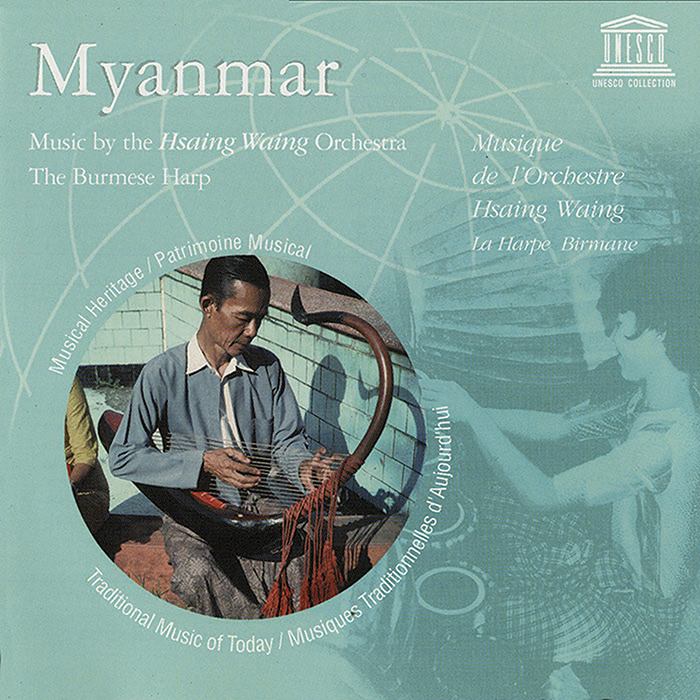 The music of Burma (officially the Republic of the Union of Myanmar) is characterized by two types of music: chamber music played solo on instruments such as the Burmese harp, and orchestra music played primarily on percussion instruments.
Yet, according to ethnomusicologist Jacques Brunet, Burmese music is almost entirely vocal in origin, "and each composition—even an instrumental one—can be recalled merely by singing the words of the poem which give it individual character. The great families of musicians (music is often passed on from father to son) still know the entire repertoire by heart, as music is learnt from the outset by repeating the words while practicing on the instrument."
Disc one features chamber music performed on the Burmese harp. Constructed with13 strings, the harp is considered by the Burmese to be their national instrument. Disc two presents orchestra music performed by a hsaing waing ensemble. Hsaing waing is traditional music played primarily on percussion instruments featuring the pat waing, a 21-drum set in ascending size arranged in a circle.  Included among the selections is music played as the overture to court performances of the Ramayana.
FREE DOWNLOAD
Please enjoy a free download of the song "In praise of the city of Mandalay(pulé mode)"
| | | |
| --- | --- | --- |
| In praise of the city of Mandalay(pulé mode) | MP3 | FLAC |
This album is part of the UNESCO Collection of Traditional Music. More than 125 albums are being released by Smithsonian Folkways Recordings to make the series publicly available again, including more than a dozen never-released albums of musical traditions from around the globe.
Track Listing