Nepal: Ritual and Entertainment
Various Artists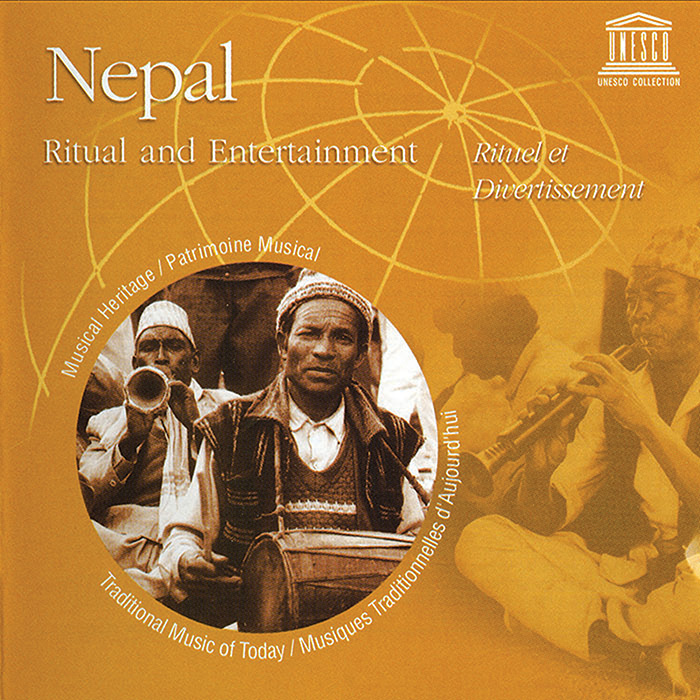 Situated between China and India in the Himalayans, Nepal contains eight of the world's ten tallest mountains within its borders. Until the 18th century, the kingdom of Nepal was made up of several smaller kingdoms. In 1990 it became a parliamentary monarchy, and in 2007, a federal republic.
Nepalese music is used in ritual and entertainment to signify events in the lunar calendar, the seasons, and agricultural cycles. While the music for dance repeats melodic and rhythmic patterns, the music for religious ceremonies often features free-flowing, improvised melodies. The liner notes provide information and detail on each song, plus a guide to Nepali pronunciation, a map of Nepal, and photos of musical instruments.
FREE DOWNLOAD
Please enjoy a free download of the song "Lakh batti balne"
This album is part of the UNESCO Collection of Traditional Music. More than 125 albums are being released by Smithsonian Folkways Recordings to make the series publicly available again, including more than a dozen never-released albums of musical traditions from around the globe.
Track Listing
| | | | | |
| --- | --- | --- | --- | --- |
| 101 | Pujako dhun | Nagara bana ensemble of the temple of Gorakhnath at Gorkha Darbar | 5:20 | |
| 102 | Bhagavatiko laya | Nagara bana ensemble from Manakamana | 7:03 | |
| 103 | Bela rag | Lok Bahadur Pariyar | 1:38 | |
| 104 | Cacari | Pañcai baja ensemble from Gorkha | 2:26 | |
| 105 | Madyandi | Pañcai baja ensemble from Danai | 6:12 | |
| 106 | Lakh batti balne | Pañcai baja ensemble from Rampur | 1:18 | |
| 107 | Kuldevata | Pañcai baja ensemble from Patale | 7:09 | |
| 108 | Lok git jhyaure | Akal Bahadur Gandarva | 4:48 | |
| 109 | Ma | Dhimaybaja ensemble of Bhaktapur | 8:00 | |
| 110 | Phagu | Mvali baja ensemble from Changu Narayan | 2:25 | |
| 111 | Narada nac | Official Kartik nac troupe of the Maha guthi of Patan | 3:27 | |
| 112 | Jharh Jhariya | Pradesh Caudhari, Dimar Caudhari | 4:04 | |
| 113 | Bhajaithi | Inhabitants of Bankatta led by Pradesh Caudhari | 5:57 | |
| 114 | Mãgar | Family of Hom Bahadur Caudhari, Palase | 1:40 | |
| 115 | Maghi | Inhabitants of Palase | 1:51 | |
| 116 | Jimgang ongmu thupse | Ang Gelu Sherpa | 4:46 | |
| 117 | Phulyo nil patha | Juna Nepali, Devi Pun | 1:13 | |
| 118 | Ganga caritra | Kesab Raj Ghimire, Tapunidhi Ghimire, Indramani Ghimire | 2:43 | |
| 119 | Jhyamre | Prem Bahadur Nepali, Tika Bahadur Nepali | 1:05 | |