American Favorite Ballads, Vol. 5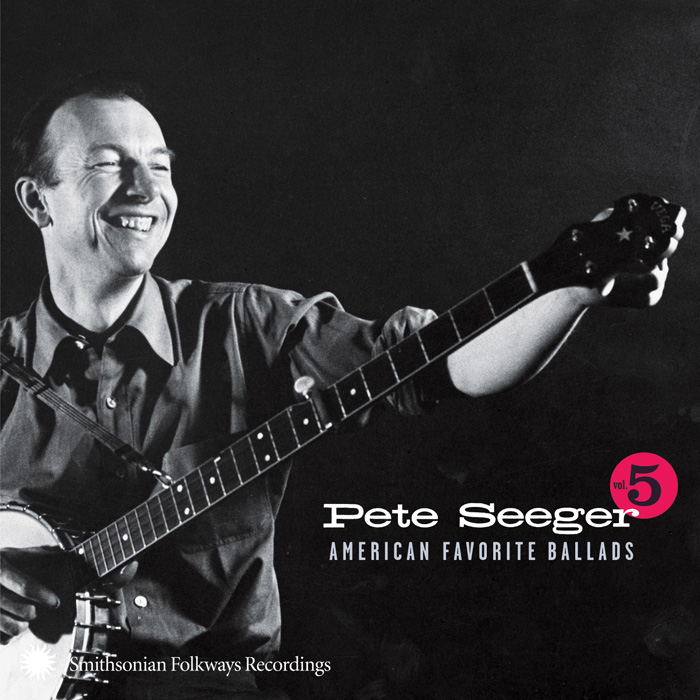 These are the songs Pete Seeger sang for America, songs every school child and summer camp attendee learned to sing and now sing with their children and grandchildren. The five-volume American Favorite Ballads (issued 1957 to 1962) is a cornerstone of Seeger's work with Folkways Records. This CD concludes this reissue series of digitally remastered recordings, including not only the complete original set but many more songs from other Seeger albums of the same era, including the 1954 Frontier Ballads collection, which makes up most of this volume. 36-page booklet, 29 tracks, 67 minutes.
LYRICS
Lyric transcriptions as permissible by the publisher available here.
EN ESPAÑOL
Estas son las canciones que Pete Seeger cantó para los Estados Unidos, canciones que todos los niños de la escuela y asistentes al campamento de verano aprendieron a cantar y ahora cantan con sus hijos y nietos. El quinto volumen de Baladas favoritas estadounidenses (publicados desde 1957 hasta 1962) son la piedra angular del trabajo de Seeger con Folkways Records.
Este CD concluye esta serie reeditada de grabaciones remasterizadas digitalemente, incluyendo no solo el conjunto original completo, sino muchas más canciones de otros álbumes de Seeger de la misma época, incluyendo la Colección de Baladas Frontier de 1954, que constituye la mayor parte de este volumen. Folleto de 36 páginas, 29 pistas, 67 minutos.
Track Listing