American Favorite Ballads, Vols. 1-5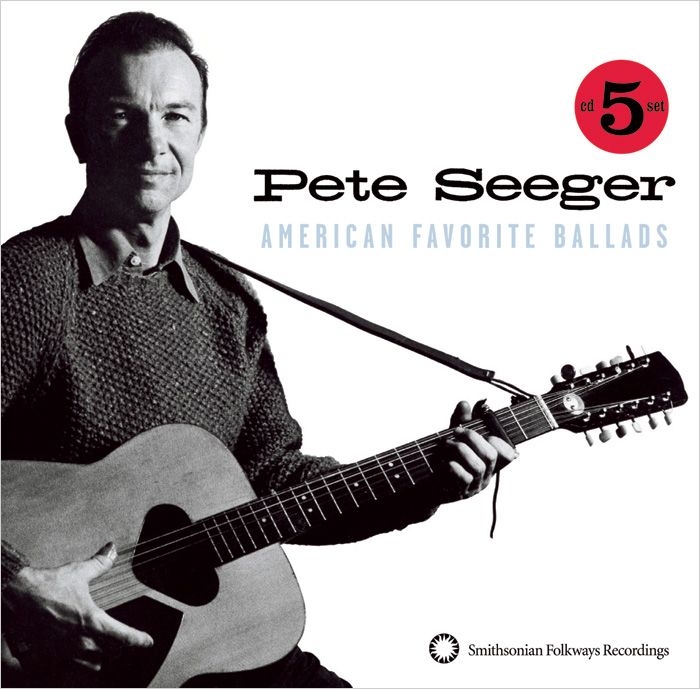 Pete Seeger's life, music, and legacy encapsulate nearly a century of American history and culture. He has immersed himself in folk music and used it, like Johnny Appleseed, to "plant the seeds of a better tomorrow in the homes across our land." The songs in this collection of 139 American Favorite Ballads narrate tales of ordinary people and their extraordinary deeds, and show Pete at the crossroads of the past and the future putting his own stamp on America's folk song heritage while bequeathing it to generations to come.

LYRICS

Lyric transcriptions as permissible by the publisher available here.

NOTES ON THIS RELEASE

The physical box-set version includes 139 tracks and 5 CDs, each with its own booklet of extensive notes, for nearly 6 hours of music.

The digital download version includes the 139 songs on the CD version plus two additional previously unreleased songs: "My Gallant Black Bess," an ode to a horse, and "The Ballad of Dr. DearJohn," a critique of the health care system as relevant today as it was in the 1960's. Both songs are also available for purchase individually.

FREE DOWNLOADS


Please enjoy as our gift two free downloads ("Buffalo Gals" and "Oh Mary Don't You Weep") from American Favorite Ballads Vol. 1-5.


RELATED VIDEOS
Pete Seeger

RELATED FEATURES
Folkways Magazine Feature: Pete Seeger Standing Tall

EN ESPAÑOL

La vida de Pete Seeger, la música y el legado encierran casi un siglo de historia y cultura estadounidense. El se ha concentrado a sí mismo en música popular y la ha usado, como Johnny Appleseed, para "plantar las semillas de un mejor futuro en los hogares alrededor de nuestra tierra"

Las canciones de esta colección de ciento treinta y nueve Baladas favoritas estadounidenses narran cuentos de la gente común y sus hechos extraordinarios y muestran a Pete en la encrucijada del pasado y el futuro, poniendo su propio sello en el patrimonio de la canción popular de los Estados Unidos, mientras que está legándolas a las generaciones venideras.
Track Listing
| | | | | |
| --- | --- | --- | --- | --- |
| 101 | John Henry | Pete Seeger | 4:34 | |
| 102 | Shenandoah | Pete Seeger | 1:50 | |
| 103 | Blue Tailed Fly (Jimmie Crack Corn) | Pete Seeger | 2:35 | |
| 104 | Black Girl | Pete Seeger | 2:33 | |
| 105 | Skip to My Lou | Pete Seeger | 3:11 | |
| 106 | The Big Rock Candy Mountain | Pete Seeger | 3:08 | |
| 107 | Clementine | Pete Seeger | 3:05 | |
| 108 | Yankee Doodle | Pete Seeger | 1:40 | |
| 109 | Home on the Range | Pete Seeger | 1:51 | |
| 110 | John Brown's Body | Pete Seeger | 2:59 | |
| 111 | Goodnight, Irene | Pete Seeger | 3:43 | |
| 112 | Swing Low, Sweet Chariot | Pete Seeger | 2:37 | |
| 113 | Oh, Susanna | Pete Seeger | 1:17 | |
| 114 | Wayfaring Stranger | Pete Seeger | 1:16 | |
| 115 | Oh, Mary, Don't You Weep | Pete Seeger | 2:31 | |
| 116 | Down in the Valley | Pete Seeger | 3:45 | |
| 117 | The Wabash Cannonball | Pete Seeger | 3:05 | |
| 118 | On Top of Old Smoky | Pete Seeger | 2:19 | |
| 119 | Frankie and Johnny | Pete Seeger | 4:27 | |
| 120 | I Ride an Old Paint | Pete Seeger | 3:24 | |
| 121 | The Wreck of the Old 97 | Pete Seeger | 1:53 | |
| 122 | Wagoner's Lad | Pete Seeger | 1:25 | |
| 123 | Old Dan Tucker | Pete Seeger | 2:14 | |
| 124 | I've Been Working on the Railroad | Pete Seeger | 1:27 | |
| 125 | Cielito Lindo | Pete Seeger | 2:34 | |
| 126 | So Long, It's Been Good to Know You (Dusty Old Dust) | Pete Seeger | 3:22 | |
| 127 | America the Beautiful | Pete Seeger | 1:38 | |
| 128 | This Land is Your Land | Pete Seeger | 2:52 | |
| 201 | Barbara Allen | Pete Seeger | 2:54 | |
| 202 | Young Man Who Wouldn't Hoe Corn | Pete Seeger | 1:37 | |
| 203 | Midnight Special | Pete Seeger | 3:06 | |
| 204 | House of the Rising Sun | Pete Seeger | 2:32 | |
| 205 | Careless Love | Pete Seeger | 3:06 | |
| 206 | Oh, What a Beautiful City (Twelve Gates to the City) | Pete Seeger | 3:27 | |
| 207 | Poor Boy | Pete Seeger | 2:17 | |
| 208 | Sally Ann | Pete Seeger | 1:31 | |
| 209 | The Riddle Song | Pete Seeger | 2:26 | |
| 210 | Go Tell Aunt Rhodie | Pete Seeger | 3:14 | |
| 211 | The Water is Wide | Pete Seeger | 3:34 | |
| 212 | The Fox | Pete Seeger | 2:05 | |
| 213 | The Keeper and the Doe | Pete Seeger | 2:12 | |
| 214 | Pretty Polly | Pete Seeger | 3:37 | |
| 215 | Jesse James | Pete Seeger | 4:27 | |
| 216 | Stagolee (Stagger Lee) | Pete Seeger | 2:13 | |
| 217 | Black is the Color of My True Love's Hair | Pete Seeger | 2:31 | |
| 218 | Camptown Races | Pete Seeger | 1:31 | |
| 219 | Blow the Man Down | Pete Seeger | 2:03 | |
| 220 | Froggie Went a Courtin' | Pete Seeger | 2:51 | |
| 221 | I Had a Rooster (Barnyard Song) | Pete Seeger | 3:54 | |
| 222 | Putting On the Style | Pete Seeger | 2:49 | |
| 223 | The Farmer's Curst Wife | Pete Seeger | 2:50 | |
| 224 | Hard Travelin' | Pete Seeger | 2:44 | |
| 225 | Alabama Bound | Pete Seeger | 2:20 | |
| 226 | Wimoweh | Pete Seeger | 3:01 | |
| 227 | Dink's Song | Pete Seeger | 2:39 | |
| 301 | Gypsy Davy | Pete Seeger | 5:02 | |
| 302 | Deep Blue Sea | Pete Seeger | 2:14 | |
| 303 | New River Train | Pete Seeger | 2:59 | |
| 304 | St. James Hospital | Pete Seeger | 2:55 | |
| 305 | E-ri-e Canal | Pete Seeger | 3:21 | |
| 306 | St. Louis Blues | Pete Seeger | 2:22 | |
| 307 | Boll Weevil | Pete Seeger | 3:52 | |
| 308 | The Girl I Left Behind | Pete Seeger | 1:10 | |
| 309 | When I First Came to This Land | Pete Seeger | 2:40 | |
| 310 | The Titanic | Pete Seeger | 3:43 | |
| 311 | Elanoy | Pete Seeger | 1:48 | |
| 312 | Lady of Carlysle | Pete Seeger | 3:19 | |
| 313 | My Good Man (Our Goodman) | Pete Seeger | 2:38 | |
| 314 | Golden Vanity | Pete Seeger | 3:50 | |
| 315 | Ain't It a Shame | Pete Seeger | 1:47 | |
| 316 | Swanee River | Pete Seeger | 3:02 | |
| 317 | Sometimes I Feel Like a Motherless Child | Pete Seeger | 4:32 | |
| 318 | The Boys from County Mayo | Pete Seeger | 2:24 | |
| 319 | No Irish Need Apply | Pete Seeger | 1:54 | |
| 320 | Paddy Works on the Railroad | Pete Seeger | 2:25 | |
| 321 | Arkansas Traveler | Pete Seeger | 2:41 | |
| 322 | When I Was Single | Pete Seeger | 1:17 | |
| 323 | Wond'rous Love | Pete Seeger | 1:38 | |
| 324 | Ground Hog | Pete Seeger | 3:48 | |
| 325 | Old Blue | Pete Seeger | 2:22 | |
| 326 | She'll Be Comin' Round the Mountain | Pete Seeger | 1:56 | |
| 327 | Erie Canal | Pete Seeger | 2:34 | |
| 401 | Banks of the Ohio | Pete Seeger | 3:32 | |
| 402 | You are My Sunshine | Pete Seeger | 1:45 | |
| 403 | Hallelujah, I'm a Bum | Pete Seeger | 1:39 | |
| 404 | The Foggy Dew | Pete Seeger | 1:59 | |
| 405 | Molly Malone | Pete Seeger | 2:21 | |
| 406 | Old Maid's Song | Pete Seeger | 1:43 | |
| 407 | Oh, How He Lied | Pete Seeger | 1:41 | |
| 408 | Where the Old Allegheny and the Monongahela Flow | Pete Seeger | 2:44 | |
| 409 | Leatherwing Bat | Pete Seeger | 3:10 | |
| 410 | Johnny Has Gone for a Soldier | Pete Seeger | 2:26 | |
| 411 | Farther Along | Pete Seeger | 2:33 | |
| 412 | Go Down, Moses | Pete Seeger | 2:56 | |
| 413 | All My Trials | Pete Seeger | 3:08 | |
| 414 | Monsieur Banjo | Pete Seeger | 2:11 | |
| 415 | No More Auction Block | Pete Seeger | 1:56 | |
| 416 | Hole in the Bucket | Pete Seeger | 2:17 | |
| 417 | What Shall We Do with the Drunken Sailor | Pete Seeger | 2:16 | |
| 418 | Army Life | Pete Seeger | 2:06 | |
| 419 | Blue Mountain Lake | Pete Seeger | 2:48 | |
| 420 | Lady Margret | Pete Seeger | 2:54 | |
| 421 | John Hardy | Pete Seeger | 3:32 | |
| 422 | Johnson | Pete Seeger | 2:51 | |
| 423 | John Riley | Pete Seeger | 2:28 | |
| 424 | Washer Lad | Pete Seeger | 1:14 | |
| 425 | Talking Blues | Pete Seeger | 2:05 | |
| 426 | Lolly Too Dum | Pete Seeger | 3:35 | |
| 427 | T. B. Blues | Pete Seeger | 4:04 | |
| 428 | Summertime | Pete Seeger | 3:41 | |
| 501 | Trail to Mexico | Pete Seeger | 2:51 | |
| 502 | Red River Valley | Pete Seeger | 2:09 | |
| 503 | Old Joe Clark | Pete Seeger | 3:56 | |
| 504 | St. James Infirmary | Pete Seeger | 2:34 | |
| 505 | Greer County Bachelor | Pete Seeger | 2:36 | |
| 506 | Ox Driver's Song | Pete Seeger | 1:55 | |
| 507 | Buffalo Gals | Pete Seeger | 2:22 | |
| 508 | Joe Bowers | Pete Seeger | 3:00 | |
| 509 | Texian Boys | Pete Seeger | 1:30 | |
| 510 | My Sweetheart Is a Mule in the Mines | Pete Seeger | 0:28 | |
| 511 | Johnny Gray | Pete Seeger | 1:54 | |
| 512 | Cowboy Yodel | Pete Seeger | 0:54 | |
| 513 | Sioux Indians | Pete Seeger | 3:41 | |
| 514 | Ida Red | Pete Seeger | 1:57 | |
| 515 | Holler | Pete Seeger | 1:19 | |
| 516 | Cumberland Gap | Pete Seeger | 1:22 | |
| 517 | Wake Up Jacob | Pete Seeger | 0:20 | |
| 518 | Sweet Betsy from Pike | Pete Seeger | 3:27 | |
| 519 | Buffalo Skinners | Pete Seeger | 2:46 | |
| 520 | Whiskey Rye Whiskey | Pete Seeger | 2:18 | |
| 521 | Stewball | Pete Seeger | 4:56 | |
| 522 | Whoopie Ti-Yi-Yo, Get Along Little Dogies | Pete Seeger | 1:31 | |
| 523 | Strawberry Roan | Pete Seeger | 5:05 | |
| 524 | Jay Gould's Daughter | Pete Seeger | 2:41 | |
| 525 | Play Party | Pete Seeger | 1:25 | |
| 526 | I Will Never Marry | Pete Seeger | 2:06 | |
| 527 | Riflemen of Bennington | Pete Seeger | 2:14 | |
| 528 | Kingdom Coming | Pete Seeger | 2:35 | |
| 529 | Cumberland Moutain Bear Chase | Pete Seeger | 3:36 | |
| 601 | My Gallant Black Bess | Pete Seeger | | |
| 602 | The Ballad of Dr. Dearjohn | Pete Seeger | | |