People's Picks: Aaron Dilloway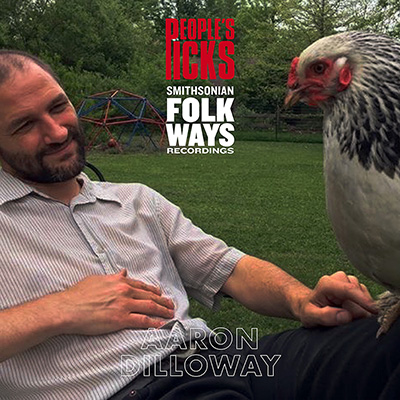 I first discovered Folkways Records in the early 1990's as a teen digging through the bins of a thrift store in Michigan. There I found and purchased an LP by a blues artist named Lead Belly. My mind was blown with everything about it, from the heavy emotion of the music, to the heavy cardstock of the sleeve. Inside was an ultra thick vinyl record and a booklet containing extensive liner notes. It was immediately clear that what I was holding was more than just a recording of music, it was a carefully prepared historical document. A few years later I came across another Folkways LP called The Sounds Of The Sea, which was underwater recordings of sea animals made in the early 1950's. I was fascinated by the raw and abstract sounds on this record, but also by the fact that a record like this existed at all! It sent me on a lifelong journey to hunt down the most strange and bewildering records I could find.
As I searched for such records, I kept finding that so many of the best ones were released by Folkways. From Sleepy John Estes to Nepalese folk songs to the earliest recordings of electronic music, as well as field recordings of everyday life, animals, machines, and even the sounds from outer space, the amount of wonderful music and sounds I discovered via Folkways is immense. I decided for this mix I would concentrate on some of the more bizarre recordings in their catalog, as well as digging deep into the Cook Laboratories archive which has thankfully been acquired by Smithsonian Folkways. Hearing these sounds out of context are fascinating on the basis of their poetics alone. But learning the details of their origins, through the informative notes Folkways releases provide doesn't lessen the strangeness; this information helps listeners develop an appreciation for the complexity and weirdness of our world. I tried to execute an exciting listening experience with both longer tracks to immerse yourself in and shorter vignettes into odd and unusual (and occasionally even musical) sound worlds. Many thanks to Smithsonian Folkways for inviting me to put this playlist together. I hope you all enjoy listening as much as I have. P.S. Extra special thanks to Moses Asch, Marian Distler, and Michael Siegel for bringing the amazing work of art known as The Sounds Of The Junk Yard LP to life.