Raymond Swing: Seventy-Fifth Anniversary Album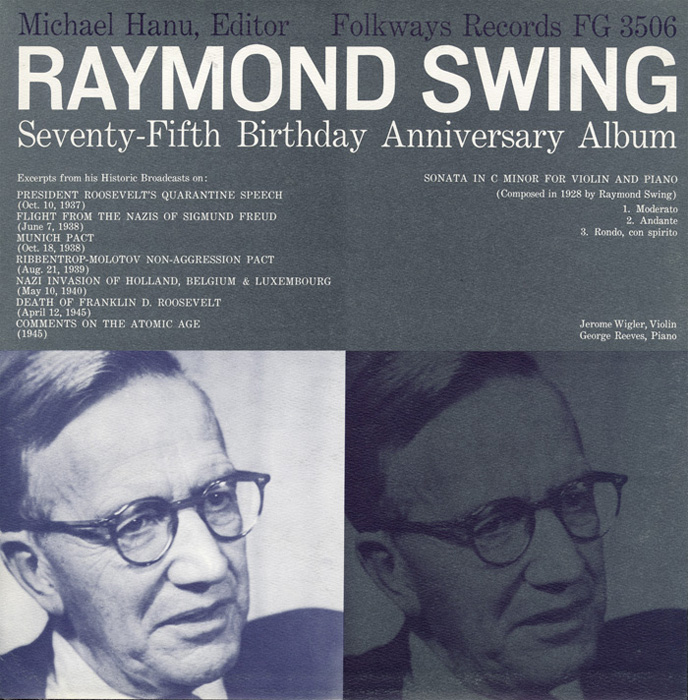 Long before Twitter and YouTube made it possible for anyone with a cell phone to broadcast news, and before television and the Internet made their way into nearly all homes, Americans relied on radio for information and opinion on the news of the day. One of the most influential broadcast journalists of his era, Raymond Swing (1887–1968) was a leading voice on domestic and international affairs, through his informative and empathetic analysis of news events. A commentator for CBS, Mutual, and the Blue Network, Swing became the chief political commentator for the Voice of America.
On this recording, he introduces a selection of excerpts from some of his historic broadcasts, including the Nazi invasion of Holland, Belgium, and Luxembourg (May 10, 1940) and the death of Franklin D. Roosevelt (April 12, 1945). Recorded in 1962, when Swing turned seventy-five, this album also includes a violin and piano sonata of his own composition.
The liner notes include full transcripts of the commentaries.
Track Listing
| | | | | |
| --- | --- | --- | --- | --- |
| 101 | President Roosevelt's Quarantine Speech, Oct. 10, 1937, Commentary on | Raymond Swing | 2:21 | |
| 102 | Flight from the Nazis of Sigmund Freud, June 7, 1938, Commentary on | Raymond Swing | 3:23 | |
| 103 | Munich Pact, Oct. 18, 1938, Commentary on | Raymond Swing | 5:43 | |
| 104 | Ribbentrop-Molotov Non-Aggression Pact, Aug. 21, 1939, Commentary on | Raymond Swing | 3:14 | |
| 105 | Nazi Invasion of Holland, Belgium and Luxembourg, May 10, 1940, Commentary on | Raymond Swing | 3:50 | |
| 106 | Death of Franklin D. Roosevelt, April 12, 1945, Commentary on | Raymond Swing | 4:34 | |
| 107 | Comments on the Atomic Age, 1945, Commentary on | Raymond Swing | 2:39 | |
| 108 | Sonata in C Minor for Violin and Piano: Moderato and Andante | Raymond Swing | 24:00 | |
| 109 | Sonata in C Minor for Violin and Piano: Rondo, con spirito | Raymond Swing | 8:39 | |