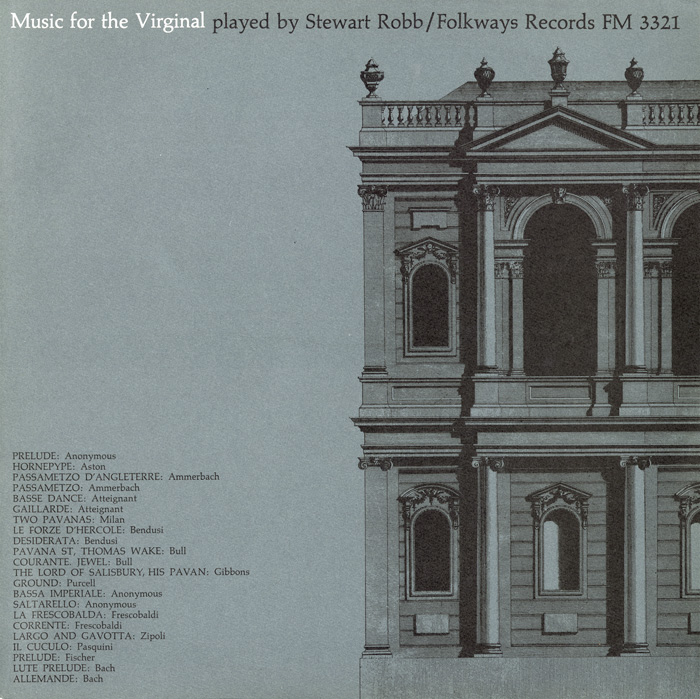 The harpsichord of the Elizabethans and Jacobeans was known as the virginal. The name "virginal" does not come, as one may think, from the "Virgin Queen," Elizabeth I, nor from the instrument's being "suitable for young ladies to play on." Apparently it derived its name from the fact that it was used to accompany hymns to the Virgin Mary.
Performed by Stewart Rob, many of the compositions on this album date back to the 1500s.
Liner notes include song descriptions, a brief biography of harpsichordist Steward Rob and quotes the press from the album's release in 1962.
EN ESPAÑOL
La clave de los isabelinos y jacobinos fue conocida como el virginal. El nombre "virginal" no significa, como uno puede pensar, de la "Reina Virgen", Elizabeth I, ni de los instrumentos que son "convenientes para que las señoras jóvenes toquen". Al parecer, este nombre se deriva del hecho de que fue usado para acompañar los himnos a la Virgen María.
Interpretado por Rob Stewart, muchas de las composiciones en este album datan de los años 1500.
Las notas incluyen descripciones de canciones, una breve biografía del clavecinista Steward Rob y citas de prensa del lanzamiento del álbum en 1962.
Track Listing