The Spirit Cries: Music from the Rainforests of South America & the Caribbean
Various Artists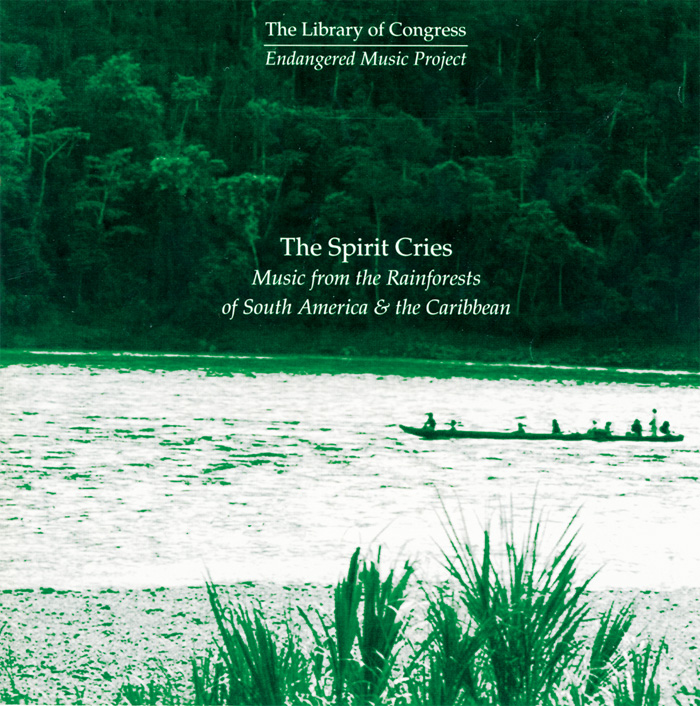 For this first title of the Endangered Music Project, Mickey Hart explored the vast repositories of the Library of Congress' American Folklife Center, sorting through hundreds of hours of tapes representing rainforest cultures of the New World. The album, originally released in 1993, represents musics of seven tribal cultures: the Garifune of Belize; the Choco Indians of Panama and Colombia; the Shipibo and the Ashaninka, both of Peru; the Aluku of French Guiana; the Wayana of Suriname, and the Maroons of Jamaica. The music is integrally connected to settings where healing, spiritual forces, and practical knowledge of the forest converge. The Spirit Cries: Music from the Rainforests of South America & the Caribbean was issued in 1993 as part of "THE WORLD" series (now part of the Mickey Hart Collection made available by Smithsonian Folkways).
Visit mickeyhart.net for additional photos and videos from this album
EN ESPAÑOL
Para este primer título del Proyecto de música en riesgo, Mickey Hart exploró los grandes depósitos del Centro Folklife de América de la Biblioteca del Congreso , clasificando a través de cientos de horas de cintas que representan a las culturas de la selva tropical del Nuevo Mundo.
El álbum, lanzado originalmente en 1993, representa la música de siete culturas tribales: la Garífuna de Belice, los nativos de Chocó de Panamá y Colombia, los shipibo y los asháninka, ambos de Perú, los Aluku de la Guayana Francesa, los Wayana de Suriname y los Maroons de Jamaica.
La música está integralmente conectada a arreglos donde convergen los procesos de curación, las fuerzas espirituales y el conocimiento práctico de los bosques.
El Espíritu clama: Música de las selvas tropicales de América del Sur y el Caribe fue emitido en 1993 como parte de la serie "EL MUNDO" (ahora parte de la Colección de Mickey Hart puesta a disposición por Smithsonian Folkways).
Visita mickeyhart.net para ver más fotos y videos de este album.
Track Listing